Seanchaí (shan-a-key) – A traditional Irish storyteller and custodian of folklore, myth, and legend.
There's the luck of the Irish and then there's the good fortune of Hugh Foley.
While many, Irish and otherwise, often lay claim to the former to explain the presence of good things in their lives, Foley references his opportunity to carry on "a centuries-old tradition" as a central focus of his life from which many good things have flowed.
"I take true facts and then I just embellish them a little bit," says Foley of his delightfully engaging storytelling, which will again be a key component of Foley's Irish Pub.
The popular annual event takes place in Nexicom Studio at Showplace Performance Centre on Sunday, March 15th — just two days before pints are lifted and homage is paid to St. Patrick, the patron saint of Ireland.
Tickets to Foley's Irish Pub — there are two choices, at 2 or 7 p.m., although the matinee show is almost sold out — cost $20 ($10 for students), and are available in person at the Showplace box office, by phone at 705-742-7469, and online at www.showplace.org.
Besides Foley spinning tales in his role as seanchaí (the Irish word for storyteller), there will lots of music featuring 4 Front (Theresa Foley, Terry Finn, Sheila Prophet, and Norma Curtis), Fiddling Jay Edmunds, percussionist Ron Kervin, singer Bridget Foley, the Douro trio of Nancy Towns, Catherine McInnis, Maria O'Grady, and Phil McCann — who is crossing the Atlantic from County Clare in Ireland to play mandolin and banjo.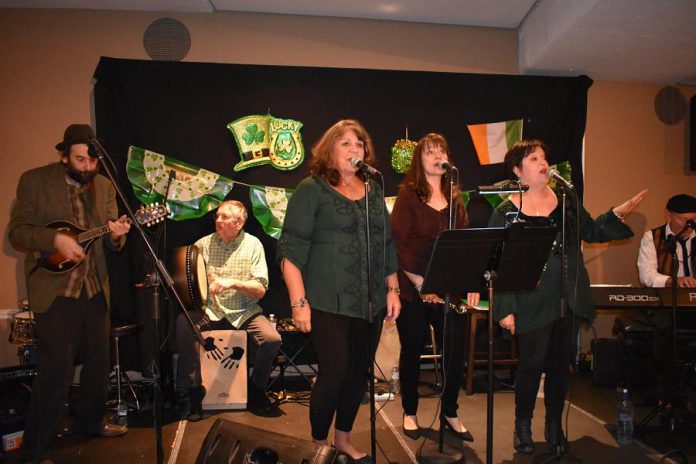 "It's basically two hours of Irish music and songs with my stories thrown into the mix," says Foley, noting the show name is borrowed from that of several pubs in Ireland that feature the family name.
"It's a bunch of people we can't fit in our kitchen, so we take the Nexicom Studio and go there instead. We even have Irish stew and soda bread at intermission that Tracey Ormond from That's A Wrap! Catering here in Peterborough puts together for us."
It's clear that Foley relishes his being pub proprietor and seanchaí, a dual role he is reprising for a fourth year.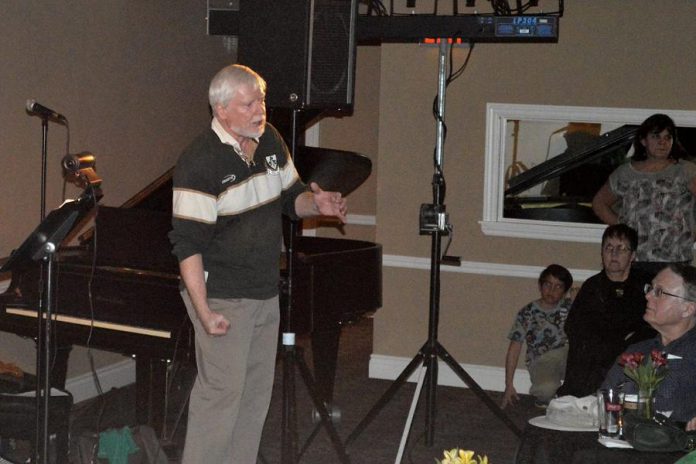 "I've always been a storyteller, mostly for our kids and our grandkids," he says.
"I was writing stories and we finally decided, what the heck, let's try it and see what happens. I had no idea what to expect the first time around. The first show sold out so quickly we added a second show and that one sold out as well."
"It's a nice way of celebrating St. Patrick's Day without going to a pub with loud, boisterous drunks all around you. We found in Ireland, when you get out into the countryside, the pub is a place where people come to catch up on the latest gossip. It's a place the family goes to. You have your pint, you catch up on the news, and then you go home."
According to Foley, storytelling has a long and storied history in Ireland.
"The seanchaí was the one who kept alive the past of Ireland by telling the tales of Irish heroes, battles, saints and so on," he says.
"It was such an esteemed profession back in the day that the seanchaí held the same rank as the clan chief. Today, a seanchaí is often just part of a pub's entertainment."
Having been to Ireland several times hasn't hurt Foley's efforts to gather material for his stories.
"It's stuff that I've picked up on our travels, listening to people in the pubs, and it's stuff that I research. I've heard stories like these all my life."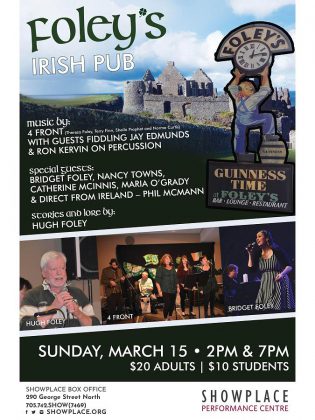 "Everyone going out on or around St. Patrick's Day expects to hear the Irish music and Irish songs. What will really surprise them at our show are the stories. People are absolutely amazed."
"This year, for instance, I'll talk about an ocean beast that's just off the coast from the Cliffs of Moher. I'll talk about the formation of Killarney National Park. I'll talk about the Guinness family and how Guinness has become such an important product around the world."
What no doubt gladdens Foley's heart immensely is there being an up-and-coming seanchaí in the family in the form of his four-year-old granddaughter.
"Vera is a storyteller. She and I have story offs. She'll get me to tell her a story and then she'll say 'Okay, you tell me one.' She's got quite the imagination."
Clearly, the apple doesn't fall far from the tree.