If you're walking around beautiful downtown Peterborough in the next little while, you might see a familiar face out and about.
Juno award-winning Canadian songwriter, musician, and artist Hawksley Workman and his wife Jenny are currently living in the city, and are edging closer and closer to purchasing a home here.
The couple was living in Montreal for two years and, while there, became inspired to move to Peterborough to be closer to family (Jenny's brother lives here and has two children).
Advertisement - story continues below
"Something middle-aged hit us where we felt like we needed to be back around all of these new kids that started to pop up, as well as aging parents and just being back in Ontario," explains the Huntsville-area native.
"We were definitely out in artsy, isolated Montreal for two and half years or so, but something happened, like a biological shift called us back."
It's also worth noting that Peterborough holds a bit of a mystique for Hawksley, dating back to the days when The Silver Hearts were in their full glory.
"I've romanticized the Peterborough scene through how I imagined The Silver Hearts interacted with the city," he admits.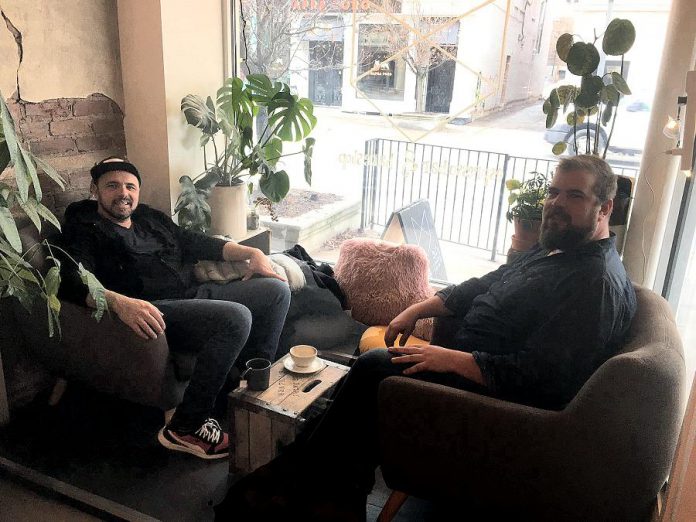 At the moment, the couple is staying with Jenny's father while they search for a permanent home.
"We live with my father-in-law who has deep roots," Hawksley says. "He's an East City guy from way, way, way back."
He says the delay in purchasing a house has been mostly due to the continued rise in housing prices.
"The housing market here is just about as crazy here as anywhere in Ontario at the moment," he notes. "We sold our place in Montreal thinking that it would be easy, but it's not been easy at all."
Advertisement - story continues below
Regardless of that difficulty, the couple are steadfast in remaining in Peterborough.
"We've already dug into the community in many ways. We're already going to hot yoga and my gym is right downtown."
That community connection shines through when Hawksley talks about Peterborough. They genuinely want to be involved in the community and to feel like they're a part of it.
As soon as he arrived, Hawskley began to look into some of the great events that happen here.
"I landed in Peterborough and looked at kawarthaNOW and instantly bought tickets for three things," he says. "It's exactly the kind of thing I want. It's also easy to get around the city. Everything is five to eight minutes away."
The proximity of Peterborough to the 407 and to to Toronto makes it easy for Hawksley to commute to gigs around Ontario and to attend to daytime business in the big city.
During our conversation, Hawksley also pointed to the amount of great music and number of music venues as an excellent feature of Peterborough. In particular, his love of the Market Hall in downtown Peterborough shone through as we spoke.
"It's going to sound kind of rockstar-ish, but I'd never taken the front entrance into the venue," he laughs. "I've played there three or four times and it was spectacular. But as an audience member, it's a very good place to see music … VERY good."
Advertisement - story continues below
Hawksley last performed at the Market Hall in May 2019, while on tour supporting his latest album Median Age Wasteland.
That Market Hall is one of the area's excellent music venues won't be news to local residents but, for Hawksley, the city's vibrant downtown is a driving force in his desire to live here.
He also observes that, while there are lots of "robust" things happening here, the city is morphing a little bit as well.
"It feels like this town is in transition," he says. "In a lot of the cities and towns this size in Canada, manufacturing has moved on and they're sort of redefining themselves. I feel like a strong downtown is still an essential part of the heart of a city."
Hawksley will continue to work full-time as a musician, eventually bringing his studio equipment to Peterborough as well.
After the next bit of work he has coming up (he's currently touring with musician and long-time friend Sarah Slean, supporting their new EP These Two), he's excited to "really dig into the city."
"I really get the feeling that this is our forever home," he concludes.
Welcome home, Hawksley and Jenny.
VIDEO: "Wound You" by Sarah Slean and Hawksley Workman