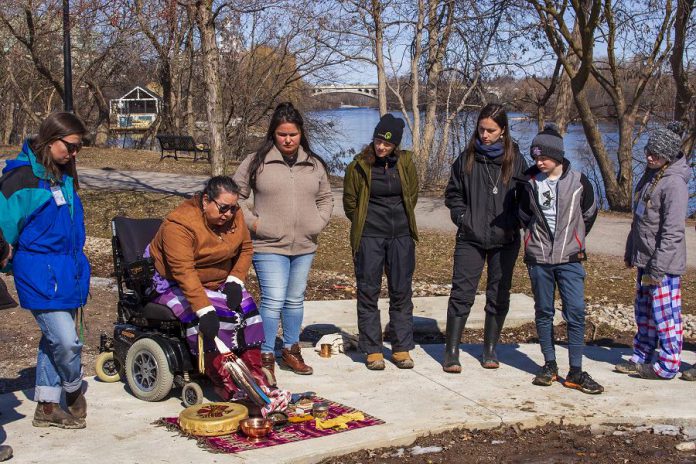 Last Saturday (March 14) was International Day of Action for Rivers, and this coming Sunday (March 22) is World Water Day.
With spring now here, snowmelt and rain are raising concerns about flooding. Now is the time to be more aware of water, and that is exactly what a local group of students is setting out to do.
"We are transforming a flood-prone corner of our school yard into a rain garden," says Anne Corkery, whose grade 6 and 7 students are leading this project at St. Anne's Catholic Elementary School in partnership with GreenUP's Wonders of Water program. "This rain garden will welcome members of our community throughout the year.
"The rain garden will absorb the spring runoff from our field, and the water will feed plant species that will draw in pollinators, such as birds and insects. Our aim is to increase the biodiversity in our school yard, and to educate students and community members on the importance of conserving biodiversity and fighting climate change. Students will also experience the emotional benefits that come from playing in a healthy green space."
This deep learning water retrofit follows a co-design process. Students are taking the lead as change-makers, planning green infrastructure that protects and conserves the Jackson Creek sub-watershed where the school is located.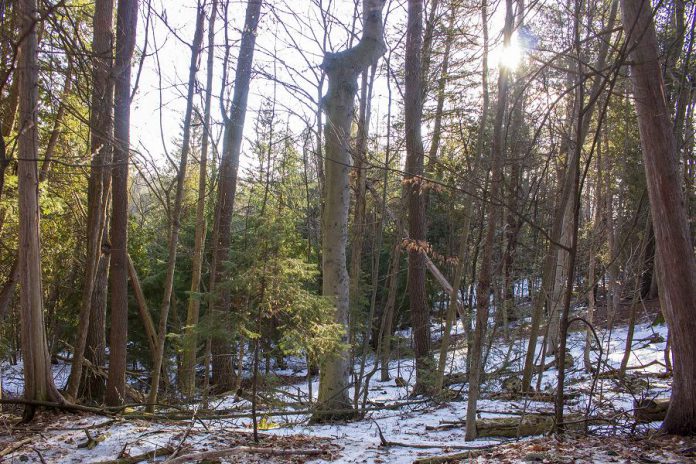 Rain gardens are green spaces that can collect, store, and filter excess water from storm or flood events. These gardens use native flora, usually drought-tolerant species that require little maintenance, and are excellent at storing water over long periods of time.
The students leading the creation of this rain garden are gaining decision-making experience and building a stronger connection to their environment. Students are learning about what kinds of native tree species and pollinator habitats are ideal for the sloped area of their school yard. The rain garden will divert stormwater from overburdened storm drains, keeping water where it is needed by plants and the water table.
To understand the importance of these transformative projects, students need a broader understanding of how water moves in urban settings. Last Thursday (March 12), these same students participated in the World Water Day Sub-Watershed Tour.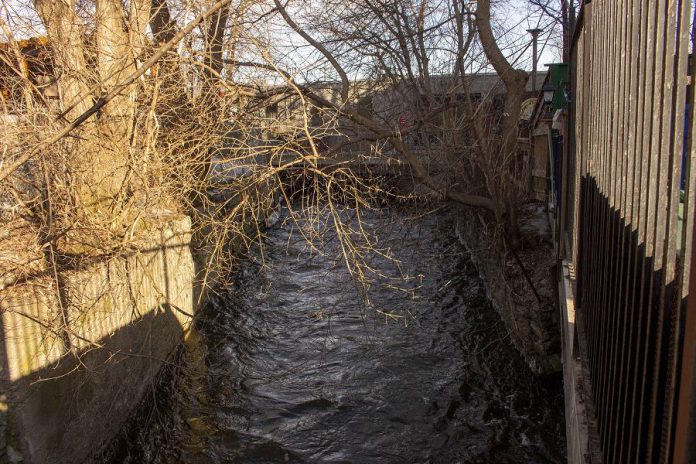 GreenUP's Wonders of Water team joined the Trent Aboriginal Cultural Knowledge and Science Initiative (TRACKS). Together, they traced Jackson Creek from its headwaters at Loggerhead Marsh to its outflow at the Otonabee River.
Along the creek's weaving path, students met local experts. Dr. Paul Frost, professor of aquatic science at Trent University, guided students along the headwaters of Jackson Creek at Loggerhead Marsh.
At Jackson Park, GreenUP's Wonders of Water team demonstrated how dissolved oxygen moves in the water and led students in a creek-side sit spot. Kelly King of the TRACKS program shared indigenous science perspectives on the water cycle.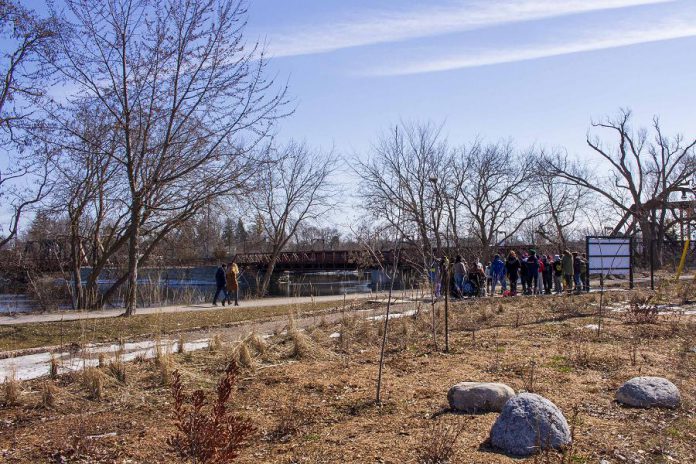 "Clean water is one of our greatest gifts," King says. "We're hoping this tour of our local watershed will allow students to honour this gift in their everyday lives and work towards ensuring she is healthy for future generations."
"World Water Day is an amazing opportunity to connect with water on a deeper level, to learn about how water flows through this territory, how green spaces encourage healthier travels, and how Indigenous peoples have always worked to ensure that ecosystems are functioning in complete and balanced ways."
At the end of the tour, students travelled to the 100 Water Street Depave site near the outflow of Jackson Creek into the Otonabee River. Elder Dorothy Taylor of the Curve Lake First Nation performed an Anishinaabe Water Ceremony with the students.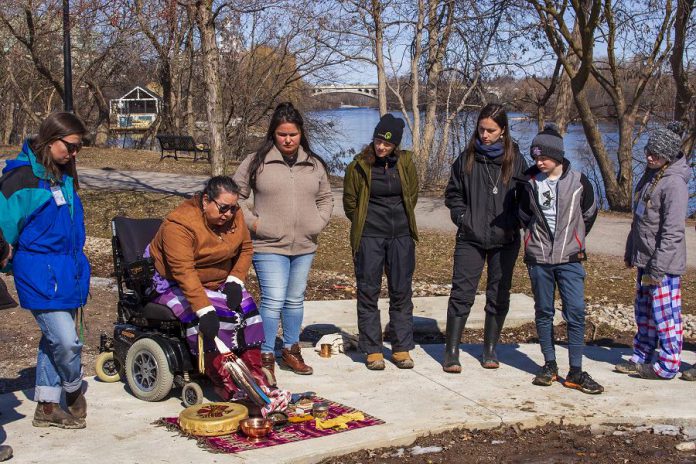 Dawn Pond, GreenUP's coordinator of Depave Paradise/Downtown Vibrancy, also toured students through the Depave project. Previously covered in asphalt, this Depave garden is over 700 square metres. At the time of its creation in 2018, this was the biggest Depave project in Canada.
Heavily paved areas of downtown Peterborough expose water to pollutants from foot traffic, vehicles, and other forms of runoff. In some areas Jackson Creek appears next to car washes and gas stations. Unlike the rain garden planted at 100 Water Street, the concrete tunnels and asphalt roads built around the creek provide no filtering of potential pollutants and debris before they are swept together into Jackson Creek and the Otonabee River.
From headwaters to outflow, the Jackson Creek sub-watershed encompasses St. Anne school and Peterborough's downtown core. By touring the sub-watershed, students were able to appreciate first-hand the impacts and challenges of a creek that faces dense urbanization.
"After spending time near Jackson Creek, I am now aware of how the choices I make at home and in my community can impact the watershed and biodiversity," observes student Clara Murison.
One of the best ways you can get involved in protecting the Jackson Creek watershed is by learning about the impacts our actions have on the watersheds we depend on. Like these students, you can experience the Jackson Creek watershed from its headwaters at Loggerhead Marsh to its outflow at the Otonabee. You can understand the impacts of urbanization and climate change on a creek that races, often hidden, through the downtown core.