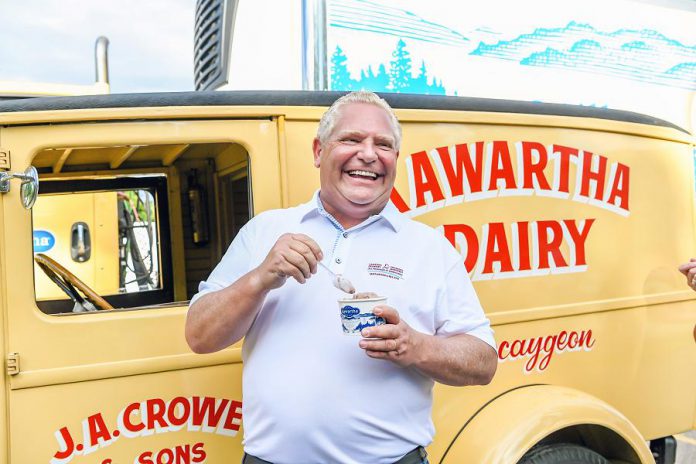 Ontario Premier Doug Ford paid a visit to Kawartha Dairy in Bobcaygeon on Thursday (July 30), following a media conference at a Whitby school earlier in the afternoon where he announced the reopening of Ontario elementary and secondary schools this fall.
Accompanied by Haliburton-Kawartha Lakes-Brock MPP Laurie Scott, Ford toured the family-owned dairy's facility and also enjoyed some ice cream.
Bobcaygeon was one of the first communities in Ontario to be devastated by the COVID-19 pandemic.
Advertisement - story continues below
A total of 28 residents of the 65-bed Pinecrest Nursing Home passed away during March and early April in due to COVID-19. The home was declared free of COVID-19 on May 14.
In April, Kawartha Dairy donated $10,000 to the Bobcaygeon and Area COVID-19 Relief Fund, which was established to help patients, families, and health care workers affected by the pandemic.
Earlier in the afternoon, Ford also toured Charlotte Products at 2060 Fisher Drive in Peterborough, accompanied by Peterborough-Kawartha MPP Dave Smith and Peterborough County Warden J. Murray Jones.
Charlotte Products, a family-owned Peterborough company that produces cleaning products, has ramped up production during the COVID-19 pandemic of cleaners, sanitizers, and disinfectants.
Ford packed bottles of disinfectant into boxes, and also learned about the company's products as well as its award-winning Optisolve Pathfinder technology, which provides real-time visual identification of organic contamination on any surface.
Ford's Peterborough visit was overshadowed by the local health unit's announcement the same afternoon of two new COVID-19 cases in the Peterborough area — the first new cases to be reported in the community in 40 days.