Overcrowding, littering, parking violations, and bad behaviour is continuing along sections of the Trent-Severn Waterway, prompting closures and other actions.
On Tuesday (August 4), the Northumberland OPP announced that "enhanced rules" will be implemented at Healey Falls, a tourist attraction located 10 kilometres north of Campbellford.
"The tourist area has seen a large increase in visitors resulting in numerous complaints involving overcrowding, parking violations, littering, and various other behaviours which might compromise public safety," a police media release states.
Advertisement - story continues below
Police say Parks Canada will be posting prominent signage warning against littering, camping, fires, and parking in prohibited areas.
Parks Canada staff will be monitoring the area for people contravening the restrictions, which may result in enforcement action being taken by Parks Canada wardens and local police. Any vehicle found to be obstructing the roadway may be at risk of being towed.
This is the latest in a series of similar issues along the Trent-Severn Waterway in the Kawartha region during July.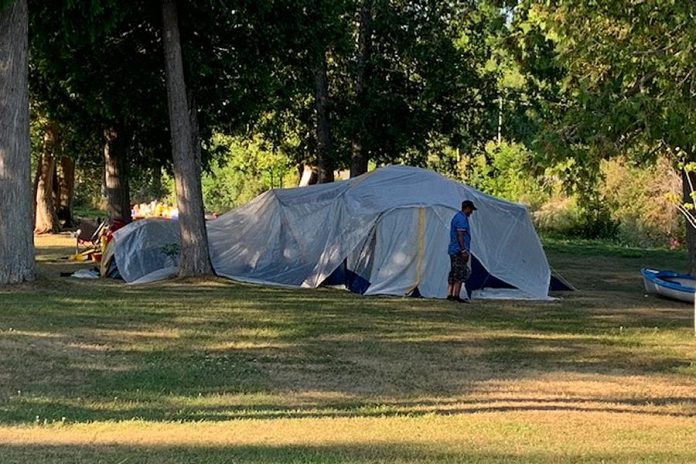 Crown land at the popular Burleigh Falls was closed to the public on July 9th because of overcrowding, parking violations, and bad behaviour.
In early July, kawarthaNOW also reported illegal camping, littering, public defecation along the Trent Canal between Peterborough and Lakefield — which continues to take place despite efforts by Park Canada.
On July 28th, the Municipality of Trent Hills, which operates Crowe Bridge Park park on behalf of the Crowe Valley Conservation Authority, closed the park effective July 30th because of overcrowding and illegal parking.
Advertisement - story continues below
Then, on July 30th, the Municipality of Trent Hills announced the closure of the Ranney Gorge Suspension Bridge, located just south of Ranney Falls in Ferris Provincial Park.

The municipality says it closed the 300-foot-long bridge because of overcrowding and reckless behaviour.
Approaches to the bridge have now been barricaded and entry is prohibited.