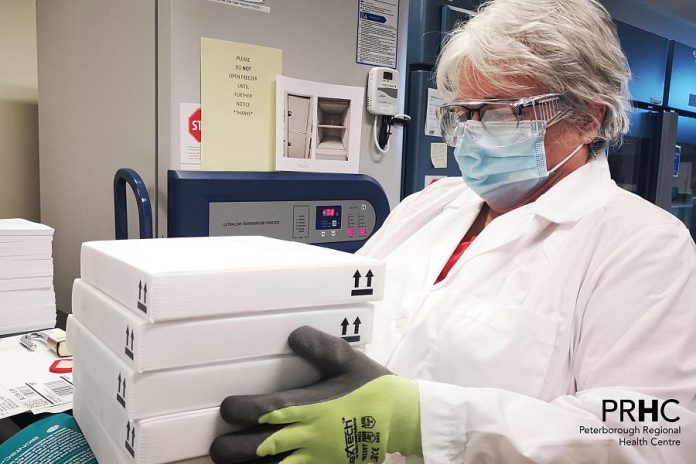 Peterborough Regional Health Centre (PRHC) has received its first shipment of 5,850 doses of the Pfizer-BioNTech COVID-19 vaccine, the hospital announced on Tuesday (February 23).
First doses of the vaccine will be administered through the hospital's COVID-19 vaccine clinic to long-term care home employees and essential caregivers, community paramedics, and health care workers at the hospital deemed to be at highest risk. The Ontario government has designated these groups as the immediate priority to receive vaccinations.
The hospital expects to have the capacity to offer up to 2,500 vaccination appointments for these immediate-priority groups between Wednesday, February 24th and Sunday, February 28th.
Advertisement - story continues below
"We will work closely with Peterborough Public Health over the coming weeks to ensure that immediate and high-priority populations have access to the vaccine as quickly as possible," says Dr. Lynn Mikula, PRHC's chief of staff and chief medical officer.
Those who are eligible to receive the vaccine will be contacted directly through their employer to sign up for an appointment at the clinic.
"This will help us start to build a ring of protection around our most vulnerable residents — a critical goal as variants of concern arrive in our community." adds Dr. Rosana Salvaterra, Peterborough's medical officer of health.
On Tuesday, Peterborough Public Health confirmed the first case of a variant of concern in Peterborough, a man in his 20s who was infected with the B.1.1.7 UK variant.
Advertisement - story continues below
The hospital's COVID-19 vaccine clinic will be staffed by registered nurses and registered practical nurses, as well as physicians from PRHC and the Peterborough community.
Once it is up and running at full capacity, the clinic will be able to offer up to 700 daily vaccination appointments daily, seven days a week, depending on the demand and supply of vaccine.
According to the province's vaccine distribution plan, the next priority population for vaccinations will be people receiving home and community care, as well as other residents aged 80 years or older living in the community. These vaccinations are expected to begin in mid-March.
PRHC has received its first shipment of Pfizer-BioNTech vaccine and will begin administering first doses to LTC employees & caregivers, community paramedics and highest-risk hospital healthcare workers, who have been designated immediate-priority populations by @ONThealth 1/2 pic.twitter.com/5U1Fgl23Na

— PRHC (@PRHC1) February 23, 2021