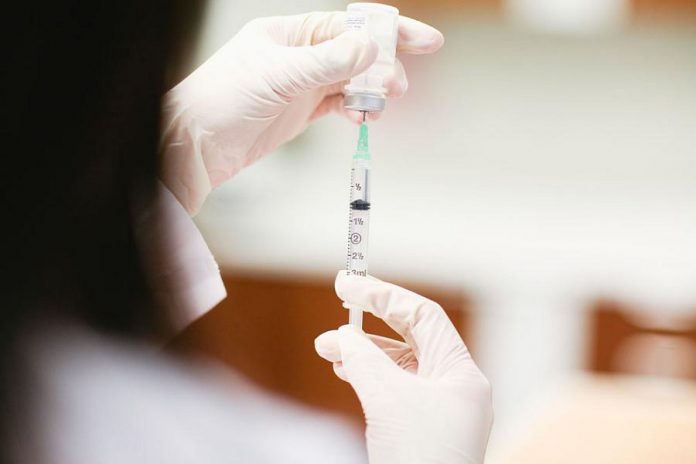 First-dose vaccination doesn't on its own guarantee COVID-19 immunity.
That's the message being relayed by Peterborough' medical officer of health after reporting that "at least the last three deaths" locally were people who had received their first shot of vaccine.
During a Peterborough Public Health media briefing held Tuesday (May 11), Dr. Rosana Salvaterra reported two residents who died recently — a 79-year-old on Sunday (May 9) and a 64-year-old on Monday (May 10) — were infected "after (receiving) their vaccine", adding "there had not been enough time for the vaccine to work."
Advertisement - story continues below
"The person who died Monday had about four weeks from the time of their immunization to the time of infection. That's an example of someone who just wasn't able to benefit from the protection of the vaccine. It's a sobering reminder that even with the first dose, we aren't fully protected and we can't let down our guard and have to continue to follow the public health protocols."
All three people had received a first dose of the Pfizer vaccine.
"Although the vaccines typically make the illness less severe, what we've seen is, certainly for those who have underlying chronic conditions or other illnesses, there's just not enough protection from (the first dose) of the vaccine. The good news is the vaccines are working for most people but, even at their best, they're not going to be 100 per cent effective."
The two most recent deaths bring to 17 the total number of people who have died as a result of a COVID-19 infection since the pandemic was declared in March of last year.
However, the bigger picture remains somewhat more optimistic with local infection rates showing some improvement.
As of Monday (May 10) at 4:30 p.m., the number of active cases in Peterborough city and county, Curve Lake and Hiawatha was reported as 65 — down three from what was reported last Friday. Since Monday, no new cases have been detected locally, with the total number of new cases in May at 71. Meanwhile, the number of close contacts of positive cases being closely monitored by public health staff is now at 227, up 11 from last week.
There are currently four active outbreaks in the region, down from five last week, with an outbreak in a workplace setting now declared over.
Advertisement - story continues below
On the vaccine front, Dr. Salvaterra was particularly pleased to hear from Peterborough-Kawartha MP Maryam Monsef that 655,000 AstraZeneca doses are expected to arrive in Canada "in the coming weeks." That news is music to the ears of those who have received AstraZeneca for their first dose and are anxiously awaiting word of their second shot appointment.
The mixing and matching of vaccine doses is the subject of a United Kingdom study and direction on that practice is expected at some point from the National Advisory Committee on Immunization (NACI).
But on Monday (May 10), Ontario Health Minister Christine Elliott said it's "likely" those who received the AstraZeneca vaccine may receive a different vaccine for their second shot if there's a shortfall in AstraZeneca shipments.
"We have primary care providers in Peterborough who immunized more than 4,500 of their patients and are looking for second doses (of AstraZeneca) for them," noted Dr. Salvaterra.
"The current recommendation from NACI is that you complete your series with the same vaccine, so that is currently what we recommend in Peterborough. Whatever you had for your first dose should be the same for your second dose."
"There are trials underway to see if you may actually get better protection by using different ways to boost the immune system. I expect when those trials are complete and the results are available, we will certainly take them into consideration."
The total number of those who have received at least their first dose locally is 60,427, with close to 56,000 of those Peterborough-area residents. That brings the coverage rate to 45.4 per cent. Meanwhile, 4,421 people who have received two vaccine doses and are now fully immunized. These numbers will be updated late this Thursday (May 13) afternoon as they are every week.
The province extended vaccine eligibility today (Tuesday) to people with at-risk health conditions and to workers who can't work from home. This Thursday (May 13), vaccine eligibility will open to those 40 years old and older.
Advertisement - story continues below
"As of this morning, we had 2,000 open appointments available but I expect they'll be booked very quickly as these new groups become eligible," said Dr. Salvaterra, noting that many more vaccine appointments will be available starting next week with the still expected arrival of a new vaccine shipment.
Area residents are directed to phone the provincial call centre at 1-833-943-3900 to book their COVID vaccination appointments when they are in the age group that has become eligible. The line is open 8 a.m. to 8 p.m. seven days per week. Eligible residents can also continue to book their appointments online by visiting ontario.ca/bookvaccine.
Meanwhile, with increasing talk of the provincial government possibly extending the stay-at-home order until at least the end of May, Dr. Salvaterra noted provincial daily case counts are still high.
"While our number of cases has declined, they are falling very slowly," she said. "Some of the important indicators we need to watch include the percentage of people who are being tested positive and the number of secondary cases each new case produces. They all need to come down. They are coming down here, but we have a ways to go before the order can be lifted."
As for enforcement of public health restrictions, Peterborough Police Services Inspector John Lyons confirms one charge was laid in connection with a religious service held this past weekend at Nichols Oval. That gathering, Lyons said, drew 30 to 40 participants.
For her part, Peterborough Mayor Diane Therrien made it clear the group did not have a permit to hold the event in Nichols Oval, adding no permits are being issued for any city park.
Also commenting during Friday's briefing were MP Monsef, Peterborough County Warden J. Murray Jones, and Peterborough board of health chair and Selwyn mayor Andy Mitchell.