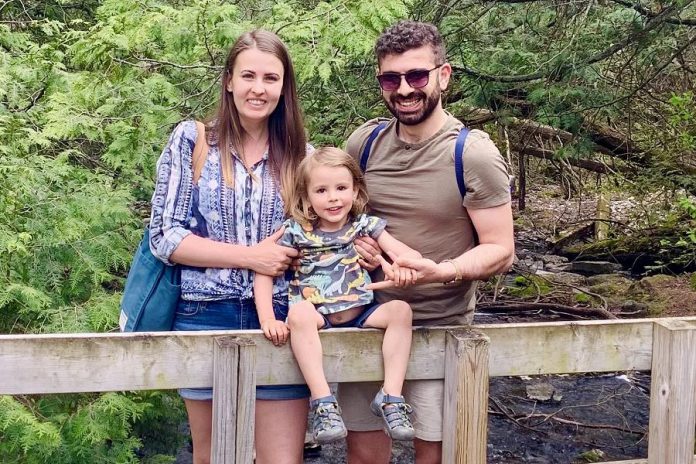 It's not difficult to find a row of packaged hummus stocked on most Canadian grocery stores' shelves. However, according to Turkey native Tuncay Alkan, the version of this Middle Eastern dip and spread found in grocery stores does not compare to the version made and sold in the Middle East itself.
Tuncay (pronounced Toon-Jai) and his partner Laura moved to Canada from Turkey in 2019 after having their first child. The couple first met in Istanbul while Tuncay was completing his master's degree in welding engineering. After working in places such as Saudi Arabia and Germany as well as various cities in Turkey for a few years, Tuncay and Laura settled in Peterborough — Laura's home town.
While adjusting to his new country, Tuncay found himself craving a taste of home. Hummus is the food that says home the most for Tuncay, since it is a popular and signature food in Turkey. Chickpeas, the key ingredient in hummus, date back more than 10,000 years in Turkey — they were first domesticated from a wild plant that today only grows in southeast Turkey.
"Hummus is classical in my geography," Tuncay explains. "There are places that only make hummus — nothing else. I hadn't tried making it because I was always buying it from the best places in Turkey."
He ventured into a Canadian grocery store, only to find the hummus sold there was not as good as what he ate in Turkey.
"I need to make my own hummus to feel like I'm home again," Tuncay recalls thinking.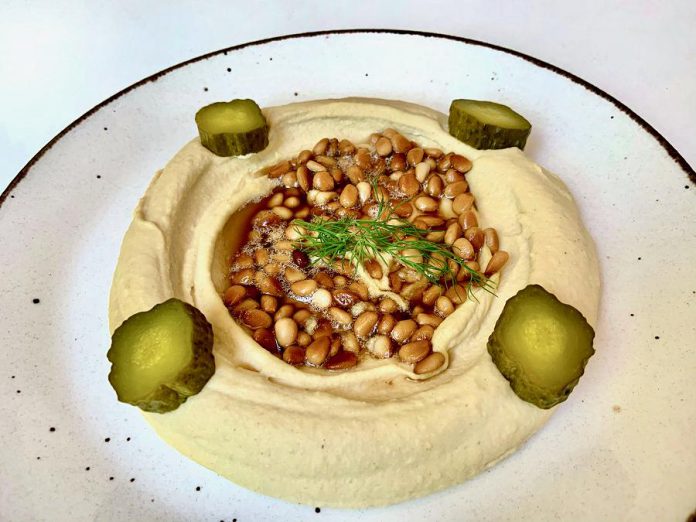 Recreating a native dish has helped Tuncay adjust to his new home in Canada over the past two years. Making and sharing food — especially when it holds personal meaning — is a great way to cultivate social relationships. Especially in Turkey, where hospitality is a cornerstone of the country's culture.
"Whenever I share and cook Turkish food for someone here, I feel like I'm hosting them in my home country," Tuncay says.
While volunteer cooking for Food Not Bombs Peterborough, Tuncay felt like he was hosting hundreds of Canadians in his native land. He made and shared his hummus and other Turkish recipes several times for the organization, which serves food to around 150 to 200 people a week.
Tuncay Alkan's Turkish Hummus Recipe (Two Ways)
Tuncay Alkan's Turkish Hummus Recipe (Two Ways)

Tuncay is happy to share his hummus recipe with kawarthaNOW readers. Tuncay's recipe features the two most popular ways of making and serving hummus in Turkey: with butter as a rich dish to be eaten soon after it is made (such as for an appetizer on toasted bread or pita before dinner), and with olive oil for a lighter-tasting version that lasts longer and can be enjoyed as a spread or a dip.
Making and sharing food from your own culture is also a powerful way to promote feelings of belonging when in a new country, something Tuncay himself noticed while working for a non-government organization in Turkey that assists refugees.
"I found the best and most connecting activity was related with food," Tuncay explains. "Whenever we made food with refugees, people used to feel like home."
For Tuncay, the practice of cooking home foods holds as much nostalgic meaning as it does taste.
"I create a little Turkey in my kitchen," he says. "Whenever I want to visit Turkey, I go to the kitchen."
His passion for cooking dates back to his childhood and spending time in the kitchen with his mother and grandmother, who passed on their love for cooking.
"It was a family thing for me," Tuncay says.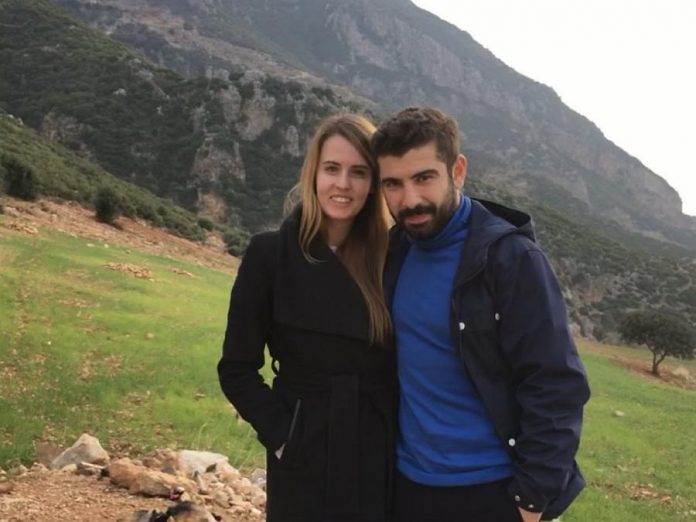 But it wasn't until he was living alone while attending university in Turkey that he found himself cooking alone for the first time out of necessity. As a vegan, he explains that it was not easy to buy food that met his dietary restrictions.
"Being vegan is not easy in Turkey," says Tuncay. "You need to cook every day — you will not find (vegan) food outside. I needed to find new recipes so it wouldn't be boring for me. I love trying new things, so I kept cooking after that."
In describing Turkish cuisine, Tuncay cites the rich spice culture and dense forests in the country — aspects of Turkish culture reflected in his recipes. It's clear from his description that cooking Middle Eastern food here in Canada connects him back to the land, culture, and family he left behind in Turkey.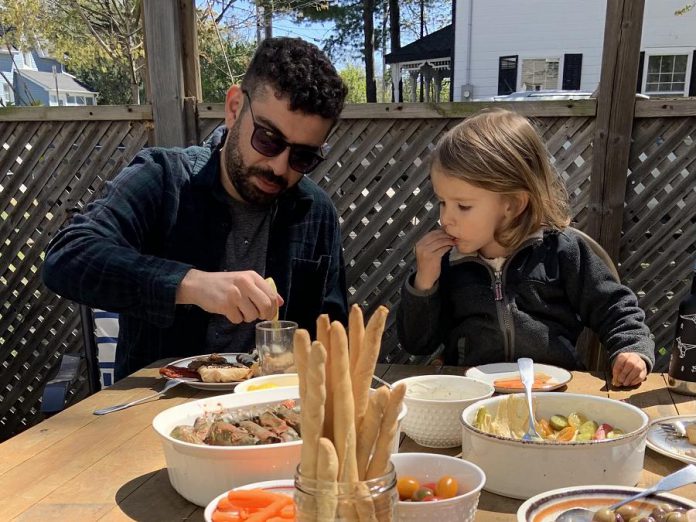 According to Tuncay, experiencing that connection to Turkey through cooking has helped him get through one of the biggest challenges while adjusting to a new country: missing his family and friends.
"We miss them a lot," Tuncay says. "We talk every day, having video talks and showing them around. We talk about what's happening here and there."
Another major challenge for Tuncay has been adjusting to the Canadian winter, especially during the pandemic, when social gatherings and winter activities have been limited.
"Winter is not my favourite climate," he laughs. "I was excited to find some winter activities eventually."
Despite these challenges, Tuncay does feel a sense of home and belonging in Peterborough. He and his family enjoy exploring trails and nature and have a goal to explore one new location every week.
"I love living in Peterborough," he says. "It's a really family-friendly city with beautiful trails and nature. There are so many beautiful places to discover."
In addition to practicing cooking and exploring nature, Tuncay credits the New Canadians Centre (NCC) in Peterborough for helping him settle in his new country, such as by providing assistance to help him obtain a work permit and his permanent residency.
Prior to the pandemic, NCC was also helping Tuncay pursue his idea of opening a café in Peterborough. Unfortunately, the project is on hold due to the pandemic, but Tuncay hopes to make it happen in the future.
"I could just live in the kitchen for the rest of my life, so I decided to something that I love and planned to open a little café," he explains. "I'm currently working, so I'm not in a rush, but it's still on my mind. I probably will do it after COVID."
So even if you don't test out Tuncay's hummus recipe, you may still have a chance to try it someday.
The #CookWithNCC series was created in partnership with the New Canadians Centre (NCC) in Peterborough to share stories of immigration and integration. Other stories in the series include Jessie Iriwanto and her beef rendang recipe, Imad Mahfouz and his yalanji recipe, and Gayathri Rajan and her biryani recipe.
Aromas, flavours, ingredients, who we cook for and how we share our recipes — they all tell stories that shape us as a community. On this journey through pantries and kitchens, we hope that you will fill both your plate and your heart.
Share your experience trying out these recipes, or your own story and recipe, on social media using the hashtag #CookWithNCC.
To join the New Canadians Centre on their 40-year journey of welcoming immigrants and refugees, visit nccpeterborough.ca.