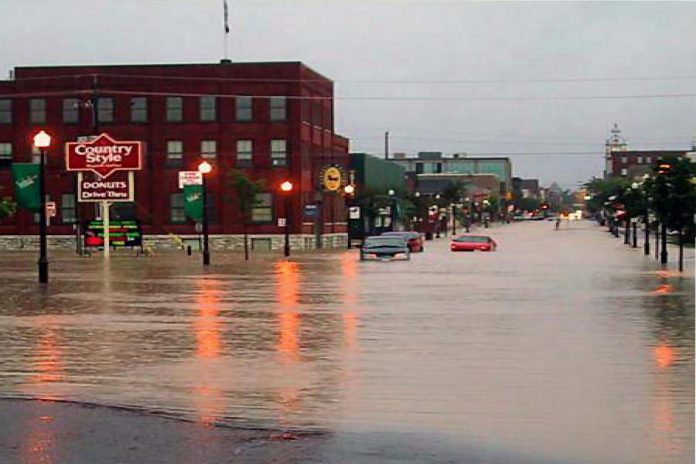 It's hard to believe it's been 17 years since Peterborough experienced the Great Flood of Thursday, July 15, 2004.
Unlike many Peterborough residents and businesses, kawarthaNOW came through the Great Flood relatively unscathed. Our 150-year-old house has always had a wet basement, and we have two sump pumps installed for the spring overflow. When it flooded, the sump pumps ran for three weeks straight — but we didn't lose anything of value.
However, whenever there's a severe thunderstorm watch for Peterborough, we still wonder with trepidation if another Great Flood is coming.
Advertisement - story continues below
In a way, the 2004 Peterborough flood actually started in Alberta. On Sunday, July 11th, 2004, the City of Edmonton — already soaked from days of rain — experienced a small but spectacular storm that dumped more than 150 mm of rain in parts of the city in less than an hour.
Mud and water poured down streets and through windows. A record flash flood washed out roads, filled underpasses, flooded basements, turned streets into rivers and intersections into lakes. Enormous water pressure in the sewer system blew hundreds of manhole covers into the sky.
That same storm system slowly worked its way east across Canada, travelling 2,700 kilometres until it reached Peterborough three days later, on Wednesday, July 14th.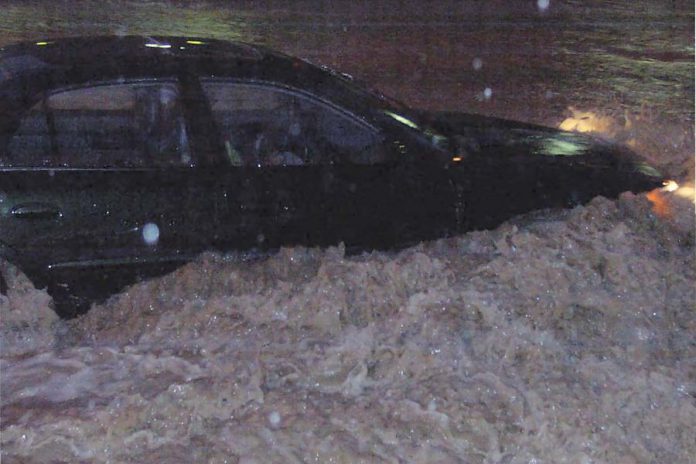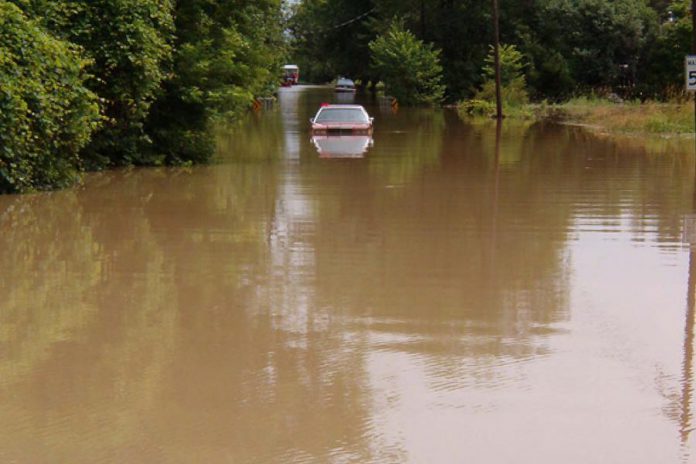 There, fed by cool air from the north and moist air from the south, the system produced intense rainstorms that began on Wednesday evening and continued for five hours during the early morning hours of Thursday, July 15th.
Measurements of the amount of rain that fell on Peterborough during the storm varied, from 100 mm (4 inches) recorded at the Peterborough Airport to 240 mm (9.5 inches) recorded at Trent University.
Much of the rain fell in fewer than five hours early Thursday morning, with 78.8 mm (3 inches) falling between 3:30 a.m. and 4:30 a.m. alone.
Advertisement - story continues below
If all of that sounds like a lot of water, that's because it is — it totals 14 billion litres, the same amount of water that flows over Niagara Falls in about 40 minutes.
Any city's drain and sewer system would have a challenge dealing with that much rain, but it was an impossible task for Peterborough's. Normally, the city's sewage system deals with about 1.3 million gallons per day; during the storm, the sewage treatment plant measured a peak flow of 7 million gallons of waste water.
At the time of the storm, over 80 per cent of the pipes in the city's storm water system (some of which were built a century ago) were undersized and didn't meet modern standards, creating bottlenecks in moving the flood water.
Downtown Peterborough, where the rainfall was concentrated, consists of largely impervious paved surfaces, including streets that are not well designed to convey flood water over land. In addition, groundwater that seeped into cracked or misaligned sewer pipes created excess water in the system, leading to back-ups and basement flooding.
All of these factors combined meant the city's sewers simply couldn't cope with the volume of water, resulting in sudden and severe flooding. Peterborough's fire department was soon inundated with calls from across the entire city, ranging from flooded basements to fire alarms.
City utility and social services were overburdened with responding to the consequences of the flooding. The City of Peterborough declared a state of emergency after the storm, which stayed in effect for two weeks. Many city staff worked 18 to 20 hour a days until the state of emergency was finally lifted on July 29.
Advertisement - story continues below
Here are some interesting facts about the impact of the flood:
171 long-term care residents were evacuated from Extendicare Nursing Home to the Evinrude Centre.
500 homes and businesses had hydro meters pulled from flooded basements.
Hundreds of flood-damaged water heaters required replacement.
1,000 homes had gas lines disconnected.
498 electrical systems were disconnected.
There were 28 motor vehicle accidents.
The city issued emergency clothing to more than 1,300 people and emergency food to more than 1,000 households.
The Salvation Army served over 10,000 meals.
Firefighters pumped out over 1,868 basements, garages, and backyards.
25 people who were trapped in or on cars needed to be rescued.
Cleaning up flood-related garbage and debris was a major undertaking. Around 12,500 tons of materials were placed in the landfill in the two weeks following the flood (four times the normal amount).
The Peterborough Museum and Archives had recently relocated the Balsillie Collection of Roy Studio Images (valued at over $8 million) to a 400-square-foot climate-controlled storage facility on the lower level of the Peterborough Public Library. Flood water shattered plate glass windows on the ground floor of the library and a torrent of sewage-contaminated water and debris spilled into the lower level, immersing 10 per cent of the Balsillie Collection under a foot of water for 24 hours.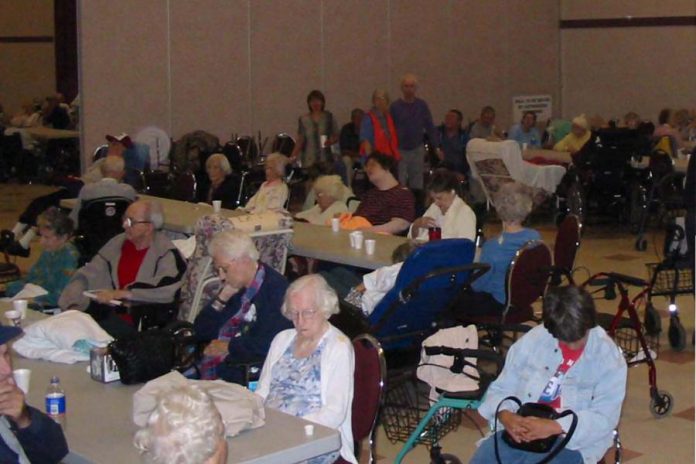 In the end, the flood resulted in $95 million in insured losses in Peterborough, according to the Insurance Bureau of Canada. Overtime and expenses for city staff responding to the flood amounted to $1.4 million.
Costs of repairs and restoration (including roads, bridges, culverts, buildings, and the Museum photo archives) equalled $21 million, with the Ontario government providing $25 million for emergency repair and restoration costs for city infrastructure. The impact of lost revenue and productivity for businesses and residents likely amounted to millions of dollars as well.
Making matters worse, the 2004 flood came only 25 months after another major flood in June 2002, when Peterborough suffered through a severe summer storm that generated more than 70 mm (3 inches) of rain in a 24-hour period. Many Peterborough residents and business owners had just recovered from damages caused by the 2002 flood when they were hit again by the 2004 flood.
Advertisement - story continues below
Shortly after the 2004 flood, the City of Peterborough hired UMA Engineering Ltd. (now known as AECOM Ltd.) to prepare a flood reduction master plan. Since the completion of the plan in 2005, the city has undertaken a series of studies to assess vulnerability and has updated stormwater management designs and infrastructure to protect the city from future flooding damage.
Since 2005, the city has completed detailed flood reduction studies for waterways within the city (including Bears Creek, Byersville-Harper Creek, Curtis Creek, Jackson Creek, Meade Creek, Riverview Creek, and Thompson Creek).
Examples of recent flood reduction projects include replacing culverts to reduce the risk of flooding in Eact City, installing a large storm sewer system on Marina Boulevard that will capture major flood waters and divert it around at-risk property, conducting annual inspections of stormwater management ponds to ensure they are ready to hold back water during heavy rain events, and regular flushing and cleaning of the storm and sanitary sewer system to ensure that are ready when the next big rain comes.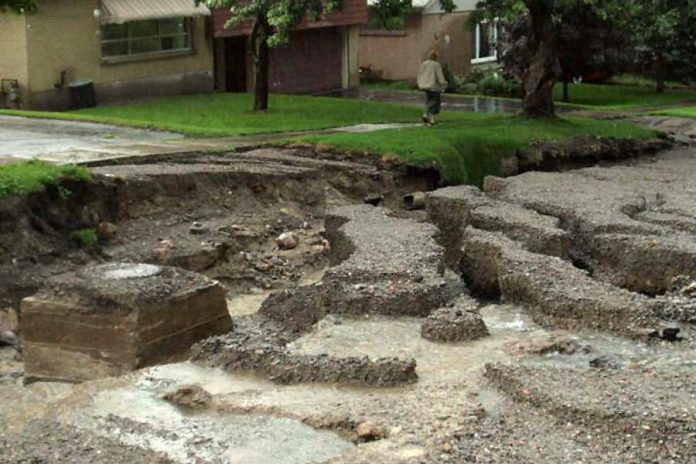 In addition to upgrading infrastructure, the city now offers stormwater management incentive programs for residents.
These include a rain garden subsidy program to offset the cost of installing green infrastructure on private property to absorb stormwater, and a flood reduction subsidy program to help residents cover the cost of flood reduction efforts — such as installing a backwater valve to prevent sewage backup into homes, downspout disconnections, and catch basin disconnections.
Let's all hope that the city's efforts over the past 17 years will help to ensure that there are no more Great Floods in Peterborough.