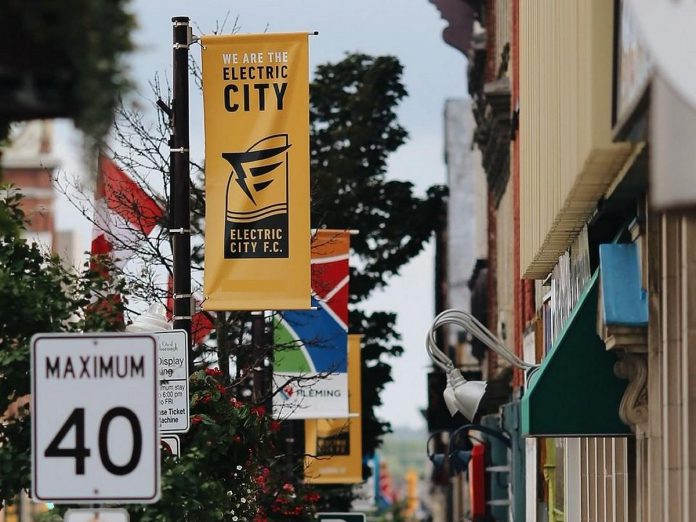 Peterborough's new Electric City Football Club (FC) has officially joined League1 Ontario, the province's semi-professional men's and women's soccer league.
Electric City FC, which will represent Peterborough in the men's premier division for the 2022 season, acquired the license previously held by Toronto Skillz FC.
"We are so pleased to see the support that the community of Peterborough has shown already for this club," says League1 Ontario executive chairman Dino Rossi in a media release. 'We look forward to supporting Electric City FC's efforts to create a pathway to professional soccer for aspiring players in the Kawartha region."
Advertisement - story continues below
First announced on August 9, Electric City FC is owned by a group comprising Neil Morton, Kyle McDonald, Burton Lee, Mo Von Roeder, Beth McClelland, Jon Gillan, Richard Wood, Alex Bridal, Siam Grobler, Alvaro de la Guardia, Paul Bennett, Keaton Robbins, Rob Jenkins, and Gregory Couch.
"We are extremely excited to officially be part of League1 Ontario and to begin on-field preparations for the 2022 season," says Electric City FC president Ron Jenkings, who was previously involved in launching successful soccer clubs Cavalry FC and Foothills FC in Calgary, Alberta.
"This league has seen many players go on to professional careers at the next level and represent their country with the Canadian men's and women's national teams, and we hope to continue that tradition in Peterborough."
Electric City FC is now working with Hybrid Sports to develop a 74-acre sports complex on the edge of Peterborough that will feature a world-class multi-sport training facility, including a full-size indoor pitch and an exclusive Electric City FC soccer stadium that will be the club's home.
The full stadium, which is being built in stages over the next three years, will begin with a new grass pitch and temporary seating and structures for spring 2022.
Advertisement - story continues below
Founded in 2014 by Ontario Soccer, League1 Ontario began with a 10-team men's division. That has since grown to 15 teams in the women's division and 21 teams in the men's division.
League1 Ontario serves as a critical bridge between the high-performance youth level and the professional levels of the game.
Owned and managed by Canadian Soccer Business (CSB) since 2019 and sanctioned by FIFA through Canada Soccer and Ontario Soccer, League1 Ontario's primary focus is to showcase and develop Canada's future soccer stars.
For more information about Electric City Fc, visit electriccityfc.com.
VIDEO: Meet Peterborough's new pro soccer team