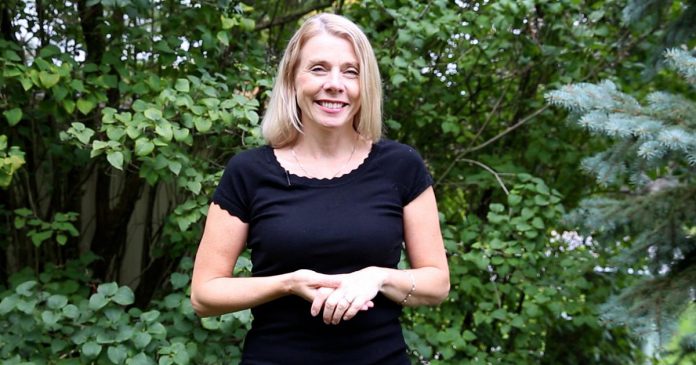 Sarah Budd, former CEO of Habitat for Humanity Peterborough & Kawartha Region, was named citizen of the year at the Kawartha Chamber of Commerce and Tourism's 21st Annual Awards of Excellence on Thursday night (October 28).
Budd was one of 11 recipients announced during a livestreamed virtual awards ceremony hosted by Deb Crossen, Wendy Smith, and Cindy Windover, with the recipients accepting their awards in pre-recorded videos.
Budd led Humanity Peterborough & Kawartha Region — a non-profit organization that builds affordable homes — for almost 15 years, overseeing the organization's inclusion of the City of Kawartha Lakes and the County of Haliburton in its service area, the expansion from one ReStore to three ReStores, and Habitat for Humanity Canada's first-ever multi-residential development at Leahy's Lane in Peterborough. She left the organization in October.
Advertisement - story continues below
The other recipients included Beachwood Resort (outstanding business achievement), Kingdon Timber Mart Lakefield (commercial development or renovation), Buns & Sweets (customer service excellence), The Grape and Wedge (entrepreneur innovation), Ontario Turtle Conservation Centre (not-for-profit excellence), Lockside Trading Company (retailer of the year), Hendren Funeral Homes (service sector excellence), and Burleigh Falls Inn & Suites (tourism/hospitality excellence).
Retired farmer and long-time volunteer Harry Pearson received the lifetime achievement award, and Indigenous entrepreneur Mallory Graham (owner of Tribal Trade in Curve Lake First Nation) received the young professional award.
The Kawartha Chamber of Commerce and Tourism — which represents businesses and organizations in Curve Lake First Nation and many rural municipalities of Peterborough County, as well as some in the City of Peterborough — will be merging with the Greater Peterborough Chamber of Commerce next year into a single organization, under the proposed name Peterborough and the Kawarthas Chamber of Commerce.
VIDEO: 21st Annual Awards of Excellence – Kawartha Chamber of Commerce & Tourism

In the past, both chambers have hosted their own annual business excellence awards (with the Peterborough Chamber having announced the winners of its excellence awards last week), so it's likely there will be a new consolidated awards ceremony in 2022.
Here is a complete list of all the finalists and recipients of the Kawartha Chamber of Commerce and Tourism's 21st Annual Awards of Excellence:
Advertisement - story continues below
Citizen of the Year
Sponsored by Herod Financial Services
Lifetime Achievement
Sponsored by Herod Financial Services
Young Professional
Sponsored by Community Futures Peterborough
Outstanding Business Achievement
Sponsored by County of Peterborough
Beachwood Resort – Recipient
Central Smith Creamery
Kawartha Lakes Construction
Commercial Development or Renovation
Sponsored by RBC Royal Bank
Kingdon Timber Mart Lakefield – Recipient
BALL Real Estate Inc., Brokerage Apsley
Cambium
Customer Service Excellence
Sponsored by CIBC Mobile Advice & Commercial Banking
Buns & Sweets – Recipient
Computer Garage
Style Boutique
Village Pet Food & Supply
Entrepreneur Innovation
Sponsored by Shop The Lake
The Grape and Wedge – Recipient
Coco Cakes
Living Local Box
Advertisement - story continues below
Not-for-Profit Excellence
Sponsored by Darling Insurance
Ontario Turtle Conservation Centre – Recipient
Lakefield Farmers' Market
Peterborough Public Health & Peterborough County/City Paramedics
Retailer of the Year
Sponsored by Nexicom
Lockside Trading Company – Recipient
Lakefield Flowers & Gifts
Tragically Hipp Fashion Gallery
Service Sector Excellence
Sponsored by ISL Insurance Brokers
Hendren Funeral Homes – Recipient
Apsley Dental
Kawartha Lakes Construction
Strexer Harrop & Associates
Tourism/Hospitality Excellence
Sponsored by Peterborough & the Kawarthas Economic Development
Burleigh Falls Inn & Suites – Recipient
Lang Pioneer Village Museum
Old Bridge Inn & Restaurant
The Village Inn