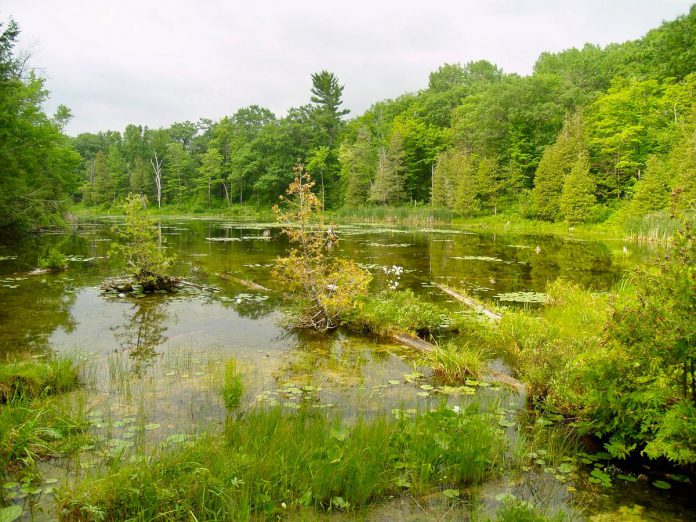 Thanks to Kawartha Land Trust and Kawartha Conservation, two more of Ontario's threatened wetlands — located on Nogies Creek and Balsam Lake — have been permanently protected in the Kawarthas region.
While some may look at a wetland and only see a marsh or a swamp with little value, wetlands actually play a critical ecological role. They are among the most biologically diverse of all ecosystems, providing a home for a wide range of plants and animals, including species at risk.
They are also important for people. Wetlands filter and purify water, replenish groundwater, and enhance the resilience of the landscape to many of the impacts of climate change that threaten the health of our communities, including flooding, erosion, and drought. What's more, they help mitigate climate change by storing carbon.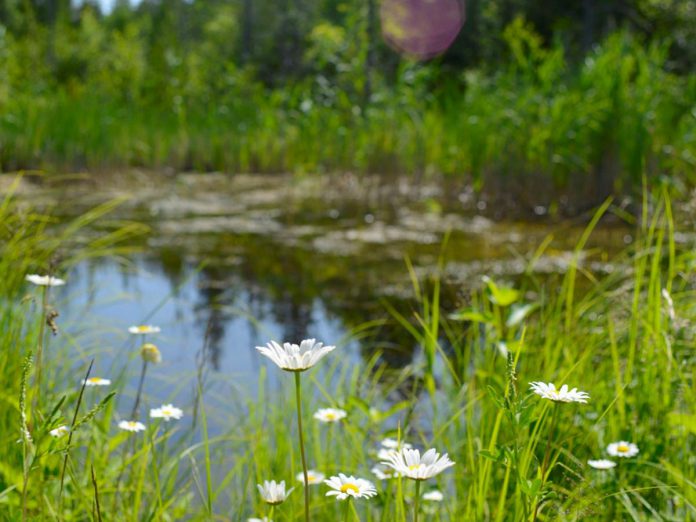 Because of their value to the natural infrastructure, wetlands contribute an estimated $14 billion in economic benefits for Ontarians each year.
Despite their ecological and economic value, less than 30 per cent of the original wetlands in southern Ontario remain, largely because they have been converted for other uses or have been drained for development and agriculture.
In late 2021, Kawartha Conservation — the conservation authority responsible for the 2,563-square-kilometre Kawarthas watershed — donated two wetland properties on Nogies Creek and on Balsam Lake to Kawartha Land Trust, a non-government charitable organization working to protect land in the Kawarthas. Both of the wetlands contain significant ecological features and provide potential natural wildlife corridors to provincially protected areas.
VIDEO: Nogies Creek and Balsam Lake
New #Protect Properties on Balsam Lake & Nogies Creek. #LearnMore

Posted by Kawartha Land Trust on Thursday, November 4, 2021
Tweet this quote
"This project has been a great example of collaboration between conservation organizations," says John Kintare, Kawartha Land Trust's executive director.
"Wetlands are so important for drought prevention, flood protection, water quality improvement and, most importantly, are immensely valuable to climate resilience. Unfortunately, the properties didn't fit the mandate of Kawartha Conservation, so they were donated to Kawartha Land Trust to ensure their permanent protection."
The project was made possible by the Government of Canada through the Natural Heritage Conservation Program, part of Canada's Nature Fund. The Government of Canada's Natural Heritage Conservation Program (NHCP) is a unique public-private partnership to support new protected and conserved areas by securing private lands and private interests in lands. The program is managed by the Nature Conservancy of Canada (NCC). Federal funds invested in the program are matched with contributions raised by NCC and its partners, Ducks Unlimited Canada, and the country's land trust community.
The Nogies Creek Property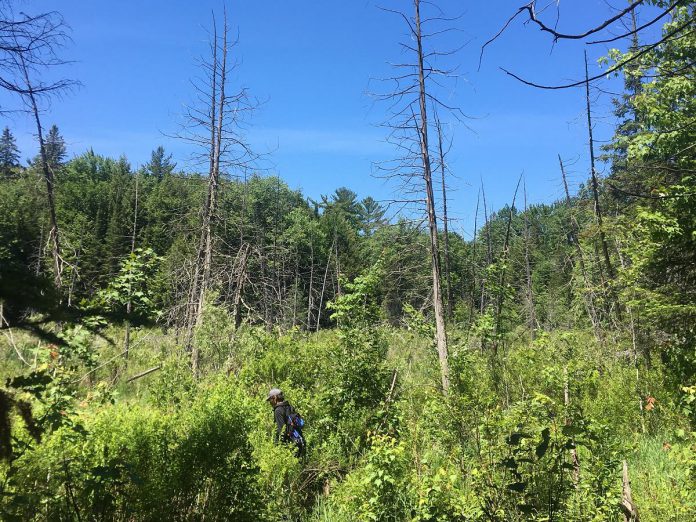 Nogies Creek flows from Crystal Lake east of Kinmount into the north end of Pigeon Lake near Bobcaygeon. The 40.5-hectare (100-acre) Nogies Lake property is located six kilometres north of the mouth of Nogies Creek and is only accessible by water.
The Nogies Creek property was identified as ecologically significant land as part of Kawartha Land Trust's Kawarthas Naturally Connected Preferred Scenario project in 2016. The project determined that 29 per cent of the natural landscape in the Kawarthas needs protection, but only 13 per cent is protected.
The property on Nogies Creek includes significant ecological features and is a potential wildlife corridor between Kawartha Highlands Provincial Park and Queen Elizabeth Wildlands Provincial Park. It is directly adjacent to Crown land and to the Nogies Creek Fish Sanctuary maintained by the Ministry of Northern Development and Mines, Natural Resources and Forestry.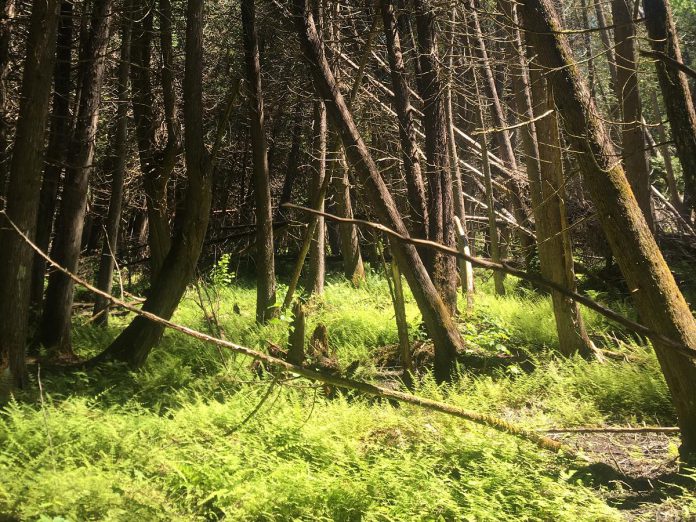 The property contains several types of ecosystems including mixed dry forest, mixed fresh and moist forests, and wetlands. The land includes dry mixed forests dominated by oak, maple, and hemlock species in the south, fresh mixed forests dominated by maple, birch, ash, and cedar in the central portion, and finally mixed treed and open wetlands in the north.
The ecosystems on the property are varied and in good health. With its mixed habitat types, both permanent and migratory species use the property, including species at risk and species of interest. Wildlife observed on the property include the eastern wood-pewee, moose, black bears, and white-tailed deer.
While there is some evidence of human activities on the property, including ATV trails, deer feeding stations, and garbage, on the property, the threats to the ecosystem from these types of activities are limited because the property is beside Crown land.
The Balsam Lake Property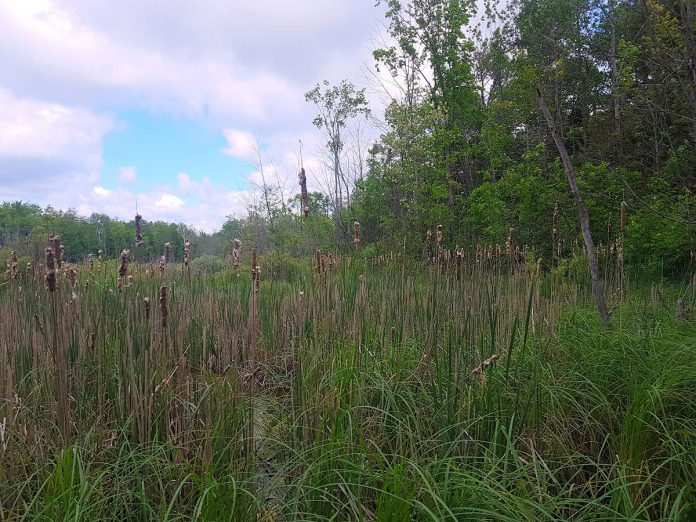 Balsam Lake is the highest point along the Trent-Severn Waterway, with water flowing from Balsam Lake westward into the Trent-Severn system and eastward into Cameron Lake. With the communities of Coboconk on the north and Rosedale on the east, the lake receives water from the Canadian Shield via the Gull River and from smaller streams surrounding the lake.
This 29-hectare (72-acre) Balsam Lake property sits entirely within a provincially significant wetland on the south bay of Balsam Lake, and includes 450 metres of natural shoreline along the lake. Bordering Elm Tree Road to the west and Balsam Lake to the east, the property is located around nine kilometres southwest of Kirkfield and 12 kilometres west of Fenelon Falls.
Close to other properties protected by Kawartha Land Trust, including the Fell Wetland, Jones Woodlot, and Cation Wildlife Preserve properties, the Balsam Lake property comprises a patchwork of shallow slow-moving watercourses and temporary water bodies weaving through three different types of wetland ecosystems. The most distinguishable ecosystem is a cattail marsh that abuts Balsam Lake and slowly transitions into treed swamp ecosystems that are found on the rest of the property.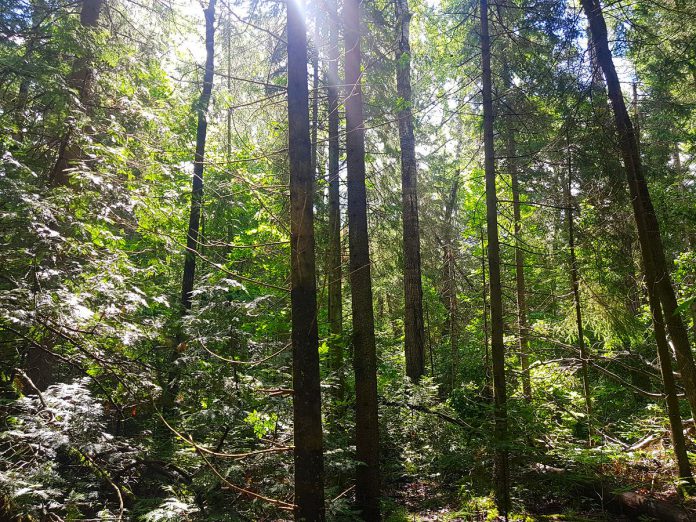 Extensive surveys have established that the property is in good overall health, and provides excellent habitat for rare and at-risk species. It is home to many native species, including the eastern wood peewee, common snapping turtles, and black ash tees.
Because it serves as a winter deer yard, the Ministry of Northern Development and Mines, Natural Resources, and Forestry has identified the property as significant wildlife habitat.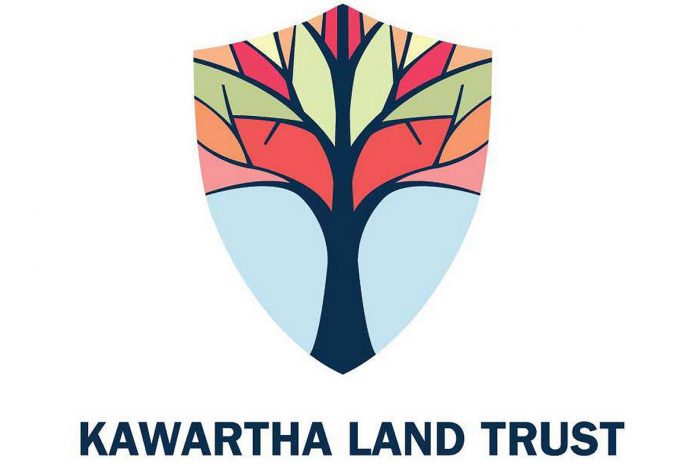 For more information about Kawartha Land Trust and the properties it protects, to donate to the non-profit organization, or for volunteer opportunities, visit kawarthalandtrust.org. You can also follow Kawartha Land Trust on Facebook, Instagram, and Twitter.
This story was created in partnership with Kawartha Land Trust.