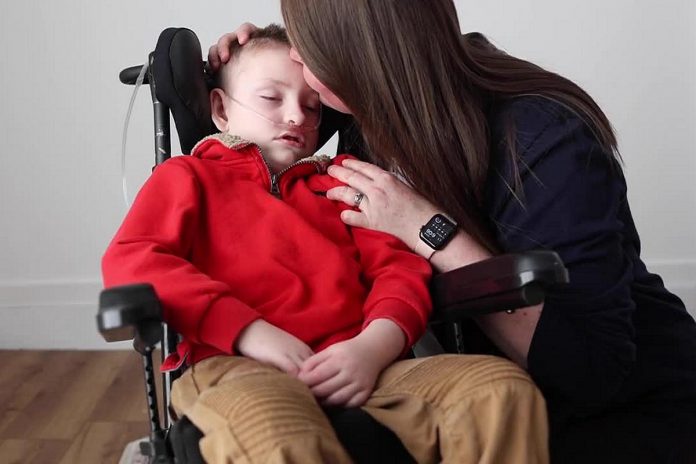 A group of Ennismore residents is challenging the community to do a cartwheel and donate to help the family of a six-year-old boy with an ultra-rare genetic disorder.
Stephanie and Sean Mose knew something wasn't right soon after their son Mark was born — he seemed different from his twin brother Ben. For four years, the Moses sought a diagnosis but all the tests came back negative.
When Mark was five years old, Stephanie and Sean — who also have two other children — finally received a diagnosis. They were told Mark had infantile hypotonia with psychomotor retardation and characteristic facies (IHPRF1), a severe neurodevelopmental disorder with onset at birth or in early infancy.
Advertisement - content continues below
Children affected with the autosomal recessive genetic disorder show severe developmental delay with poor or absent speech, and absent or limited ability to walk. The prevalence of this disorder is unknown, but there have been fewer than 100 cases reported worldwide.
A group of local residents have come together as Ennismore Cares with the goal of supporting Mark and his family to ease the financial burden that is associated with Mark's diagnosis.
With the support of the community, Ennismore Cares raised over $16,000 of their $20,000 goal in just one week — enough to purchase a hospital bed for Mark and a lift system to make the Mose family home more accessible.
VIDEO: Ennismore Cares: Mark Mose

"It is incredibly heartwarming, yet not surprising, to see that our community has shown up for this beautiful boy and his family," says Ennismore Cares chair Marcy D'Alessandro in a media release. "The Mose family is incredibly grateful for all their support and are overwhelmed by the response thus far."
But Ennismore Cares is not done supporting the Mose family. They've created a new crowdfunding campaign called #WheelingForMark at gofundme.com/f/wheelingformark-mose-family-fundraiser to raise another $6,000 so that the Mose family has funds for future travel and medical costs.
As part of the campaign, they are challenging members of the community to create videos of themselves completing a cartwheel, share them on social media, donate $25 to the campaign, and challenge three other community members to do the same.
Advertisement - content continues below
Sister companies Park Place Financial – Peak Benefit Solutions and Farm Life Financial are matching dollar-for-dollar funds raised (up to $3,000) for the #WheelingForMark campaign.
Over 400 students at Mark's school, St. Martin Catholic Elementary School in Ennismore, kicked off the #WheelingForMark campaign on Tuesday (June 21) by challenging other schools in the region to do the same.
VIDEO: #WheelingForMark challenge – St. Martin Catholic Elementary School in Ennismore
All money raised will go towards the Mose family, helping make their home more accessible and giving them the freedom to have more time with Mark.
For updates and more information, visit the Ennismore Cares Facebook page.