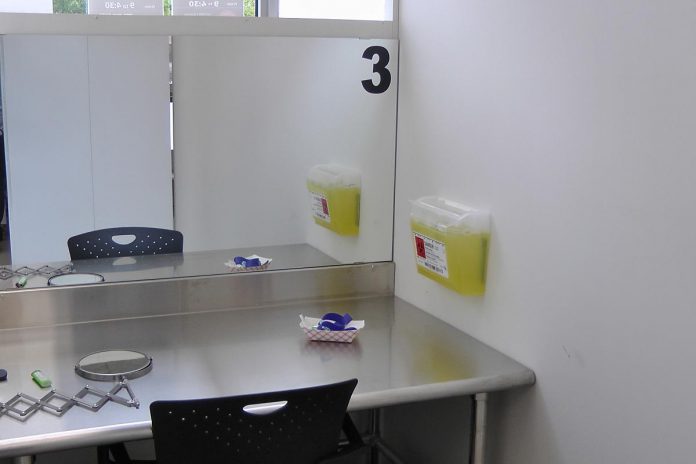 Without downplaying the human toll of the ongoing opioid poisoning crisis in Peterborough, numbers speak the clearest language for most.
On its website, Peterborough Public Health maintains a series of sobering numbers: 31 drug poisoning deaths to date this year, 234 suspected opioid-related 9-1-1 calls during the same time frame, and 343 emergency department visits connected to substance use, also since the first of the year.
But there's another number that offers proof progress is being made in the daily multi-agency daily to save lives: 1,435. That's the number of visits recorded by the end of August at Peterborough's Consumption and Treatment Services (CTS) site since opening June 13 at the Opioid Response Hub at 220 Simcoe Street at Aylmer Street.
Advertisement - content continues below
Tweet this quote
In addition, says CTS program manager Kerri Kightley, 125 unique service users has been registered by that date.
"That's far more than we expected in the first three months," Kightley notes.
It's also far higher than what most other Consumption and Treatment Services sites have experienced during their initial months of operation, according to Fourcast executive director Donna Rogers.
"One of the things we were forewarned about is we may be open for a period of time before anyone comes to our door," says Rogers. "We thought we were going to have to do a lot of engagement in the community to find ways to get people to use the harm reduction works and to warm up to coming inside to use. Surprisingly, that didn't have to happen."
Surprising in part because of the stigma associated with substance use, she adds.
"They are doing something that is probably one of most stigmatized things anyone can do," Rogers says. "They've been doing it with small groups of friends or doing it alone. It takes a lot of trust for people to come inside and do that in the light of day."
One of the reasons for the high number of visits to the CTS is its location, Kightley points out. As home to the already established Opioid Response Hub, the former Greyhound bus terminal building was familiar ground for many.
Advertisement - content continues below
Tweet this quote
"People got used to coming to 220 Simcoe Street to have their needs met, whether that be to connect with support services or medical-related services, or for harm reduction equipment," Kightley explains, adding "Kudos to the staff here before the CTS was opened for doing the work of building relationships."
"Its location in the middle of things in downtown Peterborough is just perfect. It was evident there was a need for low-barrier services for folks who use substances in Peterborough. Having a place where it's safe and where you're allowed to bring your substances and use them as you'd like without judgment is pretty remarkable."
More than that, Kightley says, the CTS is saving lives. With a paramedic on site at all times during the its hours of operation, "a number of overdoses" have been responded to almost immediately.
"There isn't a 30-minute delay between watching the effect of an overdose and then responding after the service user's respiratory system shuts down. We can respond right away because we see what's happening."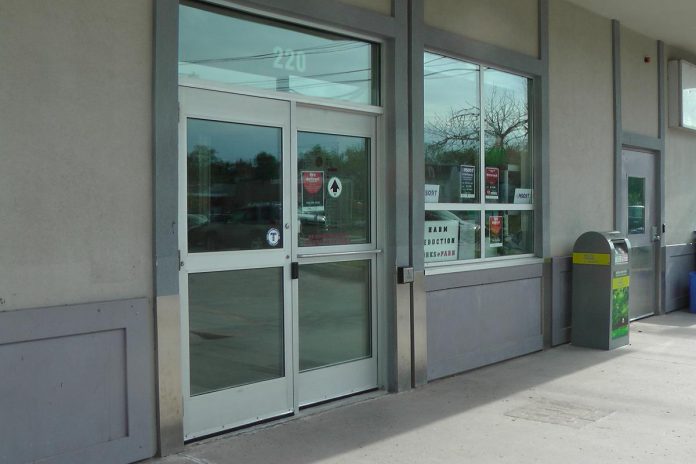 Kightley adds another benefit of having the CTS is being able to monitor the safety of the drug supply on the streets.
"Staff and service users are paying attention to what colour the substance they're using is. We keep track of what the effect is on the body. We're then able to share that information with people so we can say 'This colour is putting people down rather quickly.' We're sharing the risks of what we're seeing."
Open daily from 9:30 a.m. to 8:30 p.m., the CTS site is a partnership involving lead agencies Fourcast, PARN, and the Peterborough 360 Degree Nurse Practitioner-Led Clinic. It was a years-long challenge from the initial proposal to establish a CTS in Peterborough to making it happen.
After a number of public consultations held in November 2020, an application for a federal exemption allowing the use of illegal drugs at 220 Simcoe Street was granted conditional approval in June 2021. Then, in March 2022, long-awaited annual provincial funding of $1.35 million was approved, complementing the $160,000 in community funding that came in via the Light The Way Campaign held in the fall of 2021. Shortly after, Health Canada — following a site inspection and satisfied that funding was in place — granted the exemption the CTS needed to operate.
Advertisement - content continues below
Tweet this quote
The result is a safe and clean space for users to self-administer their already obtained substances under the supervision of health professionals who can respond to medical emergencies. Service users are also provided with sterile injection supplies, education on safer consumption practices, basic medical services, and referrals to drug treatment, housing, and other social services.
While there are always those who will object to providing a publicly funded space for people to use substances, "It's tough to be against anything that could potentially help save lives," Rogers says, adding "We're not seeing lots of letters to the editor. We're not seeing lots of opinion pieces. We're not seeing people protesting. We aren't getting a lot of backlash."
That lack of backlash may be in part because of the effort that has gone into regularly communicating with neighbours of the CTS site, Kightley says, and being available to answer questions and address any concerns.
"We do sweeps of the block. We chat with security at the Simcoe Street bus terminal. We chat with shop owners. We talk to the folks at the library."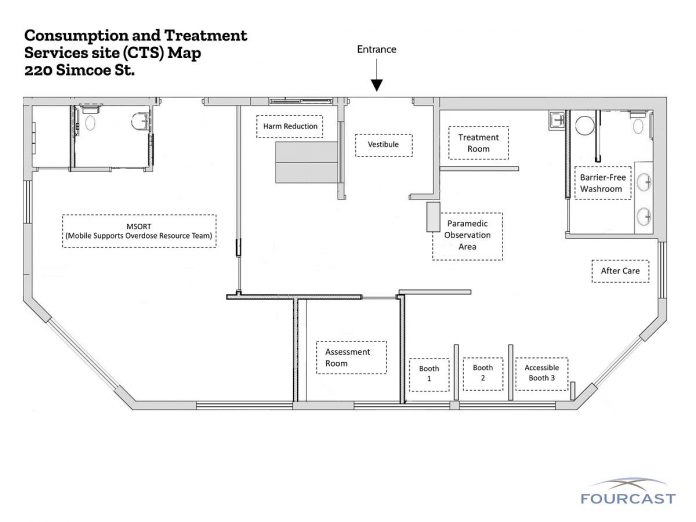 In fact, the CTS has had a positive impact on the Peterborough Public Library, located on Alymer Street between Simcoe and Charlotte. Before the CTS opened, there were a number of overdoses both inside and outside the library's building.
"Since we've opened, they haven't had an overdose response — that's remarkable," Kightley says, pointing out people using substances prefer to be indoors. "They don't want to be in an alley or a park."
Tweet this quote
The CTS, which is "completely prepared to respond in an emergency," provides them with a safe indoors space to use. But, as both Kightley and Rogers note, the CTS on its own isn't the answer to the opioid poisoning crisis — the toxicity of the drug supply remains a challenge.
"We can stop deaths if no one is having to rely on street drug supply," Rogers says. A pilot project to ensure a safer supply of substances, being administered by the Peterborough 360 Nurse Practitioner-Led Clinic, is a step in the right direction but is limited to supplying just 50 substance users with safe pharmaceutical-grade substances.
Advertisement - content continues below
Tweet this quote
One restriction for substance users at the CTS site is that they can only take their substances orally, intranasally, or by injection. Health Canada's exemption approval does not allow for supervised inhalation services (smoking or vaping). Rogers says inhalation services are not permitted in an enclosed space because of provincial health regulations.
"We would love to be able to provide inhalation services and pull in folks who may be inhaling their substances," Kightley says. "Injection is more risky for blood-borne illness, infection, and the passing along of communicable diseases."
To address the lack of safe inhalation services in Peterborough, a volunteer group has set up a mobile outdoor space called Tweakeasy — a reference to the speakeasy bars in the U.S. that served alcohol during the Prohibition era of the early 20th century.
"They do remarkable work," says Kightley of Tweakeasy volunteers. 'That's a response to a drug poisoning crisis that has taken too many lives — they're filling a need for a specific service."
With colder weather now approaching, Tweakeasy is raising funds to purchase a tent and other gear to provide its service through the winter months. Organizers originally set up a GoFundMe campaign last October, but GoFundMe recently shut the campaign down for "prohibited conduct."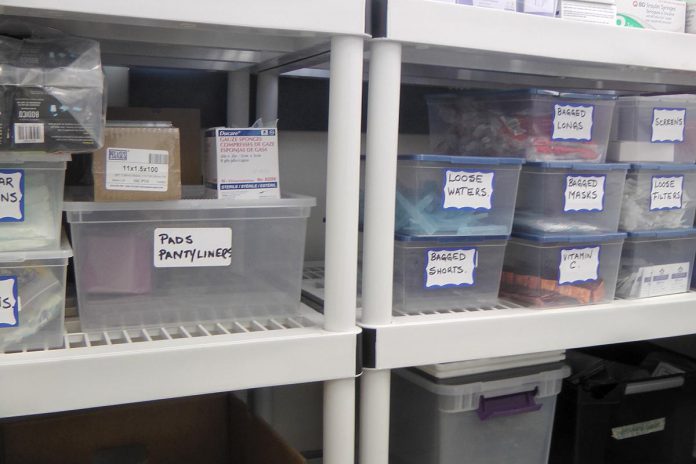 Tweet this quote
Meanwhile, while both Rogers and Kightley are grateful for the provincial and federal support of Peterborough's CTS site, Rogers notes there's much more work to be done across the province.
"What about if you live in Lindsay? What about if you live in Cobourg? What happens if you live in Belleville? None of those places have a CTS site."
Saying it will take "political will" to expand CTS sites across Ontario, Rogers points out there is another benefit to having a CTS that addresses a social issue taking lives.
"The health care system wants to figure how it can save money," she says. "This is the place to start."