Whether you're on the hunt for velour lounge wear from the '70s, blue suede boots from the '80s, or cowboy-cut jeans from the '90s, you'll find them all at The Neighbourhood Vintage in downtown Peterborough, a vintage clothing collective that offers sustainable and trendy threads for shoppers looking for a nostalgic experience.
The Neighbourhood Vintage is also an example of how 'Team Ptbo' — a group of local economic development organizations that includes Community Futures Peterborough, Peterborough & the Kawarthas Economic Development, Innovation Cluster Peterborough and the Kawarthas, the Peterborough Downtown Business Improvement Area, and the Peterborough and the Kawarthas Chamber of Commerce — is helping local entrepreneurs successfully realize their dreams.
Located at 391 Water Street, The Neighbourhood Vintage is the brainchild of Jacquelyn Craft, an enthusiastic thrifter who credits her lifelong love of upcycled, reclaimed items as the inspiration behind her new venture.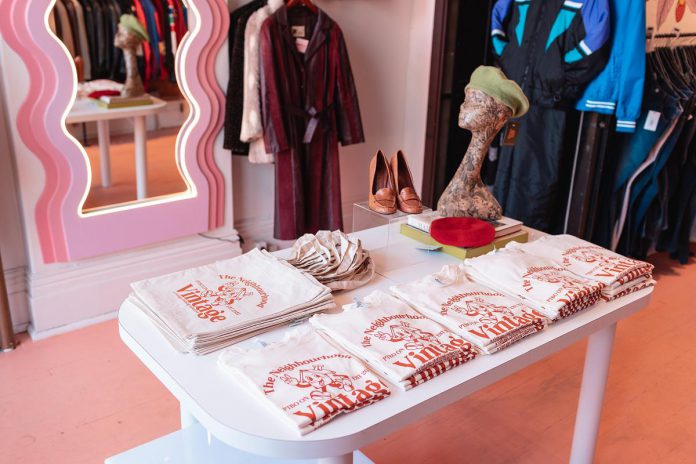 "When I was younger, my mom would take me to garage sales and second-hand stores," Craft recalls. "So thrift shopping is something that I've always been interested in from a treasure-hunting perspective, where you never know what you're going to find."
It was early in the pandemic when Craft decided to try selling vintage mugs from her personal collection on Instagram under the account Minty Vintage as "something fun to do," she explains.
"It took off a lot faster than I expected," she says of the mug sales. Craft then added other items to her assortment, including clothing, accessories and homewares, and watched in awe as sales continued to grow.
Tweet this quote
Craft also connected with other local vintage vendors selling similar items during that time. They organized pop-ups at events where they would set up racks, get in front of customers, interact with them face-to-face, and enjoy a more traditional retail experience.
"During those pop-ups, we would talk about how wonderful it would be if there were a permanent physical space we could use and not have to set up and take down our displays throughout the year," Craft says. "That is what instigated the idea of opening a storefront."
Last October, Craft opened her physical, brick-and-mortar location in downtown Peterborough. The colourful, retro store features vintage clothing and accessories from 2003 and earlier by eight local curators (including Craft's own Minty Vintage). The trendy clothes are original, size inclusive, and gender-free.
"Everything in the store is intermixed and set up in categories, which makes shopping more enjoyable and there's a wide range of styles and sizes to accommodate everyone," Craft says.
Community Futures Peterborough played a crucial role in helping Craft establish her business. By providing a loan and advisory support, the organization enabled her to overcome initial financial hurdles and get her business off the ground.
Community Futures Peterborough is one of 267 non-profit Community Futures organizations across Canada. Funded by the Federal Economic Development Agency for Southern Ontario (FedDev Ontario), it supports the growth and success of small and medium-sized businesses in the city and county of Peterborough through loans and financing, training, advice, and other resources.
Tweet this quote
"I knew that without that capital upfront, I wasn't going to be able to open the kind of shop that I wanted to," Craft notes.
She used the financing from Community Futures Peterborough towards initial start-up costs such as branding, marketing, building shop fixtures, inventory management software, and a point-of-sale system.
Craft recalls how the team at Community Futures Peterborough was very communicative from the start.
"We set up a meeting where I was able to talk about my business idea and the structure of the business. And not just my specific financial needs but my vision for pulling it together — details about the initial cash flow and how the business would run. They asked me tough questions to figure out what my needs were. Most importantly, I got the sense that they truly wanted to work with me to help my business succeed."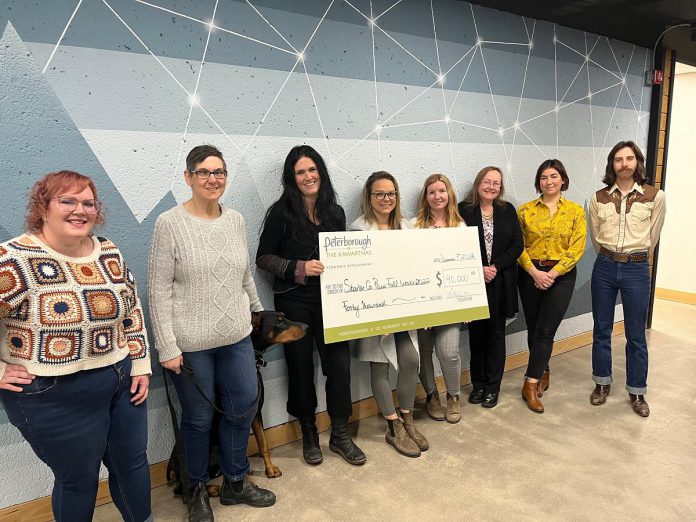 According to Braden Clark, Business Development Manager of Community Futures Peterborough, a key reason why Craft received financing for The Neighbourhood Vintage was because she had completed the Starter Company Plus program offered through Peterborough & the Kawarthas Economic Development's Business Adivsory Centre.
Last fall, she was one of eight Peterborough-area entrepreneurs selected for a $5,000 microgrant and five weeks of business training to help launch their businesses. Part of that training included advisors who helped Craft carefully scrutinize her business plan to ensure all of the pieces of her business fit together.
"Because Jacquelyn went through the Starter Company Plus program before she approached Community Futures Peterborough, we felt extra confident that she had the skills to execute her business plan, which made us feel much more comfortable supporting her financially," Clark says.
Tweet this quote
Clark adds that Starter Company Plus program, along with the Business Advisory Centre's regular 'Business Fundamentals' workshop series, give entrepreneurs a baseline understanding of what's required to start a business.
"Any of our local economic development partners will walk you through the entrepreneurship startup process and make sure that you get to the right place to develop a business plan or to make an application for funding," Clark notes, emphasizing the 'Team Ptbo' approach to supporting local business.
He adds that Community Futures Peterborough is happy to support entrepreneurs to see them flourish and to add more employment opportunities within the area.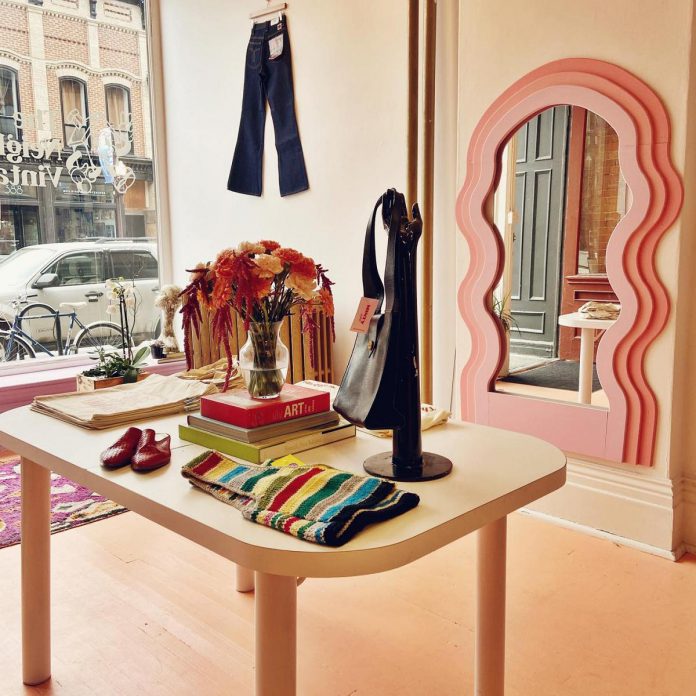 For Terry Guiel, executive director of the Peterborough Downtown Business Improvement Area (DBIA), a main strength of the 'Team Ptbo' approach is that "it demonstrates Peterborough is a supportive community when it comes to incubating, accelerating, and creating entrepreneurs."
"Downtown is the most concentrated area of startup businesses mainly due to the cost, store size, and proximity to other walkable businesses," he points out. "One of the things I enjoy is doing tours of downtown with prospective entrepreneurs and showing them the vacant opportunities. I like to inspire them on why particular areas are well suited for them and show off what downtown has to offer and what is coming with possible upgrades."
Craft's The Neighbourhood Vintage is located in the heart of downtown Peterborough, along a section of Water Street that is also home to a range of other popular locally owned businesses including Needles In The Hay, Plant Goals, Watson & Lou, The Food Shop, Tragically Dipped Donut, and more.
Tweet this quote
According to Guiel, the 'Team Ptbo' approach means entrepreneurs like Craft have access to a broad spectrum of expertise and opportunities to be successful.
"When we show collaboration between organizations like Community Futures Peterborough, which helps fund entrepreneurs, and Peterborough & the Kawarthas Economic Development, which helps create business plans and support businesses, and match them with organizations like the Chamber and the DBIA, it sends a powerful message that we care about small businesses," he explains. "Team Ptbo wants to be hands-on with supporting entrepreneurs and ensuring they succeed."
"We have different work experiences supporting entrepreneurs, whether financially, through business planning, or supporting innovation and technology," Clark adds.
Community Futures Peterborough's new leader, executive director Devon Girard, has made it a priority to strengthen the 'Team Ptbo' approach with the area's other economic development organizations to enhance the ecosystem for Peterborough-area entrepreneurs.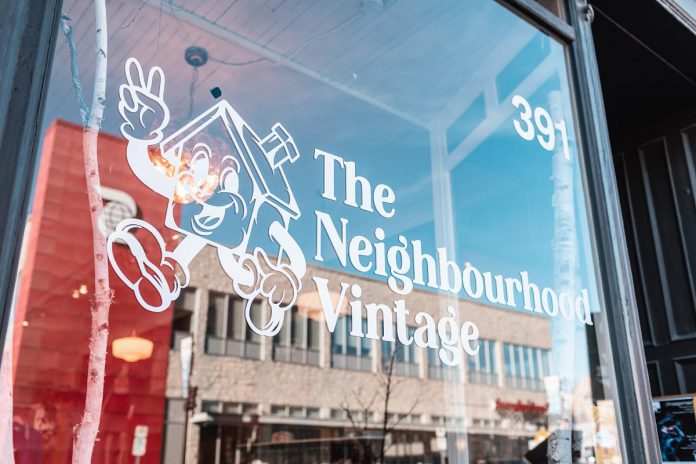 An example of how beneficial that entrepreneurial ecosystem can be is the success of The Neighbourhood Vintage. In less than six months, Craft's business is thriving. She says it's due in part to the wealth of resources available to help budding business owners succeed in their entrepreneurial endeavours.
"There isn't necessarily a step-by-step guide on how to open a vintage store," Craft points out. "There are so many pieces to getting it ready, like coordinating the vendors and sourcing the necessary hardware and technology, to figuring out how to use the inventory management system and building a website. There are a lot of free resources available to help you start up, so there should be no excuse not to access those."
Tweet this quote
Visiting The Neighbourhood Vintage is truly an adventure for shoppers. You can pair jeans from the '90s with an '80s cardigan or '70s leather bag. Sorting through different eras of clothing and finding pieces that can fit in with your modern wardrobe takes some time and effort but is worth it, Craft adds.
"Visitors love the ambience, the aesthetic, and the bright colours," Craft says. "We get tons of feedback on how fun the shop is, which was what I had hoped for and what I wanted."
Located at 391 Water Street in downtown Peterborough, The Neighbourhood Vintage is open Tuesday to Saturday from 11 a.m. to 6 p.m. For more information and to shop online, visit theneighbourhoodvintage.com.
For more information about Community Futures Peterborough and how its supports local business, visit communityfuturespeterborough.ca.
This branded editorial was created in partnership with Community Futures Peterborough. If your organization or business is interested in a branded editorial, contact us.