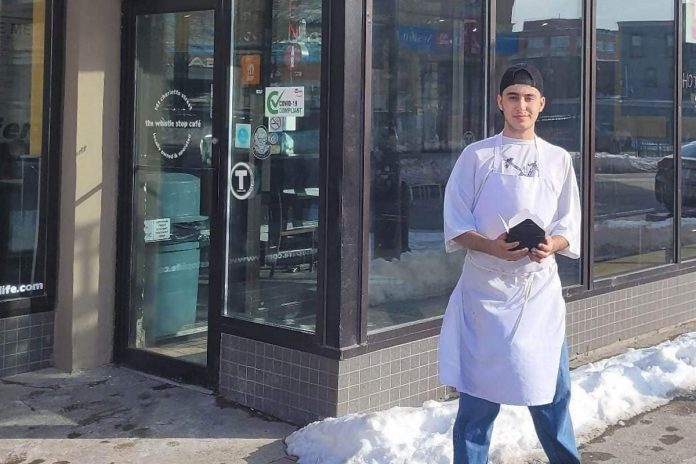 Within a hour of arriving in his new home of Canada on June 23, 2022, Syrian refugee Rashid Sheikh Hassan found himself doing something very Canadian — digging deep into a dish of piping hot poutine while sitting on a restaurant patio not far from Toronto's Pearson International Airport.
Now, eight months later, the 19 year old is doing something else very Canadian. He is giving his time and effort to the benefit of strangers in need, namely those affected in his native country by the devastating earthquakes of early February.
To complement Rashid's GoFundMe campaign titled 'Rashid To The Rescue', The Whistle Stop Café at George and Charlotte streets in downtown Peterborough — where Rashid works — will donate the proceeds from poutine sales on Monday, March 13th to the Canadian International Medical Relief Organization (CIMRO).
Advertisement - story continues below
Tweet this quote
All money brought in will go toward the purchase of desperately needed medicine and medical supplies for those displaced in northern Syria and neighbouring Turkey, which was also ravaged by the earthquakes.
With a goal of $10,000, Rashid To The Rescue had brought in close to $1,000 as of Tuesday (March 7) but both Rashid and Dave McNab, a retired Peterborough County OPP officer who was instrumental in bringing Rashid to safety in Canada, are confident the goal will be attained with the help of poutine sale proceeds.
To donate to Rashid To The Rescue, visit gofund.me/fc7d24a2.
"Mr. David asked me 'Would you like to help?' and I said 'Yes, of course,'" says Rashid, referring to McNab.
"He told me about maybe raising money. I didn't have any idea about this. I don't know how to do it. He helped me too much. I'm learning from Mr. David. My friends asked me if I had poutine before. I said 'I work at The Whistle Stop. Of course I have.' I like it."
Instrumental in ensuring the money raised will get where it's needed to whom its targeted to help will be Mark Cameron. The Hastings resident and former longtime Peterborough paramedic is the president of CIMRO, and is a good friend of McNab and his wife, veterinarian Dr. Kristy Hiltz.
Advertisement - story continues below
Tweet this quote
Shortly after the earthquakes struck, Dr. Hiltz launched a fundraiser through the Sherbrooke Heights Animal Hospital that raised $2,250 to purchase 15 boxes of suture material that CIMRO could use to repair the wounds of those injured.
But Cameron's involvement with the couple has extended beyond the humanitarian effort, bringing Rashid great peace of mind as a result.
"Mr. David told me Mark is going to Syria, so we can send him to my village (Sheikhani)," recalls Rashid, whose already constant worries for his family's safety increased dramatically following the earthquakes.
McNab picks up the story from there, noting Cameron had a friend who knew two people working in Sheikhani. Inquiries were made, the end result being a February 22nd WhatsApp video call between Rashid and his grandparents and, within a few hours of that reunion, another WhatsApp call that connected him with his parents and three younger siblings. The connection was poor at best but was good enough for Rashid to learn all were safe and in relatively good health.
McNab notes it is his and Rashid's hope that the day will come when Rashid's family can follow him to his new home in Canada.
"We're looking at options to sponsor them — if we can get them here, we'll do it," vows McNab.
Advertisement - story continues below
Tweet this quote
In the meantime, McNab has been busy helping Rashid adjust to life in Peterborough and so far so good. Not only has Rashid's English improved dramatically since he arrived, but he will complete his education upgrading at Thomas A. Stewart this spring with an eye toward attending a post-secondary institution.
"I want to be an architect," says Rashid, adding living in Peterborough "is nice."
"School is good. I have a job. I have an apartment. I used to go to the gym but now I'm too busy."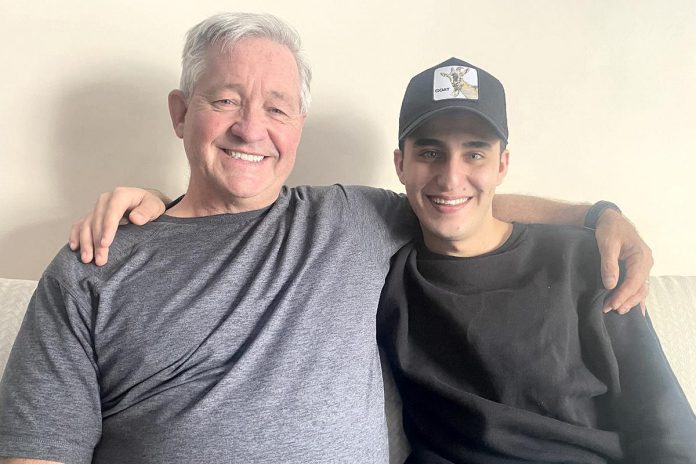 For his part, McNab is amazed by Rashid's progress since, together with Michael VanDerHerberg and Lee-Anne Quinn and aided by Matt Park, he sponsored his application and brought him to Canada — a process preceded by McNab's learning, quite by accident, of Rashid's social media plea for help to avoid being captured by Turkish police and returned to the Syria he fled.
"I never expected him to learn English this quickly," McNab says.
"He's done so well to come here and embrace the culture. He's independent. He looks after his own finances. He's a young man living his life and making his own choices. He's doing everything we hoped he would do. The one piece that was missing was that he didn't know where his parents were and now we know that."
Rashid's story
In 2014, when he was 11 years old, Rashid Sheikh Hassan's family home in Syria was bombed. Along with his parents and his younger siblings (two sisters and a brother), Rashid made it out of the house safely but subsequently became separated from his family in the chaos that followed. He travelled 100 kilometres across a war zone to find his grandparents, hoping the rest of his family would follow. They never did.
Five years later, at the age of 16, Rashid fled Syria to Turkey out of fear for his life, leaving behind his grandparents and the hope of ever finding his family — as he would have no way to communicate with them after he left.
It took Rashid a week to successfully enter Turkey, but he could not receive refugee status because it was no longer being granted. He lived in Turkey for almost two years, supporting himself with meagre wages in a country where he was not entitled to education or health care. As a Kurd with no legal status in Turkey, he was at constant threat of being captured and deported back to Syria.
Hoping to come to Canada, Rashid went on Facebook and searched for a Canadian Facebook group. He found one and posted a desperate plea for guidance on how he could come to Canada to start a new and safer life. However, with little knowledge of English, he had inadvertently posted his request in a group intended for people posting photos of birds, where his post was met with hostile, anti-immigrant, and racist comments.
Matt Park, one of the group's members, defended Rashid and brought his post to the attention of retired Peterborough County OPP officer Dave McNab, who began communicating directly with Rashid online. Over several months, McNab helped Rashid improve his English. McNab, along with his wife Kristy Hiltz, Matt Park, and Michael VanDenHerberg, raised funds to sponsor Rashid to come to Canada.
On June 23, 2022, Rashid arrived at Toronto's Pearson International Airport where he was welcomed to his new home by his sponsors. He now works and attends school in Peterborough and speaks fluent English, his third language. On February 22, 2023, Rashid had a video call with his grandparents, his parents and siblings, and other family. Until an hour before the call, they feared he was dead and he feared they were dead.