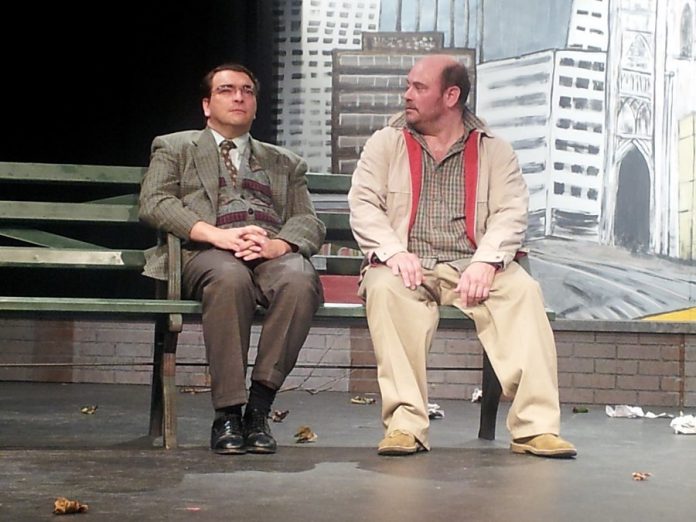 Never talk to strangers. Especially agitated ones who approach you in a park.
This old piece of advice handed down by our mothers is reinforced in The Zoo Story, the first of two one-act plays by American playwright Edward Albee being presented under the title "Double Talk" at the Peterborough Theatre Guild from September 20th to October 5th. Directed by David Russell, "Double Talk" includes Albee's debut, The Zoo Story, along with Counting the Ways.
First presented in 1958 as a one-act play, The Zoo Story was later rewritten as a two-act play and only recently has Albee permitted the production to go back to its original format. Most famous for his 1961 hit Who's Afraid of Virginia Woolf, Albee wrote Counting the Ways in 1976 during the latter part of his career.
The Zoo Story features Matt Gilbert in the role of Peter — a mild-mannered middle-class man who spends Sunday afternoon away from his family to read in the park on his favorite bench — and Brad Brakenridge as Jerry — an evasive oddball who is desperate to connect socially with someone.
An immediate tension between the pair is formed from Jerry's first line when he mutters "I've been to the zoo." Although Peter initially engages with Jerry in a stilted yet friendly manner, The Zoo Story quickly becomes a long monologue of a madman's desire to connect with the world. As Jerry tells his story, Peter grows more uncomfortable as Jerry becomes more manic.

Brad Brackenridge gives an incredible performance as Jerry, not only because of the massive wordy monologues that he has to give, but for the way he subtly executes his character's own insanity.
Despite the amount of dialogue he has to speak, Brackenridge never lets the pace of the production slip, using the full space of the stage, continuously moving and using the props around him, and drawing the audience into his story. Watching his character's derangement grow organically on stage is almost mesmerizing.
The connection between the actors is never lost, and Matt Gilbert manages to create a sense of fear as Brackenridge becomes increasingly aggressive. The performance never seems staged, and the natural patter of the actors gives the illusion that this is a real conversation unfolding before the audience, who can easily connect with the situation of being approached by a shifty stranger who wants to talk. If The Zoo Story proves one thing, it's that sometimes it's better not to let strangers talk too long.
Counting the Ways provides much-needed relief to the tension of The Zoo Story, but the subject matter is just as dour — although presented in a whimsical way.
Christopher Spear and Alex Saul plays a married couple who find themselves at the crossroads where love grows stale and sex becomes passionless. As Spear's character asks "When did it happen?", Counting the Ways almost becomes an adult pantomime, with characters breaking the fourth wall and presenting their stories through 20 well-staged vignettes in which we discover that "he" is trying to hold on to a love that just isn't there anymore, while "she" is literally suffering through what has slowly become a dull existence.
The play fluctuates between campy comedy and high drama as the audience watches the characters' relationship collapse around them, both together and through separate monologues. The unconventional format of the production could have met with disaster without such exceptional talents as Spear and Saul, who are delightful to watch. Both are adorable and create likeable characters.
Counting the Ways is not the usual "break up" drama where the audience is forced to take sides as the characters do awful things to each other. Instead, it's about two sensible — although possibly dull — adults who are watching their love naturally erode.
With what are both potentially difficult productions to stage, Russell has created two fine separate pieces of theatre for the price of one ticket. However, despite being well executed, "Double Talk" is recommended to those with a true love for the theatre and not for someone just looking for an evening of light entertainment.
Russell and his crew have created an evening of legitimate theatre at its finest, but it may prove to be too cerebral for the average audience.