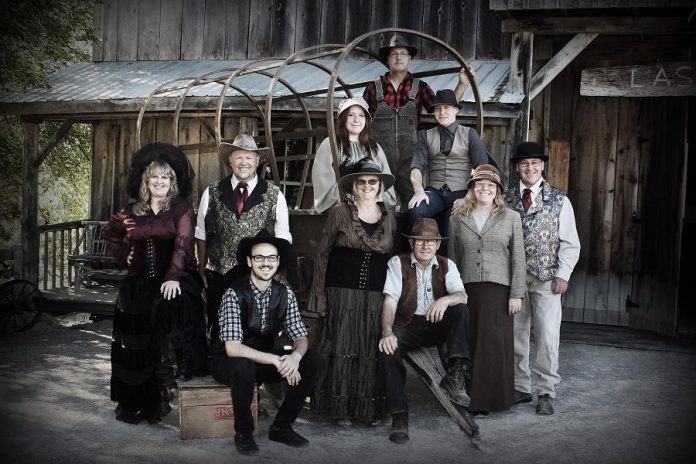 Isn't it time to try something new? These incredible local experiences are a great way to break out of your rut and have a blast. Thrilling game play, a party in a village that's also a museum, and a chance to explore your artistic talent (drink in hand) await you. What are you waiting for?
---
Escape Maze offers Old West excitement
The year is 1866. The Kawarthas are experiencing a gold rush, and with it has come a taste of the Old West: taverns, backhouse poker games, vaudeville acts, and the occasional really good mystery.
Welcome to the world of Escape Maze (156 Cedar Bank Rd., Peterborough, 705-740-3657), a series of interactive games run on a local family farm by Jake Walling along with her brothers Mike Preddy and Fred Preddy. Altogether, 10 family members are involved in creating an exciting world of game play where you and your friends are racing against the clock.
As soon as you arrive at the farm you are immersed in the atmosphere of the Old West. You enter the barn, where you watch a movie about the gold rush that hit the Kawarthas in 1866 — a real historic event that provides a frame for the Escape Maze experience. That's when the fun begins.
The Escape Maze has a variety of puzzles to solve. If you choose a room experience, you are brought into a room where you have either 45 minutes or an hour to solve a series of clues to escape.
In the Backhouse Poker Room, you need to solve poker-themed clues to escape. In Rosie's Tavern, Rosie has gone missing and it's up to your team to to solve the mystery. At The Freak Show, you have been locked in the Moosehead Theatre and you need to set it up for the freak show that's coming to town before you can find the key out. In the Battle for Granny's Gold, you are on one of two teams — either you want to steal granny's gold or you want to protect it — whose players compete for the gold.
There are also outdoor adventure trails where you get a map and a compass and you head out on the trail following the diary of an early pioneer. You need to find different stations and solve the puzzle before your friends can.
Finally, fans of horror will enjoy The Shaft, a haunted adventure where you unlock a series of doors. If you fall behind, you may encounter a zombie. The shaft is open once a month and at Halloween. Every year it changes, so you can make it part of your Halloween tradition.
Puzzles require logic, ingenuity and an eye for detail. And they can be addictive. Jake explains there's a whole psychology around it.
"There are different endorphins that are released during game play," she says. "If you're trying to open a lock and you finally open it, that releases endorphins in your body — and that's going to make you feel good."
There's also the bond that develops when you solve a problem together.
"Everybody feels closer to each other. There's a connection that happens when you're all trying to do something together."
And if you think that being locked in a room won't be very exciting, think again.
"There's the adrenaline of trying to get something done fast," Jake explains. "It's more psychological than you think."
The puzzles are made to be challenging, but you get a bell that you can ring if you're really stuck. The percentage of people who make it out varies by the room. The hardest room only has a 10 per cent success rate, but that's without using the bell to get clues.
Jake says that she doesn't get too hung up on the numbers. "Our main concern is that everybody has fun doing it."
After you solve your puzzle you can head to the photo shop, where you take a picture dressed in pioneer clothes.
The Escape Maze welcomes corporate and school groups, and can accommodate over 100 people at a time.
You can find Escape Maze online at www.escapemaze.com or on Facebook, Twitter, and Instagram. To book your Escape Maze experience, visit www.escapemaze.com/bookings/.
Six incredible reasons to visit Kawartha Settlers' Village this year
Any visit to Kawartha Settlers' Village (85 Dunn Street, Bobcaygeon, 705-738-6163) is a journey through time. Buildings and artifacts dating from 1830 to 1935 tell the story of Bobcaygeon: from settlers trying to make it through their first winter in a hastily constructed shanty, to a time of prosperity when the town became home to logging barons and prosperous blacksmiths.
A visit to Kawartha Settlers' Village is always an entertaining and educational experience, but the grounds are also a venue for some of the most unforgettable events in the region. Here are six reasons that you need to visit Kawartha Settlers' Village this year.
1. Get in touch with history
Any visit to Kawartha Settlers' Village is sure to be an interesting experience. As you enter, children are offered a scavenger hunt, and adults can enjoy a free audio tour.
You can immerse yourself in early farming, with a three sisters garden, chickens, goats and ducks.
Others will enjoy the chance to see what jail was like in Bobcaygeon in 1874: a structure with no roof used mostly on Saturday evenings. A roof has been added to the original jail and it's on display.
Jessica Bullock, the marketing coordinator at Kawartha Settlers' Village, recommends the General Store. There you can browse artifacts, and an old pharmacy exhibit with vintage medicines. There are even 1930s-era breast pumps.
2. Movies in the Barn
Every Wednesday evening in July and August, the Murphy Barn becomes a place where the community gathers for movie night.
The first feature this year will be the aptly chosen Night at the Museum. The snack shack is open and chairs are provided, but many prefer to bring their own blankets and lawn chairs.
Admission is by donation.
3. Driftwood Theatre
Fans of live theatre will enjoy Driftwood Theatre's adaptation of Othello, which envisions the story unfolding among Canadian soldiers on the island of Cyprus in 1974.
The production takes place on Friday, August 4th at 7:30 p.m., and admission is $20 (or pay what you can).
4. The Second Annual Bobcaygeon Craft Beer and Food Festival
This adults-only event features eight breweries and a cidery and six food vendors. Just make sure you don't end up in the 1874 jail!
New this year will be Brew Sessions, which Jessica says will offer a more in depth look at the breweries represented.
"Each brewery will talk about how they make their beers, their ingredients, and what foods they are best paired with. It's a platform for them to talk about their product and hopefully get people even more interested."
The Second Annual Bobcaygeon Craft Beer and Food Festival will take place on Saturday, August 19th from 12 to 7:00 p.m.
5. Haunted Village
Even when summer is over, the fun continues at Kawartha Settlers' Village. This incredible Halloween-themed event is a chance for kids and adults to enjoy the season.
There's a haunted house for the adults, but the rest of the village is set up for kids to enjoy. They can bob for apples and marshmallows, solve the maze and do crafts, but Jessica says that the highlight of the event is the Wicker Man — a man fashioned of sticks.
"When guests come to the village they can go and write a wish into the wicker man and then you go and stuff them into him. At the end of the night, we parade him to the fire and we burn him. It's said that your wishes go to heaven and they're supposed to come true."
This year's Haunted Village will be held on Saturday, October 21st from 6 to 9 p.m. Admission is by donation.
6. The 20th Anniversary Festival of Trees
Those who have been to the Festival of Trees at Kawartha Settlers' Village often make it a tradition. Beautifully decorated trees, wandering carollers, a craft sale, and a pancake breakfast are among the many activities you can enjoy.
This year, the festival will take place from Thursday, November 9th through to Sunday, November 12th.
Volunteers are always needed for events, so Jessica encourages anyone who is interested to call the office. They will even give out high school hours.
Kawartha Settlers' Village is open from May through to the end of September from 10 a.m. to 4 p.m. You can find them online at www.settlersvillage.org. You can also follow them on Facebook, Twitter and Instagram.
Spirits and Splatters and the benefits of the brush
Have you ever considered taking up painting? Elaine DeCunha, founder of Spirits and Splatters, has everything you need to get started. Her paint parties are a chance to unplug, relax, and get in touch with a part of yourself that you may not often indulge.
So what do you do at a paint party? Elaine says that the atmosphere is very relaxed.
"Spirits and Splatters makes it easy to just relax, have a drink, and try your hand at painting with guided instruction."
Even those who are completely new to painting can enjoy a paint party.
"We teach folks step by step and make it very easy. Most are quite surprised and happy with what they have created."
Elaine has been passionate about art since she was a young girl.
"I have loved and done artwork since I was five."
She received a scholarship to the Ontario College of Art and Design and completed a minor in Fine Art from Guelph University, but her father convinced her to take another path.
"My father convinced me that there were too many starving artists and I should follow a more reliable degree."
Art is Therapy
Elaine was 18 at the time, and had been volunteering at Ontario Correctional Institute, teaching art to inmates.
"I became interested in our criminal justice system while working with the inmates and listening to their stories."
Elaine decided to get a degree in Criminology, but she kept teaching art — this time to to inmates at Guelph Correctional Centre. She could see the value of these lessons in the inmates she worked with.
"After working with inmates, I know that painting and art in general is very liberating. It is therapeutic, an escape in another way, where one gets lost in the colours, the texture, the whole creative process. Self expression through art is wonderfully gratifying and raises self confidence and self esteem.
"I've seen significant changes with inmates once they have discovered they have a talent in art. Most do but never give themselves the opportunity to try; being incarcerated gave them the time. Many artists like Norval Morrisseau discovered their talents in jail."
Elaine says that everyone, not just inmates, can have this connection to art.
"Art is therapy … for everyone."
Painting is good for you
Creating a piece of art can be a great way to get away from the screen. Elaine says that once you start, you won't miss your phone.
"Painting gives good competition to electronic devices in terms of absorption and engagement. It is addictive. Once immersed in the process of creating and discovering, one forgets about everything else."
According to Elaine, studies have shown that painting can even improve brain health and prevent Alzheimer's.
"New research from Germany has found painting to be just as effective as math in Alzheimer's prevention. Which is great since I'm lousy at math."
Elaine has seen a lot of hidden talent emerge at her paint parties. She takes pride in helping to reveal it. She recalls Karen, a mother who was given a gift certificate to Spirits and Splatters for Mother's Day.
"It was a large crowd that day at Ashburnham Ale House (in Peterborough) and I saw Karen doing a beautiful painting. I went over and told her she had a gift."
The next day Karen bought supplies and started painting every day. Eight months later she left her job as a mortgage broker to pursue a diploma in fine art. Elaine still stays in touch with her.
"I just received a message from her a couple of days ago saying she's been hired to teach painting! How wonderful is that?"
Spirits and Splatters offers a variety of paint party options, including private events held at a home and public events held at a bar or restaurant. They offer services for fundraisers, birthdays, bachelorette parties, corporate team building, retirement homes, and special needs groups.
In addition to paint parties, Spirits and Splatters will begin to offer workshops from their Millbrook studio in July. This will include sculptural workshops to create garden accents, including driftwood sculptures, leaf stepping stones, cement mosaic birdbaths, and stone work. These workshops will be presented at the beginner level.
You can find Spirits and Splatters online at www.spiritsandsplatters.com and upcoming paint parties at www.spiritsandsplatters.com/events/. You can also follow Spirits and Splatters on Facebook, Instagram, Twitter, YouTube, and Pinterest.