Those expecting the same level of energy Kim Mitchell brought to Del Crary Park back in 2012 won't be at all disappointed this Saturday night (July 1), when the 64-year-old Canadian rock music icon keeps the Canada Day party rolling, opening the 31st season of Peterborough Musicfest.
What the audience won't see or hear is a more retrospective Mitchell; a new appreciation for the simple things in life that has taken root since a January 2016 heart attack anchored the perpetual man in motion.
"We just kind of roll along and don't appreciate so much of the good shit in our lives," says Mitchell in a May 2016 interview with Jim Barber for www.MusicLifeMagazine.net. "I will now take a walk and appreciate the simple goodness of the earth. I have friends; I have a roof over my head — stuff like that means so much more now."
Before things get too warm and fuzzy, fans of Mitchell's music — both as the front man of Max Webster and as a solo artist — need to be reminded that while his heart took a hit, his enthusiasm for performing live has never waned. Not even close. And more notably, the Sarnia native knows what people want to hear and he gladly delivers.
VIDEO: "Easy To Tame" – Kim Mitchell

"I am all about customer service in rock and roll," Michell says. "People are coming out to hear certain songs and hear me playing them. I like to give people what they want."
Having begun his professional music career in the mid 1970s with Max Webster — before launching and sustaining a remarkable solo career that brought him three Juno Awards, including a 1990 win as Male Vocalist of the Yea — Mitchell has plenty to give.
Hit singles such as "Go For Soda", "Lager and Ale", "All We Are", "Patio Lanterns", "Easy To Tame", "Rock And Roll Duty", "Rockland Wonderland", and "America" remain highly recognizable signature tunes that still enjoy considerable radio airplay.
VIDEO: "Paradise Skies" – Kim Mitchell with Max Webster

He also continues to play Max Webster tunes during his shows, including "Paradise Skies", "Diamonds Diamonds", "High Class in Borrowed Shoes", "Hangover", and "Check".
Mitchell arrives in Peterborough minus the 11-year radio gig that saw him serve as the afternoon drive time host on Q107 in Toronto.
"I have not listened to one radio station since, not one," he relates to Barber. "It's not out of anger. It's like when you sell a house and you leave the neighbourhood. Do you go back to that neighbourhood? Not really, do you? You've moved on."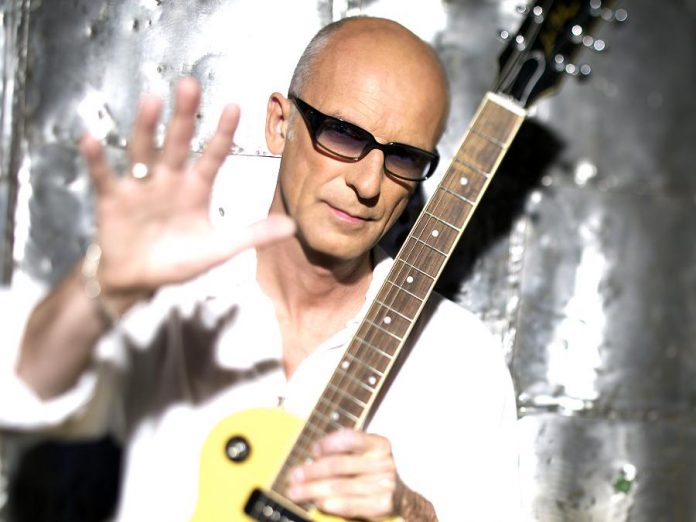 Fortunately for local fans of Mitchell's music — there remains many — he's returning to the Peterborough Musicfest neighbourhood for the fourth time.
His health scare having altered his perspective, he arrives in a less frenetic state of mind.
"I have nothing to prove any more. I play guitar and I am going to go up there on stage and enjoy myself and appreciate the fact that I get to go up on stage and play in front of people who like what I do.
"I don't stress out about all the stuff around being a touring musician any more. I am where I am in my life and my career, so I am just going up there and relax and do my thing."
VIDEO: "Patio Lanterns" – Kim Mitchell

While Mitchell hasn't recorded a studio album since 2007's Ain't Life Amazing, he told Barber there's a local connection to new material that may be forthcoming in the form of Peterborough native Greg Wells, a highly successful Los Angeles-based producer.
"He (Wells) came to visit me just after the heart attack and I gave him a USB thing with the new stuff that I had. It was all laid back stuff that I had written over the years but thought was too mellow to release," he told Barber.
"Two days later, Greg sends me an email back asking 'Can I produce this? This stuff is awesome. I love this side of you and I think it should be developed.'"
VIDEO: "Go for A Soda" – Kim Mitchell

Joining Mitchell in Peterborough will be bassist Peter Fredette — he's been with Mitchell since 1983 — and drummer David Langguth.
Following the concert, a special Canada 150 fireworks display will illuminate the night sky over Little Lake, courtesy of Peterborough's two Rotary clubs.
The July 1st season-opening concert, presented as part of the four-day city-wide Celebrate At Home initiative to mark Canada's 150th birthday, is sponsored by The Wolf 101.5 FM, CHEX TV, Ashburnham Funeral Home & Reception Centre, Canadian Tire, Collins Barrow Kawarthas LLP, TVCogeco, Darling Insurance, DM Wills Associates Limited, Hearing Unlimited (Chemong Audiology), Investors Group, Ricky's All-Day Grill, Rotary Club of Peterborough Kawartha, and Trent Valley Honda.
Peterborough Musicfest is presenting 17 free-admission concerts featuring a total of 22 acts during its 31st season — each staged every Wednesday and Saturday night until August 26th.
Overseen by general manager Tracey Randall and staff, a board of directors, and numerous volunteers, Peterborough Musicfest's stated mission is to "provide diverse, affordable live music to enrich cultural and economic prosperity in our community."
For more information on this concert and/or the 2017 season, visit www.ptbomusicfest.ca or phone the Peterborough Musicfest office at 705-755-1111.