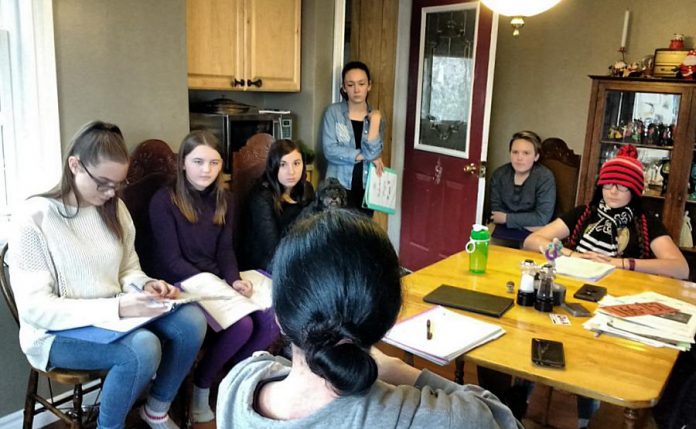 In November 2016, I sat in the green room at the Peterborough Theatre Guild where I was introduced to a group of young actors performing in The Reluctant Dragon, last year's annual holiday family show at the Guild.
With the show's producer Nikki Weatherdon leading the discussion, I spent an hour visiting with Emily Keller, Aimee Gordon, Samuelle Weatherdon, and Isaac Maker — a bright and articulate group of young actors with a serious passion for performing.
At that time, little did I realize that for the next year I'd be following these same four kids, along with co-performers Abbie Dale and Emma Meinhardt, who would be selected by Derek and Nikki Weatherdon to form the cast of Planet 12 Productions.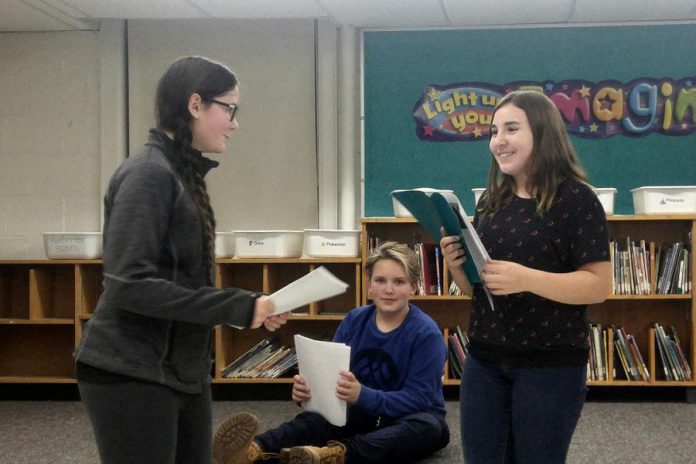 A year later, I am sitting in the Weatherdons' kitchen peering into their living room to watch the same group perform a brand new revised version of The Reluctant Dragon. Planet 12 is restaging the show, streamlined and with a far punchier script, for four special performances at area schools over this holiday season.
"It's a crowded field this time of year," says director, writer, and Planet 12 co-founder Derek. "There are a lot of shows going on, and there are a lot of opportunities for classrooms to go and see a show. But that takes permission forms and a lot of money: for a class of thirty kids it's about four hundred dollars for one class.
"We are trying to reverse that and say 'We'll come to you'. We'll show up, set up, and do a high-quality show. You have no permission forms, no busses, no hassles, and you don't need to do anything but bring the kids to the school gym to see the show. As a teacher, I know how nice of a gig that is. You don't deal with the hassle of a field trip, but you do get all the same entertainment as if you did."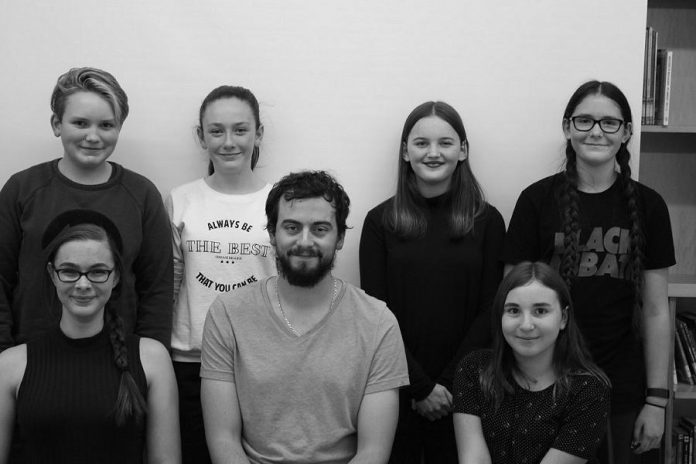 Following the same basic plot as last year's show, Derek's rewrite of The Reluctant Dragon has reduced the number of performers, resulting in a more cohesive production.
Taking place within a virtual reality video game played by an unnamed gamer (Aimee Gordon), The Reluctant Dragon follows the misadventures of Knee Cap (Samuelle Weatherdon), a bored shepherd who longs for adventure. Hearing tales of dangerous dragons by companions Fingers and Thumbs (Abbie Dale and Emma Meinhardt), she and her best friend Radishes (Emily Keller) meets a mild-mannered slacker dragon (played by adult actor Addison Wylie, recently seen in Evil Dead: The Musical).
Befriending the dragon, the pair soon must protect it from the cruel and selfish Prince Scumworth (Isaac Maker), who plans to permanently banish it from his kingdom.
Although I enjoyed last year's production, I couldn't help but notice how the new version is a far more coherent telling of the story, with a more intelligent script offering something for both adults and children to enjoy on an even field.
"I want the broad strokes to be appealing enough for young people to get it, but mindful that there will be teachers watching it and some grade seven and eight kids," says Derek of the rewrite. "There has to be something there for everyone. There has to be a clever joke, or a way to make the characters relatable.
"Ultimately you want people watching the show to wish they were in it. It has to look contemporary — it can't look like a cheesy or awful show, especially when going into a school. You can tell a story and make it intelligent at the same time."
"A lot of people think that everything has to appeal to only the younger kids," Nikki adds. "They don't know how to make it appeal to the older kids and the adults at the same time. We think we managed to do that. We spent the first few rehearsals laughing through the script."
After what has been an amazing year for Planet 12 Productions producing theatre aimed towards an adult audience (primarily at The Theatre On King), the restaging of The Reluctant Dragon represents the company's return to producing theatre for children. Soon after the first production of The Reluctant Dragon ended, Derek and Nikki handpicked their players from their brightest cast members and, with the support of the parents of the performers, formed Planet 12 Productions.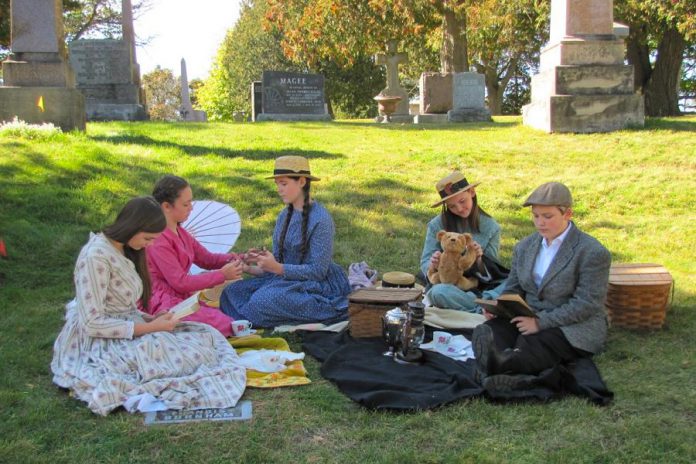 The company launched its inaugural show in June with the highly talked about Boy Wonders, which shocked audiences — expecting a kids' play — with its mature content. A story about the real lives of teenage superhero sidekicks, Boy Wonders featured kid actors, but was definitely not a kids' play.
After a small cameo in the Little Lake Cemetery Twilight Pageant in September, the company followed up in October (with the kids mainly behind the scenes) for Incident On Gun Mountain, a 1970s grindhouse-inspired thriller featuring Sasquatch lore.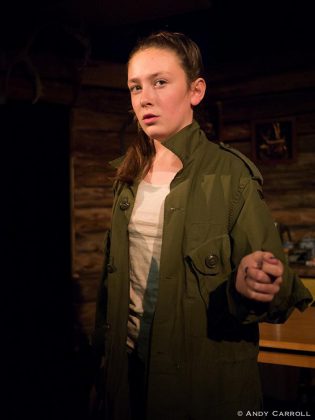 Through these productions, the Planet 12 performers have worked with a number of local theatre favorites including Brad Brackenridge, Lindsay Unterlander, Josh Butcher, Nathan Glovier, and Kelsey Gordon Powell.
The result has been a non-stop hands-on education in professional dramatic theatre that has helped the group of young performers really step up their game.
As I watched them rehearse the new version of The Reluctant Dragon, I couldn't help but notice how much each of the performers have grown within the last year. Not only are they all much taller, they've also grown as performers. I've always been impressed by maturity and dedication of Planet 12 performers, but the education that they've received in theatre throughout 2017 really shows.
Although there will be no public performances of the new version of The Reluctant Dragon, classes at Chemong Public School, Lakefield District Public School, RF Downey Public School, and North Cavan Public School will be getting the special chance to see this latest Planet 12 offering.
However, there will be more chances for the general public to see the Planet 12 kids as they head into what is going to be an exciting second year for them, when they relaunch Boy Wonders on the Toronto stage as part of the 2018 Toronto Fringe Festival!
Despite having only a 12 per cent chance of being selected for Toronto Fringe, Planet 12 found out only a few weeks ago they won a slot in the renowned drama festival.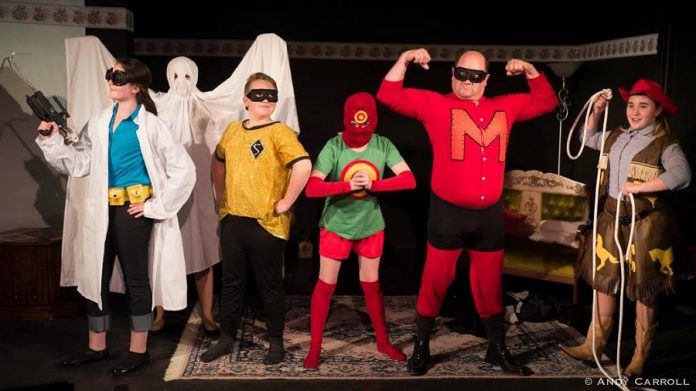 In July 2018, Planet 12 will be doing seven performances of Boy Wonders over two weeks at various different Toronto venues. This is exciting news for both the company and the performers, as the theatre community beyond Peterborough will get a chance to see these talented performers for the first time.
After watching a performance of Kate Story's Festivus Rattus Rattus 2035 at The Theatre On King during the evening of the Fringe Festival lottery, Derek and Sam saw that Planet 12 got selected when they turned on their phones following the performance. The result has been a lot of excitement for the group.
"Sam texted all the kids to tell them that we got in," Nikki recalls. "A few minutes later, I got a text from Aimee Gordon's mother that read 'Can I guess from all the screaming coming from Aimee's room that we got into the Fringe festival?'"
Derek and Nikki are hoping they'll be able to bring the same cast from the original show, but it's too soon to tell. With their cast members, as well as adult performer Brad Brakenridge, often performing in other shows beyond Planet 12, schedules could be a bit tight. But as the Weatherdons explain, the families of the performers are all on board and understand what the opportunity to be seen at Fringe means for both the company as well as the kids.
"We talked to everyone before we applied for the festival," Nikki says. "We explained to the kids and their parents what it would be mean. We were very blunt, and everybody got it.
"The interesting challenge we'll have is with the marketing. Fringe has a kids' stage, which isn't because kids are in a show but because it's a show for kids. Boy Wonders is certainly not a kids' play. We'll have to make sure that even if they see a cast of kids, they realize it's an adult show."
What many people may not realize is the clever way Planet 12 has been weaving elements from all of their stories into one another, in a universe-creating project. Each Planet 12 show contains subtle references to the others. Characters from one show can be related to characters in another, places and events from other shows are referred to, and background objects may have obscure references from other shows. Even during The Reluctant Dragon, I was amused to find a reference to Incident On Gun Mountain.
"What we are doing is creating a solid world through our shows," Derek explains. "We've been inspired by Quinton Tarantino in regards to that, and we take all the little bits and connect them."
The most obvious repeated references are to the fictional La Grande family. Although yet to appear in any of the shows, Derek has referred to the family in all the shows he has written so far, starting as far back as a show he wrote for Queen Elizabeth School, where he teaches, called Rock and Roll versus Zombies.
"Rock and Roll versus Zombies took place at La Grande Music Hall" Nikki says.
"Then Boy Wonders takes place at La Grande Hotel," Derek adds. "And the bourbon bottle in Incident On Gun Mountain is from the La Grande Distillery. Our next show is called 'How Can You Tell if You're Being Secretly Poisoned' which will feature members of the La Grande family for the first time. It's about the patriarch of the family who is the victim of an assassination plot. Our company is going to be playing the children of La Grande, and the patriarch will be trying to figure out which one of them tried to kill him."
However, with Boy Wonders heading to Fringe, the next original Planet 12 Production possibly will not be launched until next fall. But 2018 will prove to be an exciting second year for the group. With the Toronto debut of Boy Wonders and more original world-building shows on the way, Planet 12 has just begun on what is becoming an amazing theatrical journey.
Personally, over the last year I have really grown fond of each of Planet 12's six young performers. I've enjoyed getting to know them through their performances on stage, and to see them grow stronger as performers with each show. As someone who enjoys original theatre, knowing there is much more on the way from this group is an exciting thing for me, and one of the things I am most excited about in the upcoming year.
"The whole idea of Planet 12 was always to have something on the go," Nikki says. "There is always something for them to do. We don't have kids who act as window dressing. Our kids have more to do. They don't just have one line. They are all too good to waste. There is no star — they are all the star."