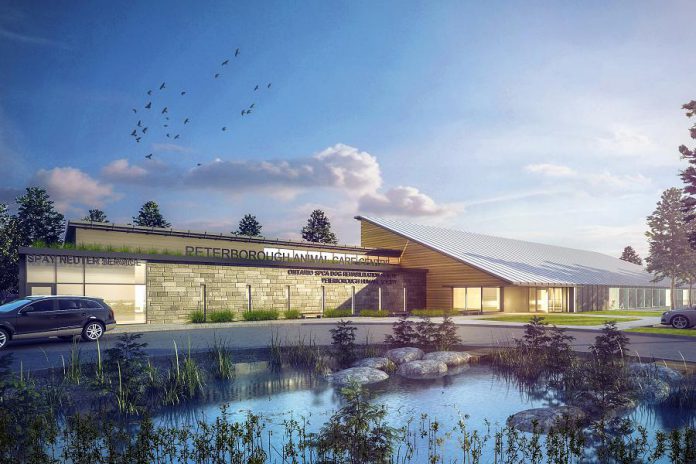 While there remains more than enough room for love and compassion at 385 Lansdowne Street East, the 6,200-square-foot building is hard pressed to serve the ever-increasing demand for the services offered by the Peterborough Humane Society.
Clearly a solution is needed and — as revealed at an event on Wednesday afternoon (December 20) at the society's shelter — a solution is indeed on the horizon, in the form of a state-of-the-art animal care centre to be built on a 20-acre site at 1999 Technology Drive.
"This building has served the community very, very well but unfortunately it can't continue to keep up with the trends of the advancements in animal welfare," says former society executive director Andrew Fraser.
"This building is very compact in its design and is lacking in terms of what it allows us to do. We do good work with the resources that are available to us, but it's about health and wellness. Not just for our animals, who are so vulnerable and in need, but also for our staff and our volunteers, and their being comfortable and happy and engaged on a day-to-day basis — in an environment that's very green with a lot of beautiful architecture and a lot of beautiful natural light."
Simply put, the current facility (built in 1956 as a dog pound) can't continue to support the demands of caring for the some 2,000 lost, injured, abandoned, and abused animals that come through the doors annually.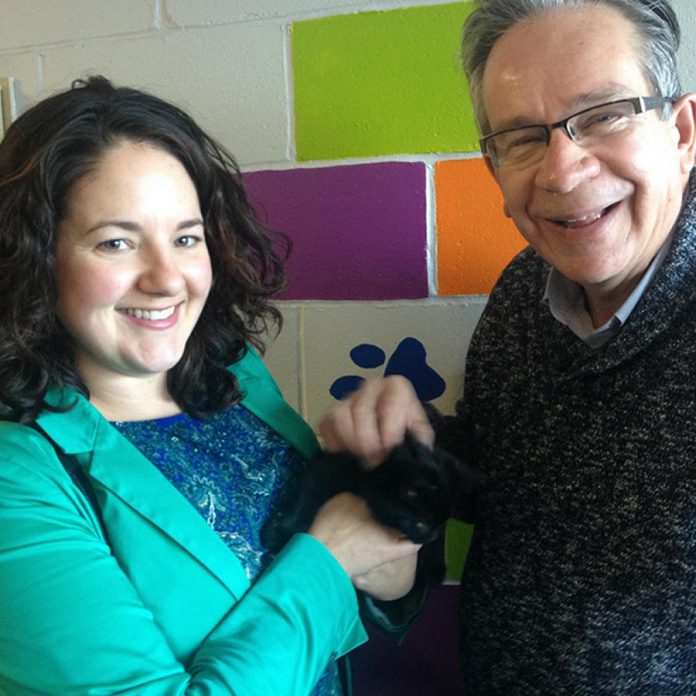 A quick tour of the Lansdowne Street building for the benefit of Peterborough MPP Jeff Leal provided clear evidence of that, with virtually every available space occupied.
"When it was constructed, it was to serve certain functions," Leal says. "They do a remarkable job with the space they have, but they're dealing with a very confined space while fulfilling so many functions."
Leal says he will investigate what opportunities there are for the Ontario government to help with the estimated $10 million cost of the new facility.
Designed by Peterborough-based Lett Architects, the planned 24,360-square-foot facility — four times the size of the current building — will feature a number of innovative features including, but not limited to: an aqua therapy pool and underwater treadmill for dog rehabilitation; a family living room to help dogs acclimatize to living in a home environment; and both indoor and outdoor off-leash areas.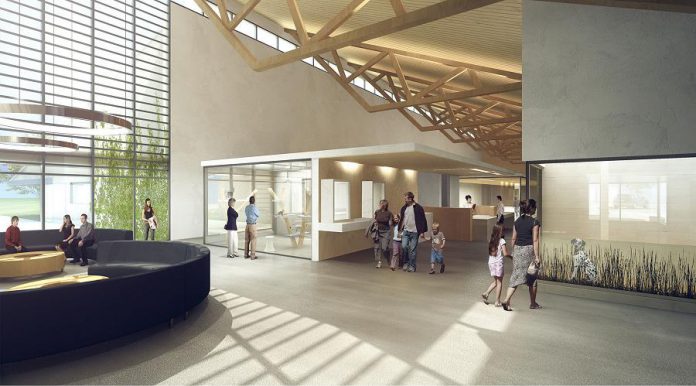 The facility will actually be home to three separate animal welfare programs: the Peterborough Humane Society Shelter, Adoption, and Education Centre; a high-volume and low-cost spay-and-neuter clinic; and the first-ever Ontario SPCA Dog Rehabilitation Centre.
"The new centre is going to represent the best in animal welfare in terms of education and programming and essentially opening our doors to the community, be it rescue groups or like-minded affiliates like Trent University or Fleming College," Fraser explains. "All of these folks are going to be able to utilize the state of the art facility for education-based animal-oriented programming.
"As well, the dog rehabilitation centre addresses a major gap in animal welfare in Ontario and beyond our borders. We've gotten really good at helping with the physical ailments and challenges that dogs come into our centre with; what this centre represents is a specific focus on mental and emotional behaviour rehabilitation. Animals are coming in abused and neglected.
"It really represents the pendulum swinging in a positive direction; a recognition that these animals deserve more. It's very unique. It would be 100 percent fair to say this centre represents a beacon of hope for animal welfare in the province, within Canada and certainly beyond our borders."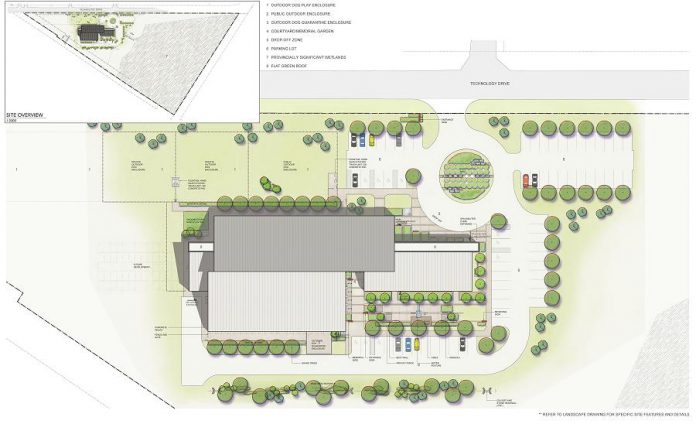 But that "beacon of hope" doesn't come cheap. To that end, the society will launch a public fundraising campaign in early 2018 with the goal of raising close to $4 million.
While that will present a challenge, a good portion of the remainder of the total cost has already been secured: the Ontario SPCA has committed $2 million to the project while the City of Peterborough is in for $1.83 million.
As well, the society estimates the sale of the current building will bring in another $1.3 million, with close to $1.5 million alos coming in the form of grants, bequests, and gifts in kind.
"We've sort of been in the quiet phase," says Chris White, a member of the society's board and fundraising campaign chair. "It's really about getting out there and telling community we need its support to make this happen. We've been very diligent in our planning to bring it to where it is to date. We expect to make some announcements at the Furball Gala in February.
"Animal welfare is starting to attract a lot of different people, not just people who got into it at an early age. People are really in it now for the cause, so we know there's an interest."
VIDEO: Because Animals Deserve More

While there isn't a firm opening date for the new facility, Fraser hopes and expects ground will be broken this coming spring or early summer. With a time frame of 12 to 18 months for construction, that would bring the opening to summer of 2019, or fall of that same year at the latest.
The increased services that will be offered at the new facility will also create additional jobs. Fraser says the current full-time staff complement will grow to about 45.
"This is a team of passionate and compassionate animal welfare individuals who love and care and tend to this population of animals as much as they would their own animals at home," Fraser notes. "To see what's on the near horizon is buoying our spirits and giving us hope, in terms of what will evolve and grow when the new centre becomes fully operational."
For updates and to make a donation, visit peterboroughhumanesociety.ca/new-animal-care-centre/.