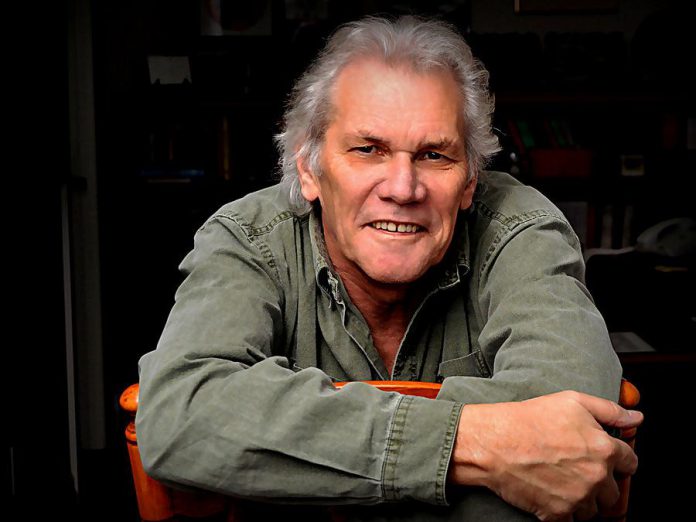 Canada's most produced playwright is coming to the Kawarthas! Between April 10th and 22nd, celebrated playwright Norm Foster will be bringing his play Jonas and Barry in the Home to the Capitol Theatre in Port Hope for 16 performances.
Directed by Derek Ritschel, Jonas and Barry in the Home features Norm Foster in the role of Jonas Ainsworth, alongside longtime collaborator David Nairn in the role of Barry Butterfield and Erin Mackinnon as Rosie.
"I know Peterborough, and especially Port Hope, very well," Foster says via a telephone interview. "I'm looking forward to coming."
Since his first play Sinners in 1983, Foster has earned the reputation of being the most produced playwright in Canada. According to his website, approximately 150 of his shows are in production worldwide every year. This is no surprise to me, as there have been five Foster plays produced in the Kawarthas alone in the past 12 months — My Narrator, On a First Name Basis, and The Foursome at Peterborough Theatre Guild, Halfway There at Globus Theatre, and Old Love at Lindsay Little Theatre.
Since his first play in 1983, Foster has written just under 60 shows, has had a drama festival named after him (the Foster Festival in St. Catherines) and, in 2016, had the distinctive honour of being named an Officer in the Order of Canada.
Popular with both theatre producers and audiences alike, a Norm Foster play is always a safe and sure bet for a crowd pleaser. Filled with relatable characters, intelligent humour, and potent drama, Foster's plays are well received time and time again.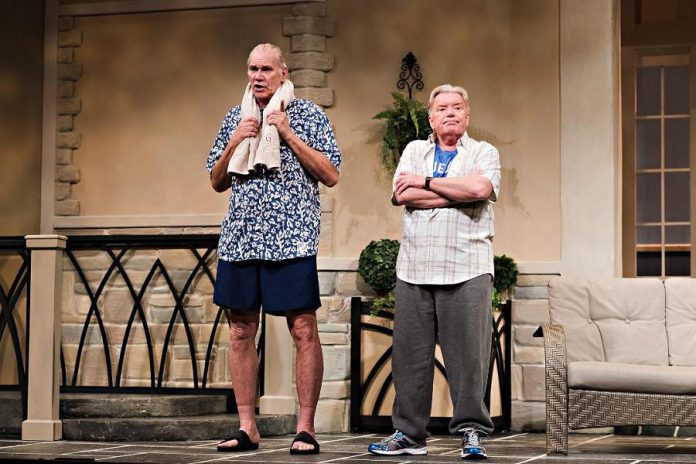 Making its debut in 2015 at Theatre Orangeville, Jonas and Barry in the Home was an instant hit with audiences, and Norm and David have been touring the show across Canada ever since.
"It's about two guys who meet in an assisted living home," Norm says. "Barry is a retired dentist and he is only 67, but his daughter works at the home and wants him to move in there. His family has a history of heart problems, and he's alone so she wants him to be close to her so she can take care of him.
"Jonas, who is the character I play, is a retired actor. He's flamboyant and he meets Barry in the home and wants to lift Barry out of his doldrums. He wants him to start living his life the way he should be."
When reviewing Norm's play Old Love earlier this year, I noted the refreshing lack of geriatric humour in a show about senior citizens. But for this show, Norm has had to take a different approach to writing a show about characters aging.
"Being in a seniors' home, there is some geriatric humor," Norm admits. "But I definitely try not to make fun of the topic — we take that seriously. But the characters make fun of themselves, their aging, and different body parts. So there's laughs in that.
"I'm 68 and I'm playing a 70 year old. David turns 65 this year and he's playing a 67 year old. When we're on stage, it's like we're looking at our futures. I'll tell you that it can be pretty terrifying sometimes. We both feel good about our health, but who knows what happens ten years down the road.
"It's a bit of an eye opener. We have audience members who come and see the show and tell us that they are in their sixties and are wondering if this is what they can look forward to."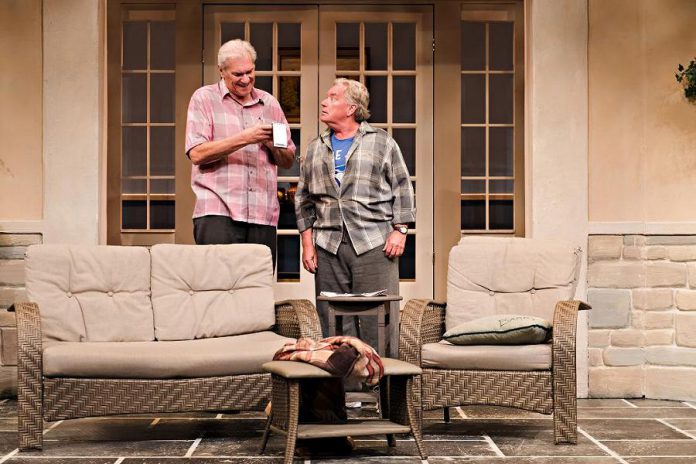 Friends for over 25 years, Norm and David have appeared on stage together numerous times, but have been noted by reviewers and audience members alike for their stage chemistry as Barry and Jonas.
"I met David at a mutual friend's party one night," Norm says of his co-star. "Not long after he did a show of mine at the theatre in Orangeville, where he is the artistic director, and the next thing I know he's doing another show of mine and asked me if I wanted to be in it.
"Since then we've done six of my shows together. People around us liken us to The Odd Couple or an old married couple, the way we talk. It's a very relaxed relationship on and off stage. "
Possibly the strongest element of a Norm Foster show is the charming and relatable characters that he creates. His characters are like people we recognize, but often the story Norm creates takes them on an unexpected emotional journey that keeps the audience engrossed.
"I like to start with a stock character," Norm explains. "But then I start to turn them around, take a left turn somewhere and bring them somewhere else, and that surprises the audience. I think that keeps the audience interested. Most of the characters are people I grew up with or were around. People will go to my plays and they'll see themselves on stage, or they might see a friend they know. That's really the key.
"People say that they come into Barry and Jonas at the Home expecting a show about these two senior citizens, and then it gets turned on its ear. You start feeling something pretty deep for these guys. Barry and Jonas have a journey, an arc through the show, and both of these guys change because of each other."
VIDEO: Audience reviews of "Jonas and Barry in the Home" at Neptune Theatre, Halifax

With a handful of exceptions, a new Foster play has made its debut nearly every single year for the past 35 years, with multiple shows often making its debut in a single year. This is an incredible amount of material for one playwright, especially one who can maintain the quality of his work with each new production.
"People always say to me 'You must be really disciplined', but it has nothing to do with discipline," Norm reveals. "It's just love something I love to do. I used to do a radio show for 25 years where I had to get up in the morning, so I still get up at 5 a.m. and that's when I do my writing. I rarely write past noon.
"I love climbing into this world with these characters I've created and see where they take me. The characters write the shows for me. I just have to come up with the beginning point and where I think it's going to end, and see how the characters take me there."
So how much of the 'real' Norm Foster will audiences see in Jonas and Barry in the Home? According to Norm, not very much.
"I'm sure there is a little bit of me in all the shows I write, but I don't try to model and of my characters after me," Norm says. "That's not much fun for me. I'd rather create a whole new character, and I wouldn't want myself on stage anyways because I'm kind of boring."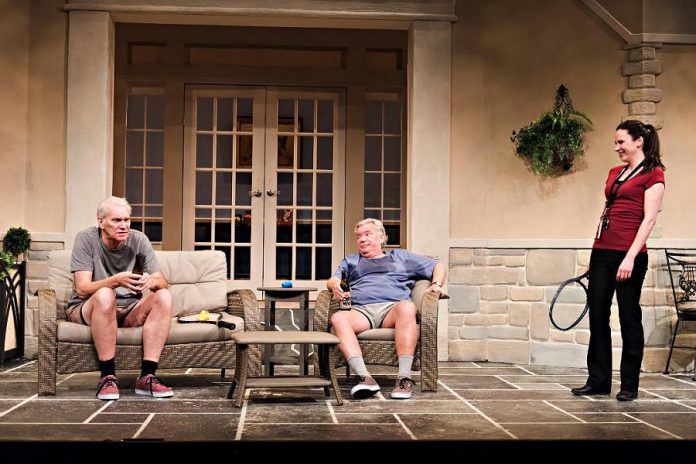 After each performance of Jonas and Barry in the Home, Norm and his cast hold a question-and-answer session, allowing the audience to get close and personal with Norm and David and to discuss the show with the playwright and performers.
So what's next for Norm Foster? Well, for audiences in the Kawarthas, Globus Theatre in Bobcaygeon will be producing Norm's show Lunenberg this summer and, although not yet announced, I know that auditions for the female version of The Foursome will be held soon.
Meanwhile, for Norm, he has two new shows making their debut at the Foster Festival in St. Catherines in July 2018.
"One is called Renovations for Six, which is about three couples who end up at a cocktail party together and the whole thing goes sideways for them," Norm says. "The other play is called Come Down From Up River. It's set in New Brunswick, where I live. It's about a guy who is estranged from his niece, and he comes from down river to see her before he goes to the doctor for a medical issue.
"I always think my next play is going to be the best play, so that keeps me inspired too. I keep getting ideas too. The moment I stop getting ideas, I'll stop writing."
From the continued popularity of his shows in our community, I know that local audiences love Norm Foster. Jonas and Barry in the Home is an exciting chance for everyone who has loved his plays to finally see this beloved Canadian playwright in person and on stage.
Jonas and Barry in the Home runs from April 10 to 22 at the Capitol Theatre in Port Hope. Shows start at 8 p.m., with 2 p.m. matinees on April 11, 14, 15, 18, 21, and 22. Tickets range from $24 to $40, and are available by calling 905-885-1071 or 800-434-5092 (toll free) or online at capitoltheatre.com.