A charismatic preacher's wife, a mild-mannered village vicar, a spirited soldier, a town busybody, a funny maid, a visiting bishop, a Russian spy, and a misplaced clergyman. This group of characters makes up the cast of Phillip King's See How They Run, presented at the historical Academy Theatre in Lindsay for two performances only: Friday, July 20th and Saturday, July 21st.
Directed by Rob Powell, See How They Run is a co-production between the Lindsay Little Theatre and the Academy Theatre, with proceeds from ticket sales going to the continued operation of Little Lindsay Theatre.
Written in 1942 by British playwright Phillip King, See How They Run was originally developed as a show for the war-time Entertainment National Service Association, a British organization dedicated to entertaining troops stationed in England during World War II. Making its debut at the Peterborough Rep in Peterborough (United Kingdom), the play's colourful characters, zany comedy, and farcical plot proved popular with troops and continued to be toured and restaged throughout the war.
The result is that See How They Run has maintained a nostalgic popularity in Britain. The show was revived with slight rewrites in 1964, which is the version that director Rob Powell and his company are presenting.
In Britain, See How They Run has never stopped being a hit, and among multiple revivals and tours through the decades, the show was turned into a film in 1956 as well as a Channel 4 TV Special in 1984. Most recently, the play was performed in 2014 under the direction of Star Wars alumni Warwick Davies and his Reduced Height Theatre Company.
Set in the fictional village of Merton-cum-Middlewick, See How They Run revolves around Penelope Toop (Sharon Drew), a vivacious vicar's wife. A former American actress, Penelope came to Britain to entertain the troops where she was reunited with her childhood friend Lionel (Dylan Robichaud), who is now the mild-mannered vicar of the village. Although mismatched, the two get married and settle in post-war England.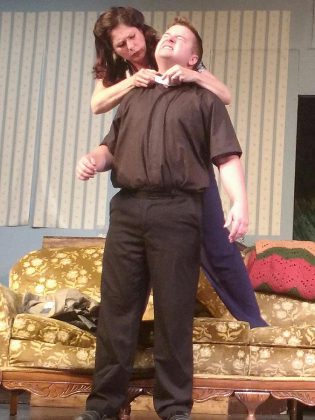 However, Penelope is not what some would consider vicar wife material, especially according to busybody parishioner Miss Skillon (Miranda Warren). One night after Miss Skillon gets between Lionel and his wife once again, the Reverend Toop departs for the evening when Penelope receives a call from an old actor friend, Clive Winton (Ben Whyte), who's now a corporal in the U.S. Army and stationed in England.
During a night on leave, Clive and Penelope discover a nearby town is presenting Noel Coward's Private Lives, which they toured together, and they decide to see it together. Since the neighboring village is out of bounds to the U.S. military, Penelope dresses Clive up in her husband's suit and collar to set out for a night on the town.
Of course, in classical farce style, nothing from this point goes right for Penelope, Clive, and everyone that they come in contact with.
Mistaken identity, unexpected visitors, unfortunate misunderstandings, and an escaped Russian spy turns the vicar's residence into a madhouse, in which everyone becomes a man of the cloth and nobody seems to know what's going on. It's a classic comedy in the farcical tradition.
My first visit to the Academy Theatre in Lindsay in over 25 years, I was absolutely enchanted by its grand design and regal theatrical atmosphere. As I sat in the massive and lush auditorium, which originated as a vaudeville house and then was used as an old-time move theatre, I was entertained by war-time standards over the sound system, which gave a haunting element of nostalgia as if the ghosts of audiences past were reliving the time See How They Run was first presented. It was truly a nice touch from the producers of the show.
As for the production, when it comes together it's fine, but the show is not without its challenges. Granted I was attending a preview performance to review the show but, while the company presented the play with conviction, it seemed they needed a little more time to bring everything together.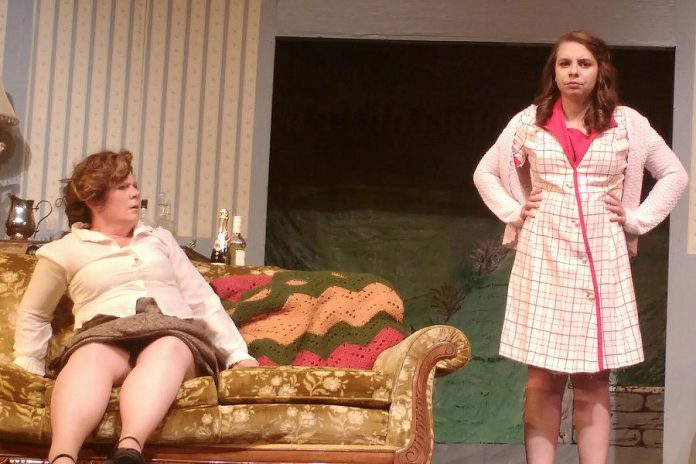 See How They Run features a likeable cast of actors in some colourful character roles. Sharon Drew and Ben Whyte have chemistry as Penelope and Clive, Dylan Robichaud plays Reverend Troop as awkward and pious, Don Hughes creates a strong fist of authority as The Bishop of Lax, Chris Morasse performs as the visiting Reverend Humprey, and Joey Stewart comes out of nowhere in the third act in the role of Sergeant Towers.
However, it's some of the secondary characters who have strongest impact on the show. Miranda Warren gives a hilarious performance as Miss Skillon, and Mike Crozmas is energetic and wild as the Russian Spy, adding both nutty hilarity and genuine tension to the show.
The strongest performance goes to Elora Powell as the vicar's maid Ida. With a dead-on Cockney accent, Elora takes the material she is given and runs with it naturally, giving a fun-filled performance. She is delightful to watch each time she steps on the stage.
Although the show is a fun one, where See How They Run seems to struggle is in the pacing of the show, especially in the third act. What is supposed to be a fast-paced and zany comedy filled with wild action, quick banter, and an elaborate and funny chase sequence, the third act seems to falter under the burden of missed cues, faulty stage directions, and unconvincing physical confrontations.
I could see what was supposed to be happening, but instead of a fast-paced ending the show slows down to a sluggish burn out. I only hope that between the preview and the opening night of the show, the company will manage to tighten up the third act into the farcical free-for-all it has the potential to be.
All that said, See How They Run is a funny show with a likeable cast, and is being put on by a wonderful theatrical group for a great cause. I have come to really love the company at the Little Lindsay Theatre throughout the last theatrical year, and by seeing See How They Run you will financially support their upcoming 2018-2019 season.
It's also a great chance to go and see some live theatre at one of the most beautiful and regal performance spaces I have ever visited in the Kawarthas. The Academy Theatre is beautiful, and I hope this isn't the last time that I will visit the theatre. It's a performance space that I want to explore again.
See How They Run runs for two performances only, on Friday, July 20th and Saturday, July 21st. Both performances start at 7:30 p.m. and tickets are $25 ($22 seniors and students), available from the Academy Theatre box office, by phone at 705-324-9111, or online at academytheatre.ca.