On Sunday, September 23rd, Pop Culture Canada returns to the Evinrude Centre for the third Peterborough Comic Con. This year, organizer David Wyldstar is giving Peterborough fans the opportunity to meet one of pop culture's original superhero stars when he brings actor Jackson Bostwick to town.
Long before Marvel Studios dominated the box office, over a decade before Tim Burton brought Batman to the big screen, and even four years before Christopher Reeves made you believe a man could fly, Jackson Bostwick put on the red and yellow colors of Captain Marvel on the classic Saturday morning television series Shazam!, which ran from 1974 to 1977.
An often-overlooked pioneer in the evolution of the modern comic book film and television industry that dominates today;s entertainment market, Bostwick will be at the Peterborough Comic Con from 10 a.m. to 4 p.m. — meeting fans, signing autographs and taking photos in Pop Culture Canada's event that also supports Kawartha Food Share.
VIDEO: Shazam! Opening Theme

Holding small-sized conventions throughout Ontario, this is the third event that Dave Wyldstar has held in Peterborough, and it's a place where he likes to bring his biggest guests. Previous guests have been Allyson Court (who played Loonette the Clown in The Big Comfy Couch) and The Crow creator James O'Barr and Asian/American actress Bai Ling.
But for both superhero and 1970s pop culture fans alike, Jackson Bostwick could be the most exciting guest that Dave has brought to Peterborough yet. Speaking with Jackson via telephone from his home in Nashville, Tennessee, I was impressed that the actor has an encyclopedic knowledge of Captain Marvel that would challenge even the most hardcore comic book fan.
"I grew up with Captain Marvel," Jackson says. "Captain Marvel, Plastic Man, Tarzan, The Lone Ranger and Sgt. Preston of the Yukon were my favourite characters growing up."
Created in 1939, Captain Marvel made his debut in Whiz Comics #2. Young orphan named Billy Batson is chosen by the wizard Shazam to possess the powers of Greek gods and heroes Solomon, Hercules, Atlas, Mercury, Achilles, and Zeus. When Billy says the magic word 'Shazam!', he turns into the super-powered adult Captain Marvel.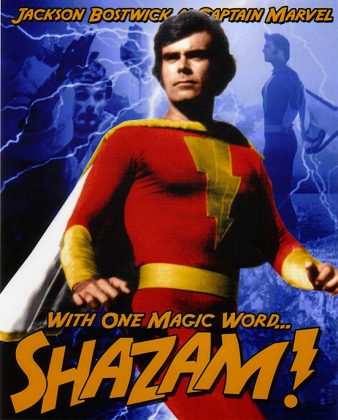 One of the most popular comic books of the 1940s, Captain Marvel spawned spin-off characters such as Captain Marvel Jr. and Mary Marvel, and even outsold Superman in its day. Captain Marvel was even one of the few American superhero comics published in Canada during the Second World War. However, the comic would cease publication in 1953.
"I loved the comic books, and when I was very young and I remember going to the local move theatre one Saturday morning to see War of the Worlds," Jackson recalls. "Back then they would have a lead-in which was a cartoon or a serial, and this one happened to be The Adventures of Captain Marvel with Tom Tyler. I thought it was great, but it was a very different Captain Marvel than who I played. Tom Tyler was throwing guys off of the tops of buildings. But it was just one of those things you looked forward to each week."
Originally from Carlisle, Pennsylvania, Jackson was one of the original 11 students to get a Masters in Fine Arts at the University of Southern California. Primarily working on the small stage, Jackson made a few minor appearances on television before getting the role of a lifetime to play one of his childhood heroes.
In 1974, under the guidance of producers Norm Prescott and Lou Schemer, Filmation Studios decided to branch out from animation to live-action kids' shows to compete with their Saturday morning rivals Sid and Marty Krofft, who were dominating the time slots with hit properties such as H.R. Pufnstuf, The Bugaloos, and Sigmund the Sea Monster.
Having worked with DC Comics in the past, the comic company had recently acquired the rights to the long-dormant Captain Marvel franchise and decided to take a chance with the character by making it a half-hour live-action TV show. Jackson Bostwick was cast as Captain Marvel with teen heartthrob Michael Gray as young Billy Batson and Les Tremayne as a wise old man called Mentor.
Making its debut on CBS in 1974, Shazam! became an instant hit with young viewers. Superheroes had been absent from television since the cancellation of Batman in 1968, and this was the first time a new generation had seen live-action superheroes on the small screen.
"We were an instant hit," Jackson says. "We were the highest-rated show in our time slot. I remember that the Krofft Brothers weren't happy because they came out with Land of the Lost and we beat them in the ratings."
The TV series started a new popularity for the character, with a new Shazam! book on the comic stands and soon Shazam became a household name again. But while the comics stayed true to the original characters, the TV series made huge creative leaps: Captain Marvel never fought any villains or threw any punches. Instead Billy Batson and Mentor travelled across California in a RV and met misguided kids who would get into trouble, prompting Billy to turn into Captain Marvel to save the kids and give them a speech about not doing drugs, not stealing cars, and respecting their parents.
VIDEO: Shazam! Preview Clip

At the end of each show, Captain Marvel would return for one more segment where Jackson Bostwick would break the fourth wall and talk to the audience about the lesson they learned that week. These "tags" are a part of the show that Jackson is most proud of.
"That was something I came up with," Jackson explains. "I told Robert Chenault, who was our producer in the first year, 'What you're missing here is having the hero come back and talk to the audience, the way that the Lone Ranger, The Cisco Kid and Sgt. Preston came back and talked at the end of the show.' I told him it was something we need. Rob said 'Well, they don't want to give the sixty seconds of commercial time.'
"So we started filming the episodes, but a month later Rob came up to me and said 'Jackson, they have decided to go ahead and do the tags at the end.' We shot them all in one day for the first fifteen shows. If you look behind me you'll see it's actually raining. They had a big umbrella over me and with a light shining in my eyes. It gave the kids a chance to really get to see Captain Marvel and have a face to face with him."
Filming schedules were tight, with the company filming two entire episodes a week. But despite the gruelling schedule and questionable production values of the show, Jackson took his role very seriously.
"I was happy to play my childhood hero," Jackson says. "I put everything I could into being Captain Marvel. I was very careful how I interacted with the kids on the show. I always made sure I wasn't wrinkled, and I never put my hand on my hip, and I never talked down to them."
Jackson also did all his own stunts, for the exception of one memorable episode where Captain Marvel had to wrestle a lion.
"They put the lion trainer out there to wrestle him, but he was this short guy wearing my costume," Jackson recalls. "He looked like a California Raisin once he put on the costume. But he did a great job wrestling the lion and making it look like it was me."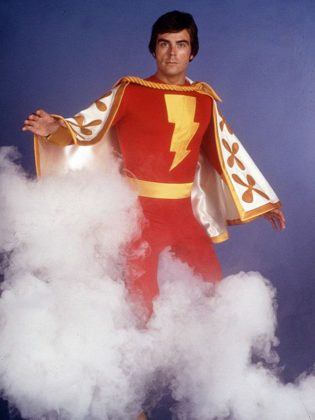 However, it would be a problem with the stunts that ended Jackson's reign as Captain Marvel, and eventually put an end to the show. As filming for season two began, with the show being at the height of its popularity, Jackson was fired from the role of Captain Marvel.
"They fired me because they felt I was holding out for money at the beginning of the second year," Jackson says. "I didn't show up on set because I had injured myself doing a stunt on set the previous day. I had the nurse call the studio and tell them where I was.
"I had busted a blood vessel under my eye and there was no way I could have filmed that day. They said if I wasn't on set by one p.m. I would be fired. There was no way I could get out there from the doctor's office to what was a remote location. So I didn't make it and by three p.m. they had John Davey out there in my place."
Jackson sued Filmation Studios and won the case for wrongful dismissal.
"We had my injury on camera which helped me win the lawsuit against Filmation," Jackson says. "They had to pay me for all the shows they didn't use me on, plus residuals."
Yet despite suing Filmation, Jackson didn't hold it against his successor John Dewey — although he doesn't think he was suited for the role of Captain Marvel.
"God love him, John is a great guy, but he's no more Captain Marvel than I am Wonder Woman," Jackson laughs. "John later told me this story where he sat his son down, who was a huge fan of the show, and said 'I want to do this, and I know you like the show but I need to take over as Captain Marvel.' His son said 'Oh, that's alright Daddy. You just go and do it until the real Captain Marvel comes back.'"
Despite the popularity of the series, after Jackson's firing the ratings plummeted. After 11 episodes without him, the series was cancelled.
In the years that followed, Jackson primarily worked on stage and at one time taught theatre at the University of Alabama. He also played minor roles in films, including an appearance as a guard in the 1982 cult Disney sci-fi film Tron.
Meanwhile, the Shazam franchise continued to be a fan favourite for DC Comics, with a brand new big-screen version of the character slated to make its debut in 2019 starring Zachary Levi as Captain Marvel.
While still passionate about the character, Jackson is not impressed with what he has seen in the trailer for the new film.
"This new guy they got playing Captain Marvel, again, just isn't Captain Marvel," Jackson says.
"They've ruined the character. The trailer is an absolute farce. It's just Tom Hanks in Big crossed with The Greatest American Hero. It's a guy who's stumbled into something he doesn't know anything about. They didn't give him an alter ego. They've just made him Billy Batson all the time. It's like putting a man into a dog and making him the dog. What happened to the wisdom of Solomon? It's ridiculous."
Jackson is also not a fan of the darker tone that current films based on comic books have taken.
"The reason that Billy Batson is chosen by Shazam is because he is pure of heart, but in the new movie he's a juvenile delinquent," Jackson points out. "That's the problem with the way the movie studios portray these heroes these days. They all have dark sides to them. They all have something wrong with them somewhere. There's no pure hero anymore. They've taken away the fun of a hero."
However, the resurgence of Shazam in the mainstream pop culture world has made Jackson a popular guest at comic conventions across North America, where he has been meeting fans both young and old.
"It's usually the fathers of the kids who come and see me, but some of the kids are getting into it because of the series' DVD release," Jackson admits.
"But I get emails, and people coming up to me all the time and tell me that Shazam changed their lives. They say that they didn't know where they were going, but something in my role of Captain Marvel spoke to them, and they went into the military or law enforcement and all kinds of different things. That's pretty great."
Jackson Bostwick's appearance at Peterborough Comic Con is a once-in-a-lifetime chance to meet one of the original Saturday morning TV stars and a pop culture icon.
Peterborough Comic Con has all the elements of the bigger comic cons, but without the huge line ups, crushing crowds, and high ticket price.
A family-friendly event suitable for kids that want to discover the comic con experience, Peterborough Comic Con is a fun event that brings out members of our community to celebrate their inner geek.
Peterborough Comic Con takes place at the Evinrude Centre (911 Monaghan Rd., Peterborough) on Sunday, September 23rd from 10 a.m. to 4 p.m. Tickets are $5, with kids under 12 free. The community is asked to bring cans of food to be donated to Kawartha Food Share, to be exchanged for tickets for special drawn items.