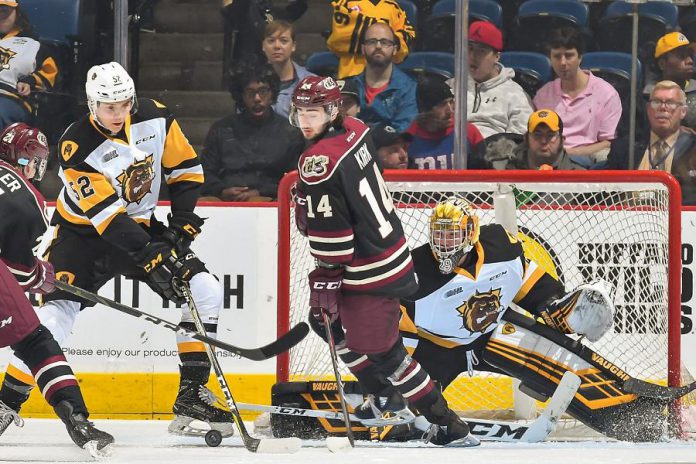 The Peterborough Petes' Liam Kirk has been featured in The New York Times.
The story, A British Hockey Player Lands in Canada, was written by Dhiren Mahiban and published on Sunday (December 16).
The 18-year-old left winger, who was a seventh-round draft pick by the NHL's Arizona Coyotes in June, was signed to the Petes in July for his first season in the Ontario Hockey League (OHL).
"I don't know much about the team, but know they have a great history," Kirk said at the time. "The ice size is different, but having played against men the last few years who have played professionally for a long time, I think I'll be able to adjust to a faster game. The OHL is the best junior league in the world, and I can't wait to get started."
Kirk is the first player born and fully trained in England to be chosen in the NHL draft. To date, the native of Maltby, England, has scored 11 goals with eight assists in 33 games.
The New York Times piece talks about Kirk adjusting to life in Canada and adapting to the smaller rink and faster style of North American hockey — critical to pursuing an NHL career.
The story also features photos by Chris Donovan, showing Kirk in Peterborough (which the Times mistakenly calls "a suburb 87 miles northeast of Toronto"), including with his fellow Petes and shopping at The UK Shoppe.
"The adjustments have been a little difficult," Kirk says in the story. "Obviously, moving to a new country, away from your family and stuff like that. It's the best junior league in the world, still got to adjust to that."
While Kirk only had two goals in his first 23 games, he's scored nine in the past 10 games — prompting the British Ice Hockey website at www.britishicehockey.co.uk to name him Player of the Week in late November after an online poll.
He has also been named to Great Britain's Under-20 National Team, which will compete in the 2019 IIHF World Junior Championship Division II Group A (D2A) tournament in Estonia from January 13th to 19th.
Read the New York Times story at www.nytimes.com/2018/12/16/sports/hockey/liam-kirk-england.html.