Lindsay actress Anwen O'Driscoll doesn't give the easiest interview. While she's polite and warm, she's also guarded about the projects she's working on.
And although she's already gained some recognition due to her budding television career, she doesn't see herself as a "star." She still acts like a normal (if slightly quirky) young woman, but there's little doubt she has a star quality. Even if you haven't seen her perform on stage or on television, Anwen is very impressive.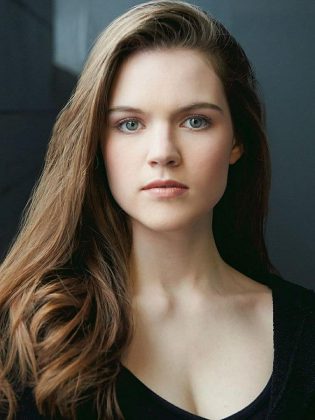 On a cold Saturday evening, Anwen and her mother stopped by my place on their way back to their Lindsay home after a long day of preparation in Toronto for Anwen's six-week business trip to Los Angeles. As I served the pair coffee and turned on my tape recorder, a thought came into my head: while I've interviewed a lot of TV stars over the years via the telephone, this was the first time I was actually interviewing one in person in my own living room.
One of the brightest young talents in the Kawarthas, 19-year-old Anwen has already successfully achieved what most local actors never do: she has managed to move beyond local community theatre to create a budding career in television. Currently a supporting character in the highly successful CBC Television legal drama Burden of Truth, Anwen has also just wrapped filming for the upcoming original Netflix series October Faction, set to debut in October 2019.
A gifted young woman who takes her craft extremely seriously, Anwen deserves the right to be called a TV star, but she's still grounded enough to consider herself just another young actor from Lindsay.
"I started acting when I was seven year old at the Lindsay Little Theatre," Anwen says. "My mom home-schooled my brother and sister and I, and she wanted to put us into something social. We started theatre and I fell in love with it."
Growing up on a horse farm in Lindsay, Anwen comes from a family of artists and actors. Her mother is published playwright and director Altraire Gural. Her brother Tyrnan appeared at the Toronto Fringe last summer in the role of Shiny the Golden Boy in Planet 12's Boy Wonders. Her younger sister Ilan is not only a talented artist, but is due to make her film debut next summer in the big-budget superhero film Shazam.
And Anwen's Burden of Truth co-star Star Slade, who plays the key role of Luna Spence, came to live with Anwen's family as a young teenager. She grew up with Anwen as her third sibling, and remains Anwen's best friend.
Knowing at a young age that she wanted to pursue acting seriously, Anwen made her first television appearance on the YTV tween-comedy Life With Boys at the age of 11.
"I loved acting so much and I loved movies, and I would watch them and I wanted to be in them," she recalls. "So I asked my Mom how we could do that and she looked online and started researching."
"My mom knew to look at something that was associated with ACTRA, because most people make the mistake of going with agents that charge you," she adds. "ACTRA has a list of agencies they recognize, and we went for agents that specialized at working with children on film."
While working on her craft, making audition tapes and acting reels, and performing on the Lindsay stage, Anwen had a few small roles through her early teens, including a small one in the Emmy-nominated TV film Flint starring Queen Latifah and Betsy Brandt.
But it has been Burden of Truth that's put her screen career into overdrive. One of CBC Television's highest-rated programs, Burden of Truth stars actress Kristen Kruek as Joanna Handley, a Toronto-based lawyer who goes back to her small home town of Millwood to defend a pharmaceutical company being sued by a small group of teenage girls stricken with a mysterious disease that causes them to twitch uncontrollably.
Once in Millwood, Joanna begins to uncover a larger conspiracy and, teaming up with small-town lawyer Billy Crawford (Peter Mooney), switches sides to defend the girls — despite putting her career and her relationship with her father in jeopardy.
VIDEO: Anwen O'Driscoll in a scene from CBC TV's "Burden of Truth"

Anwen plays Taylor Matheson, the first girl stricken with the mysterious twitching disease. Before auditioning for the role, she studied YouTube videos of people with similar ailments, which inspired an extreme experiment to ready herself for the audition.
"When I was going to the audition, I decided what better way to practice than to do the twitch in public on transit in Toronto," Anwen says. "People were staring at me, and some people moved away from me, but I felt confident going into the audition after that."
Anwen's audition captured the attention of the casting directors in a big way and, as she later found out, they expanded the role of Taylor from what was initially supposed to be a two-episode part to a regular cast member and an intricate part of the plot.
"I was supposed to be in the first two episodes and the other characters weren't supposed to be connected to me at all," she says, "But after my audition they changed my character to be one of the other character's daughters. I didn't really know that until after they wrote me in. The writers saw my audition and loved it."
The Taylor Matheson character has also proved popular with viewers. While other characters have been written out of the second season of Burden of Truth, which is currently airing on CBC on Wednesday nights, Taylor's story is continuing into the current season.
Anwen's profile gained even more traction when Burden of Truth was aired this past summer on the CW Network for the U.S. market, where it received moderate ratings but a second wave of fans.
"I knew when Burden of Truth aired in the U.S. because Star and I were getting more attention on social media and a lot of new followers online," Anwen explains.
"I got some really nice messages from people just saying that they connected to my character. They were from people I don't know, saying that they appreciated what I represented, because they had gone through sicknesses themselves."
Of course, being on television comes with a certain amount of fame, which Anwen is still getting used to.
However, she points out that the few times that she has been recognized are usually when she's in the company of Star, who has a more prominent role on Burden of Truth. She shares an apartment with Star when filming in Winnipeg as well as when working in Toronto.
"I don't get recognized too often because I'm not the main character, but Star and I have been recognized when we are out together and we've been asked to have our photos taken," Anwen says.
"It's a bit surreal. It's definitely weird. I never thought I'd get to the point where that would be a thing, because that's never what I wanted. I didn't get into this for fame. I just did it because I love it. Acting makes me happy."
After filming the second season of Burden of Truth last summer, Anwen returned to Toronto to film her second series, October Faction, throughout the fall.
Adapted from the IDW comic book series written by Steve Niles and starring J.C. MacKenzie, Tamara Taylor, and Megan Follows, everyone involved in October Faction is tight-lipped about the series. So getting Anwen to talk about the show is a bit of a challenge.
"I can tell you that it's a story about a family of monster hunters," she says. "It's a horror supernatural teen drama and there are all the vampires and magic and fighting monsters and that sort of stuff. I play a supporting character named Cathy Macdonald. I'm the comedic relief, but my character is not in the comic book. She's a bit of a goof ball. But that's all I'm able to say."
Netflix describes the series as "the adventures of a retired monster-hunter and his family, which includes a thrill-killer, a witch and a warlock" and, according to IMBD, Anwen's character Cathy Madconald appears in six of the 11 episodes of the series.
With a bit of encouragement, Anwen does reveal a little bit more about her character.
"I'm playing a much different role than in Burden of Truth," she continues. "On Burden of Truth, Taylor is very reserved and has a lot of baggage, but with Cathy I could just totally have fun with. They let me go loose and do whatever I wanted. I was able to play around with the character a lot more."
With two TV series now on her acting resume, this winter Anwen gained representation through the exclusive Los Angeles-based agency The Burstein Company, which has led to a six-week once-in-a-lifetime trip to Los Angeles for a series of meetings, auditions, and workshops, in the hopes that her career in television might grow into the U.S market.
While her management team has been setting up meetings with studios, casting agents, and producers, Anwen spent much of January getting new headshots done and putting together a new demo reel.
"The things that will be happening in Los Angeles are called generals, which are meetings with directors and producers," Anwen explains. "They aren't necessarily auditions where I act in the room. The people I am meeting with see my headshots and my demo reel, so they'll already know what I do."
I ask how she feels about the possibility of being in the common scenario where she's auditioning in a sea of other actresses who look just like her.
"That doesn't bother me so much anymore," she answers with confidence. "When I was younger it'd bother me, and it'd be very stressful, but my view has changed. It's competition, but every actress is completely unique.
"The casting directors are looking for a certain thing. You could have your hair slightly longer than another girl, and that'd be what would get you noticed. It's not because of your skill or because you're a bad actor. There are so many things that go into choosing who gets a role."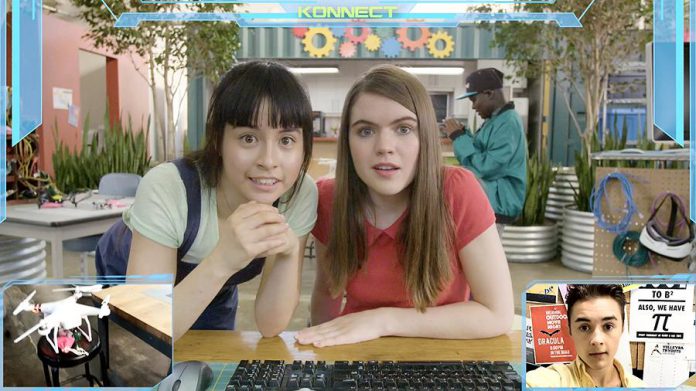 I also ask Anwen if she is feeling any pressure about her trip, with so much anticipation and excitement amongst her family and friends and her colleagues at the Lindsay Little Theatre.
"Right now I don't feel that there's any pressure," she says. "I hear that things in L.A. can get crazy and there will be two or three auditions in a day, but I know that my management team is really good at taking care of me. I'll be well mentally and not just thrown around from meeting to meeting."
Anwen left for L.A. in January after my interview with her, and over that time I've contacted her and her family a number of times. Anwen has been staying in West Hollywood, where the famous Hollywood sign looms over her neighbourhood. She has had little time for sightseeing or recreation, being kept busy meeting producers and directors.
Anwen is very protective about her business and is vague about what has been put together for her so far, but I did receive an encouraging message from her.
"I've been meeting with my agents/managers so far, and self-taping for Canada. Pilot season is just starting to begin, so we will see. Even if nothing comes of the trip, I'm just so happy to be down here and have this experience. I just love the energy."
It'll be another couple of weeks before Anwen returns home to Lindsay, and it might be a bit longer before she learns if anything emerges out of her Los Angeles trip. However, with one hit series currently on TV and another highly anticipated series in the wings, big things are already happening for this local actress.
What is refreshing is that, despite her success, Anwen still considers Lindsay Little Theatre her home base. In 2019, she performed there in two shows, My Heart is a Suitcase and Proof, and she is slated to appear in another Lindsay Little Theatre production in 2019.
Anwen has a unique quality that is rare in small-town actresses. She is dedicated to her craft, highly professional, and bleeds real emotion in every performance she gives. She is one of the most impressive young actresses I've ever met.
I'm already a big fan, and I hope one day I'll be saying "I interviewed Anwen O'Driscoll in my living room before she hit it big in Hollywood."