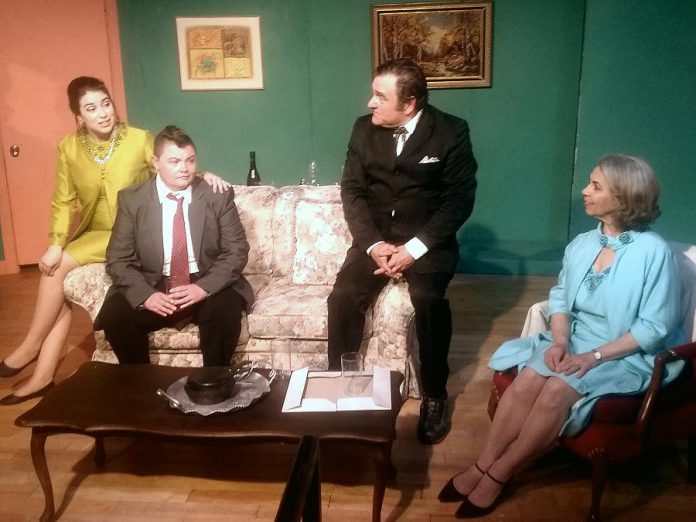 On Friday, May 24th, Lindsay Little Theatre opens its production of Neil Simon's romantic comedy Barefoot in the Park. Directed by Sophie Kourtsidis and Will Teatro, the play features a charming cast in a fun romantic romp that is surprisingly fresh after more than 50 years.
Written in 1963 by celebrated American playwright and humourist Neil Simon, Barefoot in the Park made its debut on Broadway's Biltmore Theatre in October 1963 with a powerhouse cast comprised of Robert Redford, Elizabeth Ashley, Mildred Natwick, and Kurt Kazner. It was nominated for three Tony Awards in 1964, with director Mike Nichols winning for best director of a drama.
An instant hit with audiences, the show would run for 1,530 performances, closing in June 1967 — it still holds the record for the 10th longest running non-musical show in Broadway history. The year it closed, the play made its move to the big screen with a new adaptation written by Simon, with Robert Redford and Mildred Natwick reprising their roles and with the notable addition of Jane Fonda to the cast.
The film would be one of the biggest hits of the summer of '67, and earned Natwick an Oscar nomination for best supporting actress. Still considered to be one of Neil Simon's most important plays, the show has been revived on Broadway twice and is one of the greatest romantic comedies in 20th century American theatre.
Advertisement - story continues below
Barefoot in the Park focuses on newlyweds Corie and Paul Bratter (Meaghan Duncan and Nathan Copeland) who, after only six days of knowing one another, tie the knot after a whirlwind romance.
As they begin their life together by moving into the fifth floor of a New York City brownstone, the couple have barely gotten time to spend time with one another when they are visited by Corie's upper-class conservative mother Ethel Banks (Lisa Guthro) who, residing all the way in New Jersey, expresses her loneliness now that Corie has moved into the city.
But when the couple meets their flamboyant and eccentric upstairs neighbour Victor Velasco (Anthony Jackson), Corie unleashes a devilish plan to hook up her uptight mother with the adventurous stranger.
Of course the scheme doesn't go as planned and, when the blind date begins to misfire, the romantic misfortunes bounce back on Paul and Corie whose differences begin to show.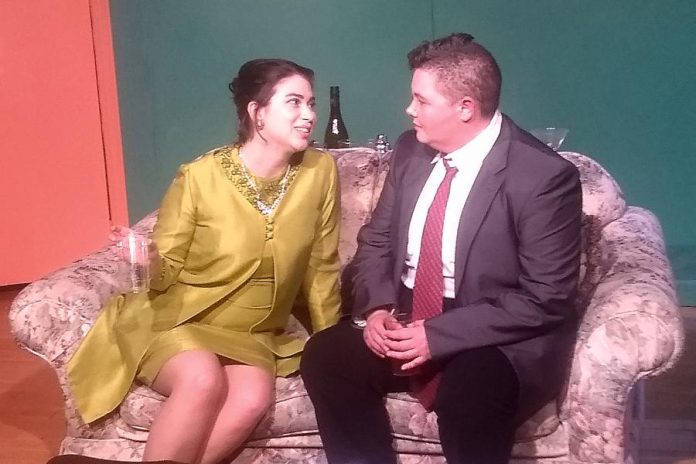 As quickly as their romance begins, so it soon threatens to fall apart. Corie is the kind of woman who would walk barefoot in the park in February, while Paul is not. Can two people so different really find love in only six days? Anything is possible in this high-spirited romance.
There is no denying that, as a play, Barefoot in the Park is an instant audience favourite. Filled with endearing characters and zany situations, what is remarkable about the show is that it is still fresh and relevant after more than 50 years of being presented on stages across the world.
Perhaps it's because Neil Simon has been able to tap into the special element that makes love so eternal, proving that the emotions, passions, and battles between those who dare to give away their hearts don't change that much over the generations.
What makes the Lindsay Little Theatre production of Barefoot in the Park so special is how brilliantly casted the show is. The players in this show are just so endearing and charming that the audience will fall in love with all of them.
Advertisement - story continues below
In the key role of Corie Bratter is Meaghan Duncan, who is a familiar figure behind the scenes at Lindsay Little Theatre, but makes her local stage debut as an actress in this show. Meg is completely delightful in the role and is enchanting to watch. With a built-in playful charm, she exudes warmth and energy and brings a whimsical quality to the show.
Meg gives a command performance that should secure her position as a leading lady on the stage. Just as Paul fell in love with her over six days, the audience will fall in love with her before the end of the first act.
Nathan Copeland is inspired casting as Paul Bratter who, instead of emulating the boyish charm of Robert Redford, gives the character a moody Raymond Burr quality. Personally, I find this much more enjoyable to watch, creating a much broader juxtaposition of his nature with that of the leading lady.
Meg and Nate are remarkable together, playing off their opposite natures beautifully. While Meg's Corie seems to freely drift upwards towards the broken skylight, Nate's emotionally stoic performance as Paul carries her back down to the safety of the ground. It's a perfect balance and charming chemistry, but also creates the dramatic tensions and explosions that move the show forward.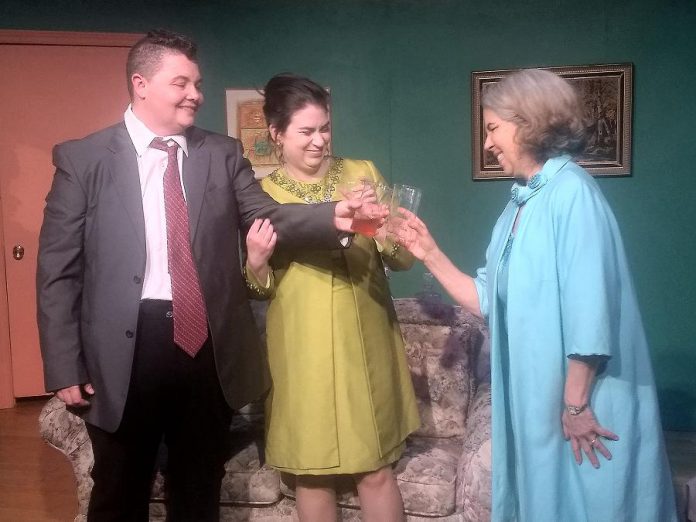 Lisa Guthro also gives an endearing performance as Corie's mother Ethel. What is refreshing about Ethel is that, despite her conservative outlook on life, she remains endearing and likeable to the audience, resulting in much of the humour of the show.
She never falls into the stereotype of the hated mother-in-law. Instead, her dramatic connection with Paul provides some of the best moments in the play, as they become an unlikely team of their own. Ethel and Paul's post-date discussion is one of the play's highlights. Lisa is wonderful in the role, playing a character who is incredibly sympathetic and surprisingly funny.
Finally, Anthony Jackson is charming and fun as the larger-than-life Victor. With his obviously died hair and outlandish eccentricities, Victor also remains likeable despite his obvious character flaws. He adds an odd life to the drama that gives it extra flair. A great role for a great character actor, Anthony is perfectly cast as Victor.
Advertisement - story continues below
A shout out goes to Colin Dusome in the small role of a telephone repairman. Only appearing briefly in two scenes, Colin makes every minute he spends on the stage work for him, delivering some funny lines and also becoming an audience favourite. Although he is in a small role, Colin gives a big performance and proves himself to be a wonderful comedic actor.
Set as a period piece in the 1960s, the show has a certain authenticity through the fantastic costumes created and assembled by Meaghan Duncan (who has made her name at Lindsay Little Theatre as a costumer), with assistance by Collette Marshall. The cast is beautifully dressed in classy vintage fashions, with the highlights being Corie's dresses and skirts throughout the play, and Victor's date-night leisure suit. They are visually stunning costumes that gives the show a vintage but classic look.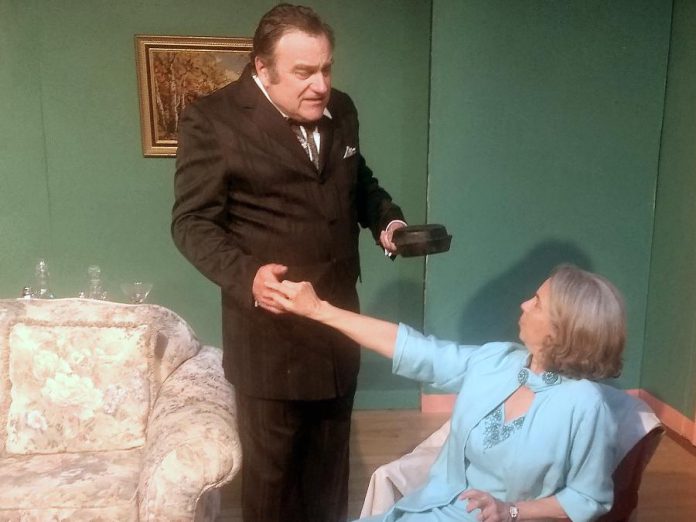 If I had to sum up the Lindsay Little Theatre's production of Barefoot in the Park in three adjectives, I'd call it delightful, adorable, and endearing. The cast is just delicious, and all give wonderful performances.
Barefoot in the Park has been a consistent hit since it debuted more than 50 years ago, but Lindsay Little Theatre's wonderful cast gives it that extra special something to make it a show worth seeing. Directors Sophie Kourtsidis and Will Teatro deserve applause for pulling this show together so beautifully.
Advertisement - story continues below
You don't want to miss this cast in this fantastic production. It's a good, light drama to set the mood for the summer theatre season to come.
Barefoot in the Park will be performed at Lindsay Little Theatre (55 George St., Lindsay) at 8 p.m. on Friday, May 24th and Saturday, May 26th and again on Friday, May 31st and Saturday, June 1st, with an additional matinee performance at 2 p.m. on Sunday, May 26th.
Tickets are available in person or by phone at the Academy Theatre box office (2 Lindsay St. S., Lindsay, 705-324-911), online at ticketmaster.ca, or at the door before each performance.