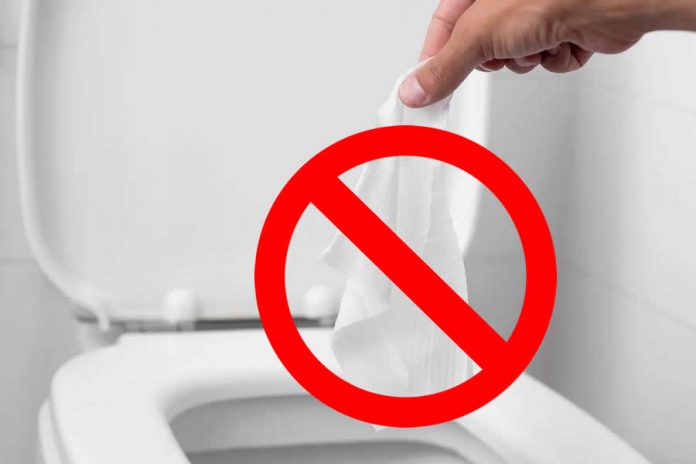 If you've been forced to use paper products other than toilet paper for personal hygiene, don't flush these down your toilet.
That's because anything other than toilet paper is not designed to be flushed down the toilet. Tissues, paper towels, napkins, and sanitary wipes — even those that claim to be flushable — all have plastic binders to increase their strength.
This means that these paper products do not break down or disintegrate when you flush them, and they can result in blockages both in the pipes leaving your home and in sewage treatment plants and pumping stations.
In a media release, the City of Peterborough reports that its wastewater treatment plant experienced a plug in the screening system on Tuesday (March 31) that caused a backup of raw sewage within the system.
While there was no spillage, the system had to be cleared for treatment to continue. Other local blockages have occurred in multiple areas of Peterborough.
"These wipes are being incorrectly marketed as flushable," warns Daryl Stevenson, supervisor of wastewater treatment in Peterborough. "They can cause serious blockages and result in property damage and flooding."
Stevenson reminds everyone to only flush the "three Ps": pee, poop, and toilet paper. Never flush baby wipes, feminine hygiene products, tissues, napkins, diapers, condoms, cigarette butts, or other items down the toilet.
And never pour fat, oil, or grease into drains or toilets. They build up over time and are a main cause of sewer backups; the same is the case for food scraps.
And remember, if you clog up the sewer pipes leaving your home, you will be responsible for paying to have the clog removed.
If you are using something other than toilet paper for wiping, put the used products into a sealed (and preferably compostable) bag and dispose of the bag in a garbage bin or pail or, better yet, compost the bag if you can.
Make sure these items are properly disposed of in your garbage to help protect the health and safety of staff who are handling the material. Refrain from placing loose hygiene items in any untied bag or loosely in a garbage pail. Curbside waste that has not been properly bagged may not be collected.