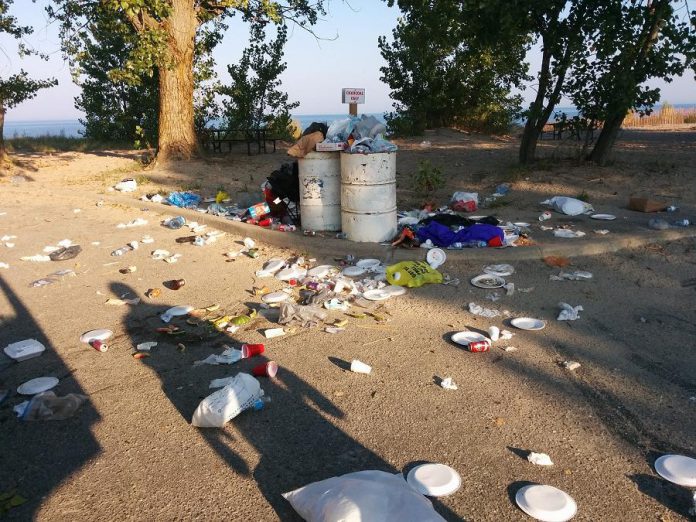 Staff at Ontario Parks have been cleaning up mounds of trash left behind at provincial parks by some visitors.
On Friday (August 28), Ontario Parks posted a series of photos on its Facebook page of littering at unidentified parks.
"These photos break our hearts", the post reads.
Thousands of people agree. The Facebook post has since gone viral, with more than 5,600 shares and 1,000 comments when this story was published.
"Remember: your trash does not belong on the ground at provincial parks," the post continues.
Advertisement - story continues below
There's always been littering in provincial parks and other public spaces, but the problem has become much worse this summer. While more people are visiting public spaces as they stay close to home for their summer vacations during to the pandemic, it's not entirely clear why some visitors are exhibiting bad behaviour such as littering.
Perhaps some of the people are just ignorant of the environmental aphorism "take only memories, leave only footprints" — a phrase attributed to Chief Si'ahl, leader of the Duwamish first peoples in the U.S. Pacific Northwest in the 19th century, whose settler name was "Seattle" (the city is named after him).
This isn't the first time this summer Ontario Parks has publicly commented about the increase in littering. In late July, they posted on their blog that "In many parks, trash is being left on the beach faster than our staff can clean it up. We know you can do better, Ontario."
They repeated the same message again in early August, sharing photos of trash left behind on beaches at provincial parks.
Littering is on the rise.

In many parks, trash is being left on the beach faster than our staff can clean it up.

Practice "leave no trace," and do not leave anything on the beach. https://t.co/OM4huAHcSD pic.twitter.com/4K6X8gorud

— Ontario Parks (@OntarioParks) August 1, 2020
With their most recent Facebook post, Ontario Parks is encouraging everyone to "Help us get the word out and inspire all Ontarians to share a sense of pride and stewardship for our protected spaces."
Advertisement - story continues below
For its part, Ontario Parks says staff have been hard at work cleaning up the garbage some visitors have been leaving behind.
"Our staff are working tirelessly to operate our parks under challenging circumstances," Ontario Parks writes in a comment on their Facebook post. "Their efforts to keep both our visitors and our natural spaces protected is nothing short of heroic."
Ontario Parks, an agency of the Ontario government, manages 340 provincial parks and 295 conservation reserves in Ontario.