The coronavirus pandemic has brought physical and social isolation, meaning for many, feelings of community and togetherness are needed more than ever. Throughout the rollercoaster ride of COVID-19, father-and-son duo Addison and Ted Brown, owners of Dr. J's BBQ & Brews in downtown Peterborough, have stayed true to their business model — bringing people together through barbecue.
The recent transition out of the provincial stay-at-home order and into the colour-coded framework was welcomed news for the Browns, since they could once again reopen their doors for in-person dining.
According to Addison, the pair are excited to continue sharing what is special about their barbecue: the unique social atmosphere that he experienced at family dinners growing up.
Advertisement - story continues below
"We have a passion for barbecue," Addison says. "We just want to continue bringing families and friends together and allow them to enjoy the food that I grew up with."
Addison and Ted opened Dr. J's in 2014. Addison tells kawarthaNOW there have been many ups and downs throughout their eight years in business, with the pandemic being a massive hurdle. Nevertheless, he says running this establishment has "been one of the most incredible experiences of my life," even throughout this past and very difficult year.
"The second lockdown was very tough on us," Addison explains. "The time of year we were shut down, January and February, is the slowest time of year for Dr. J's and most restaurants."
Addison says they were forced to lay off their staff throughout the lockdown, but continued business by offering curbside takeout and delivery.
"My dad and I just worked by ourselves grinding out food and getting orders out to keep us going," he recalls.
Now that their indoor dining has reopened, Dr. J's staff have returned to continue offering customers takeout and delivery as well as sit-down dining under the increased safety protocols mandated by the provincial government.
Advertisement - story continues below
Although safety measures cause less physical togetherness, Addison says the ability to see and chat with his regular customers safely has been a very nice change.
"The way we've got it spread out with tables six feet apart and limiting the numbers of people at each table, I still think it's a really fun atmosphere," says Addison. "You can still come and watch a game, have a beer, and enjoy some good barbecue."
"It was nice to see regulars coming back in and see that they're doing okay — to be able to have a friendly chat with the people you care about," he adds.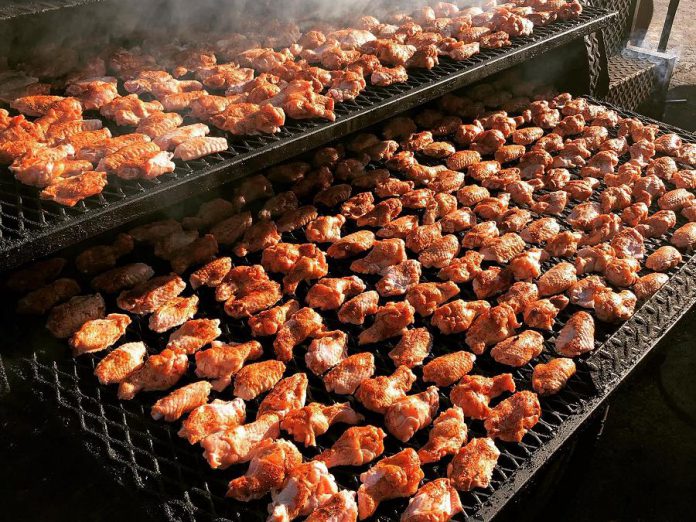 While Addison says he hopes customers experience a fun and social environment when visiting the restaurant, he adds that his priority is making customers safe.
"Every table is six feet apart," Addison explains. "All the staff are wearing masks and continually washing hands. I think that the people who do come out to our establishment have that safe feeling of sanitization and comfort."
Dr. J's still offers takeout and delivery for those wanting to bring the experience of barbecue home with them. To order takeout, you can call 705-874-5717 to place an order or come inside the building and order from a server. You can pick up your food inside or call the store to request curbside pickup, where staff will bring orders to your vehicle.
Advertisement - story continues below
In terms of delivery, you can order Dr. J's directly through their website at www.drjs.ca. Although delivery is also available through DoorDash, Addison urges customers to order directly through the Dr. J's website since DoorDash takes a significant cut of their profits.
"It is better for our business, but it also supports another local business," Addison notes. "The delivery company we use is A&B Delivery, and it's a locally owned business."
Dr. J's business model of bringing people together in a positive way is exemplary not only in customer experience but also in the ways they give back to the Peterborough community.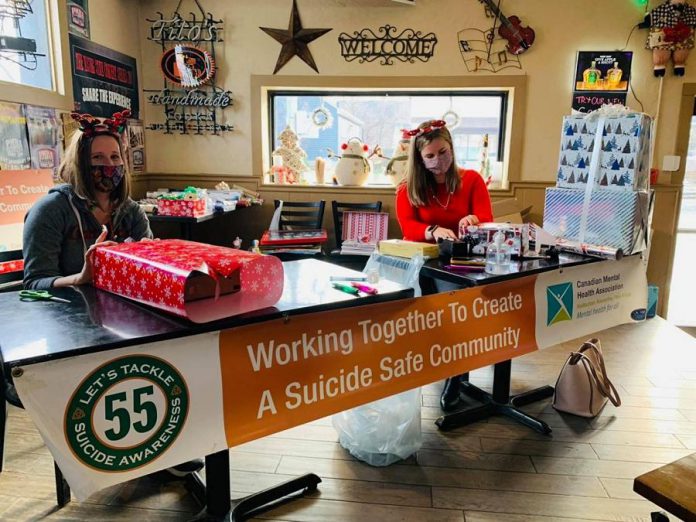 In December, the restaurant raised $2,450 for suicide awareness through the Canadian Mental Health Association (CMHA) Haliburton Kawartha, Pine Ridge. At this fundraiser, which Addison hopes to make an annual event, individuals brought in their Christmas presents and paid to have volunteers with masks and gloves wrap them. One hundred per cent of the donations went directly to the CMHA.
"Especially with what's happening today with lockdowns and closures, mental health is a severe issue," says Addison. "It affected our family personally with friends passing."
Dr. J's charity work did not stop there, with Addison also heading up the donation of a Christmas dinner to One Roof Community Centre.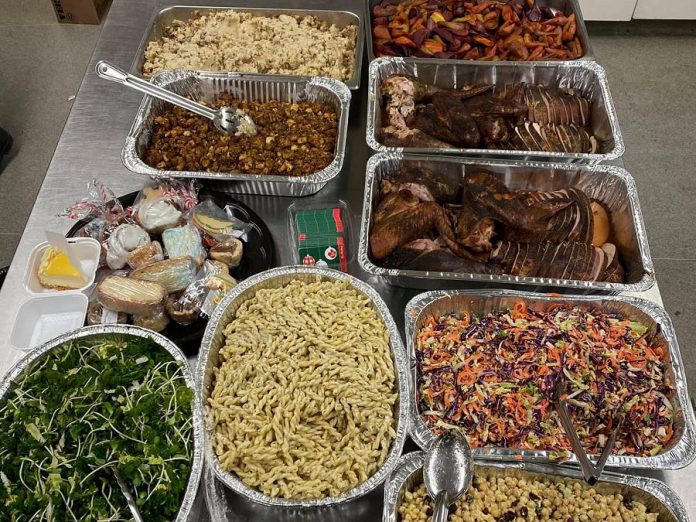 "It started off when I was just going to donate a couple of turkeys to One Roof because I've volunteered there before, and a hot meal can go very far, especially around the holidays," Addison recalls.
"I was talking to my good buddy George from Primal Cuts, and he goes 'Well, I'll throw in four [turkeys].' I thought to myself, that was easy. I have a lot of friends who own restaurants in downtown Peterborough, so I thought instead of just doing turkeys, let's try to do a whole meal."
From there, Addison phoned around and got an overwhelming response from fellow business owners. For example, Rare committed to providing roasted vegetables, and The Publican House committed to providing stuffing.
Advertisement - story continues below
Ashburnham Realty then sent out an email about the Christmas dinner to all of their commercial tenants, bringing many more donations.
Within the span of two days, about 20 local businesses came together to provide a spread that made up over 160 meals for One Roof Community Centre.
"Even though I had an idea with just a couple of items, it was incredible to see all these struggling businesses still take a bit out of their business to help others," Addison says. "It was amazing. It made my year. I truly believe that Peterborough is known for rallying together to help people out."
For local businesses like Dr. J's to continue spreading this sense of togetherness, Addison reminds the community to please reciprocate the support, especially throughout the pandemic.
"By supporting local businesses, the community will see that the support from local restaurants will just keep increasing," Addison says. "I think it's a very important cycle for people to help all of us out."
You can support Dr. J's by following them on Facebook, Instagram, and Twitter.
To view their menu or place an order for delivery, you can visit their website at www.drjs.ca.
Dr. J's BBQ & Brews is located at 282 Aylmer Street in downtown Peterborough. Currently, they are open from 11:30 a.m. to 8 p.m. Monday through Sunday.