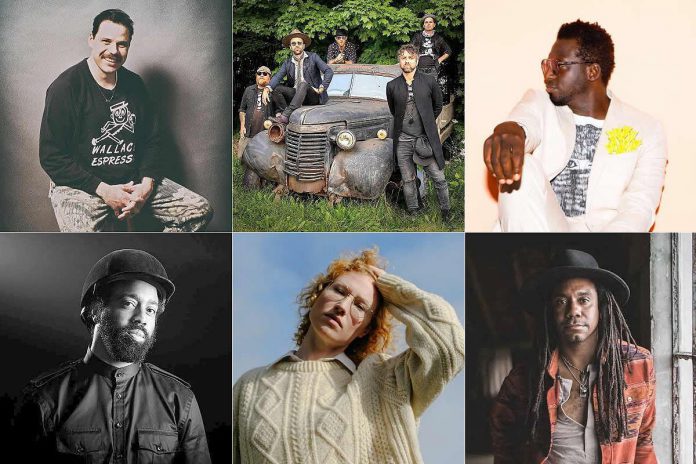 The Peterborough Folk Festival has released a detailed performance schedule for the free festival on the weekend of August 20 and 21, which returns to Nicholls Oval Park for the first time since the pandemic began.
Performers include headliners Bahamas and The Trews Acoustic, along with Odario, AHI, Kelly McMichael, Julian Taylor, Kellie Loder, Georgia Harmer, My Son The Hurrican, Joyful Joyful, Andrea Kain, Murder Murder, I, The Mountain, Michael C Duguay, Sharon, Lois & Bram Singalong with Sharon and Randi Hampson and friends, Lauryn Macfarlane, Nathan Truax, Kayla Mohammed, The Colton Sisters, Lydia Persaud, Ken Yates, The Backwoodsmen, Benj Rowland, and Melissa Payne.
Prior to the free festival weekend, the Peterborough Folk Festival will be premiering its documentary film We Can Do This, based on the festival's summer 2021 concert series at the Rolling Grape Vineyard, on Thursday (August 18) at the Market Hall Performing Arts Centre in downtown Peterborough.
Advertisement - story continues below
There will be two screenings of the film — which features performances by Terra Lightfoot, William Prince, Whitehorse, Hawksley Workman, Donovan Woods, Greg Keelor, and more — at 7 p.m. and 9 p.m. Admission is by donation to the festival, with tax receipts provided for donations $20 and over. A limited-edition We Can Do This vinyl record album (only 400 copies) will also be available at the screening for $25 each.
On Friday (August 19), headliner Kathleen Edwards will be performing at a ticketed concert at 7:30 p.m. at the Market Hall. Two of the musicians who will also be performing at the free festival on the weekend will be opening the show: Lauryn Macfarlane, the Peterborough Folk Festival's 2021 Emerging Artist of the Year, followed by Ken Yates. Tickets are $50 (fees and HST included) and are available at markethall.org/kathleen-edwards/.
Following these two events, the free festival weekend takes place on Saturday (August 20) and Sunday (August 21) at Nicholls Oval Park at 725 Armour Road in Peterborough. The festival is accessible on foot and bike from the Rotary Trail, with valet bike parking available courtesy of B!KE – Peterborough's Community Bike Shop.
The festival gets underway both days at 11 a.m. with the opening of the Children's Village, Artisan Vllage, Cameron's Pavilion, and food vendors. On Saturday, live music begins at noon on the Solar Stage and Cameron's Pavilion Stage with live music on the Main Stage at 5 p.m. until 10:30 p.m. On Sunday, live music gets underway at noon on the Main Stage and continues until 7:30 p.m.
Here's a detailed schedule of performers, dates, times, and locations:
Advertisement - story continues below
Saturday, August 20
Cameron's Pavilion Stage
12:00 p.m. Kayla Mahomed
1:00 p.m. Benj Rowland
1:45 p.m. Nathan Truax
2:45 p.m. Michael C. Duguay
3:45 p.m. Murder Murder
9:05 p.m. I, The Mountain
Solar Stage
12:00 p.m. The Colton Sisters
12:50 p.m. The Backwoodsmen
1:45 p.m. Georgia Harmer, Lauryn Macfarlane, Adria Kain
2:50 p.m. Julian Taylor, Lydia Persaud, Kayla Mahomed
3:50 p.m. Joyful Joyful
Main Stage
4:45 p.m. Opening with Chief Laurie Carr
4:50 p.m. Lydia Persaud
5:15 p.m. Adria Kain
5:55 p.m. Georgia Harmer
6:35 p.m. Julian Taylor
7:25 p.m. Kelly McMichael
8:15 p.m. Odario
9:30 p.m. Bahamas
Advertisement - story continues below
Sunday, August 21st
Solar Stage
3:00 p.m. Balfolk Peterborough workshop
Main Stage
12:00 p.m. Benj Rowland
12:35 p.m. Melissa Payne
1:10 p.m. Childrens Parade to The Main Stage
1:15 p.m. Kelli Marshall & Payge Marshall
1:30 p.m. Sharon Lois & Bram sing-along with Sharon & Randi and Friends
2:25 p.m. Kellie Loder
3:30 p.m. My Son The Hurricane
4:30 p.m. Lauryn Macfarlane
4:50 p.m. AHI
6:00 p.m. The Trews Acoustic
Note: The schedule and line-up is subject to change.
For more information about the Peterborough Folk Festival, or to become a volunteer, donate, or sponsor the festival or become an artisan vendor, visit peterboroughfolkfest.com.
kawarthanow is pleased to be the major media sponsor of the 2022 Peterborough Folk Festival.