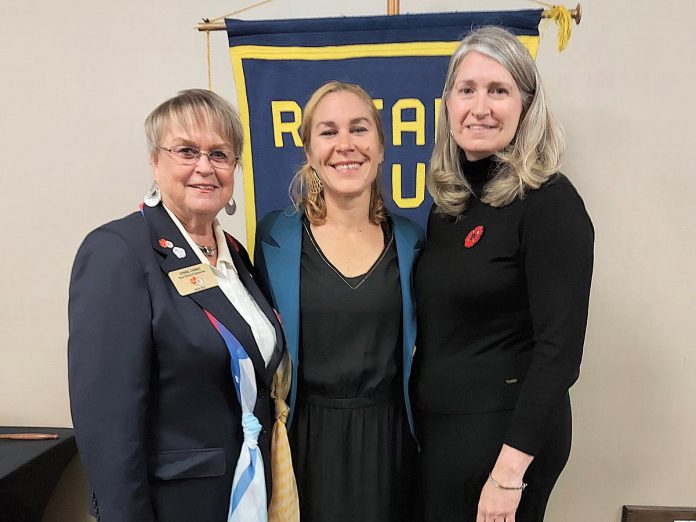 Monarch Ultra co-founder Carlotta James was one of six people recognized as a Paul Harris Fellow by the Rotary Club of Peterborough Kawartha on Thursday night (November 10).
Named for Rotary International founder Paul Percy Harris, Rotary's highest recognition is given to both Rotarians and non-Rotarians who exemplify Rotary's motto of "Service above Self" in the categories of community, international, vocational, youth, environment, and club.
The other five people named as Paul Harris Fellows were Stu Harrison (community), Monica Carmichael (vocational), Fred Blowes (youth), Fred Irwin (environment), and Carl Brown (club).
Advertisement - content continues below
James was named a Paul Harris Fellow in the international category for her work as co-founder of the Monarch Ultra Relay Run, a bi-annual ultra marathon to raise awareness about the plight of the monarch butterfly and other threatened pollinators.
The inaugural 2019 run saw 46 runners follow the monarch butterfly's 4,300-kilometre migratory route from Canada to Mexico over the span of seven weeks. The 2021 run saw 58 runners participating in a 1,800-kilometre journey through southwestern Ontario and raised $10,000 for outdoor environmental programming at Camp Kawartha in Peterborough.
In September, Monarch Ultra invited a delegation from the city of Zitácuaro in Mexico — located in the foothills of the over-wintering habitat of monarch butterflies and near to the Monarch Butterfly Biosphere Reserve, a world heritage site — to the "Zitacuaro Summit" at Market Hall Performing Arts Centre in downtown Peterborough. Although the delegation, which was to include a keynote by Zitácuaro Mayor Juan Antonio Ixtláhuac, cancelled at the last minute due to security issues at home, the Peterborough event still went ahead with Toronto's "The Monarch Crusader" Carol Pasternak giving the keynote.
This story has been updated to correct information about the Zitacuaro Summit.