Mike Andrews, tattoo artist and owner of Mike's Tattoo at 388 Water Street in downtown Peterborough, describes himself as the boy in school who was slightly rebellious — the kid some teachers bet would never amount to anything.
"I was busy looking at the pretty girl three rows ahead of me," Mike says with a smile. "I rarely paid attention. Except when I was in art class."
Fascinated by symbolism, Mike found himself constantly drawing pictures of skulls and roses at school, in his spare time and virtually whenever he could.

"Tattoo's are representative of a person's identity and what's meaningful to them," Mike explains. "I suddenly became very aware of the images people chose to adorn their body."
"By the time I was 14, I knew I wanted to be a tattoo artist," he recalls. "And I've been chasing that dream ever since."
Regarded as one of the foremost tattoo artists in the area, Mike ranks high with clients because of his talent, his warm and genuine demeanour, and — most of all — his dedication.
"The relationship between the artist and the client is very intimate," Mike says, pointing to his elaborate and skillfully drawn sketches hanging on the wall of his bright-red studio. "Trust is so important."
"I work for my customers," he states firmly. "But when I see the look on their faces when their vision comes to life at my hands, through my work, that gives me instant gratification."

A big guy with a full beard and tattooed arms, Mike's physicality is somewhat intimidating. But when he speaks, he is thoughtful and extremely articulate, choosing his words and expressions carefully.
"I'm very proud to be a part of this little enclave on Water Street," Mike says.
"It's an eclectic mix of vintage clothing, artisanal food and crafts, and awesome resto's. Each one of them stands out because they're independent and dedicated to doing what they do really well."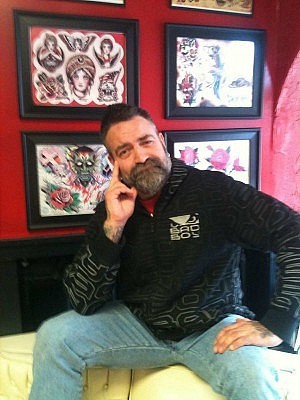 Now in its sixth year, Mike's Tattoo is renowned for employing artists who are not only hard-working but accredited. Mike has a client list that's booked close to five months in advance.
I ask Mike if I were to get a tattoo, what would he suggest?
"Something that's meaningful for you," he replies. "It could be your writing — a pen and a scroll or an old-school typewriter. That would be cool."
I tell him I'm also a single mother with two girls.
Mike laughs. "Okay, maybe the scroll is more like a grocery list."
Mike's Tattoo is open Monday to Saturday from 10 am to 6 pm.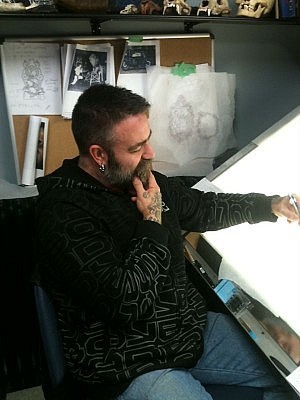 All photos by Carol Lawless.