Beginning his thrifting at the tender age of 14, Ryan Kennedy was eager to put his stamp on a permanent vessel for his love of iconic rock and roll and the look that goes with it.
The name Sympathy for the Rebel instantly conjures up images of the Stones and James Dean fetishism. From the original art on the walls to the clothing within it, the space oozes Ryan's personal style and love for a time when music — and especially fashion — were considerably less disposable.
Now in its third year, Sympathy has become Peterborough's destination for vintage leathers, cowboy boots and pop culture oddities that you'd probably have to visit a hundred antique stores to obtain.
Having expanded to include luggage, cocktail dresses and everything in-between, Sympathy doesn't bypass trends, but rather looks for staples.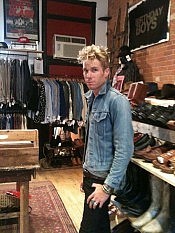 "The idea is to find classic, versatile items so that you can avoid seeing a photo of yourself in five years and say 'What was I thinking?'" Ryan explains.
Though affordability may have initially drawn him to plant roots on Water Street — as opposed to the more bustling sector on George — Ryan says he has always had an affinity for the area.

"It's my handwriting that says 'Push Down' on the entrance of Needles in the Hay." Ryan says, referring to when the neighbouring yarn shop was previously Starving Artist Framing Studio, where he worked close to a decade ago. "It's the surviving details like that which give the strip its character."
In addition to carrying the torch previously held by businesses like Last Tango, Ryan crafts some of the most innovative contemporary music emerging from Peterborough's renowned music scene.
January saw the debut of an ambitious series of monthly e.p.s in collaboration with longtime bandmate, Jeremy Boyd. Taking a decidedly minimal approach, the duo's group Boys Republic evokes the slithering charm of groups like Morphine or Echo and the Bunnymen.
Along with hot spots such as Le Petit Bar, Bloodline Parlour, and Needles in the Hay, Sympathy has helped transform the west side of Water Street into the burgeoning boutique neighbourhood it has become.
Sympathy for the Rebel is open Tuesday to Friday from 11 am to 6 pm, Saturday from 11 am to 5 pm, and Sunday from 12 pm to 5 pm.