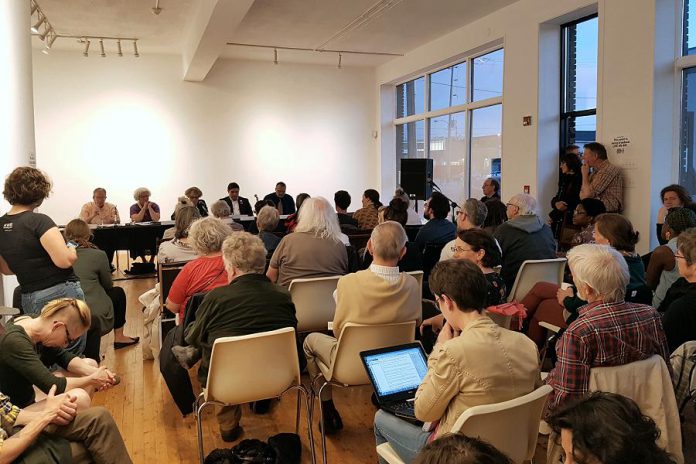 On Tuesday evening (May 15), political candidates for the upcoming provincial election in Peterborough-Kawartha met at Artspace in downtown Peterborough to discuss their positions on arts and culture in the community.
In attendance were NDP candidate Sean Conway, Liberal incumbent Jeff Leal, Green Party candidate Gianne Broughton, and Trillium Party candidate Rob Roddick.
The event was hosted by Artspace and the Electric City Culture Council (EC3) and moderated by Julia Harrison, President of ReFrame Film Festival. Candidates were given five questions in advance, which addressed the rights of artists, income disparity and precarious employment, equitable access to arts programs, and reconciliation with indigenous communities.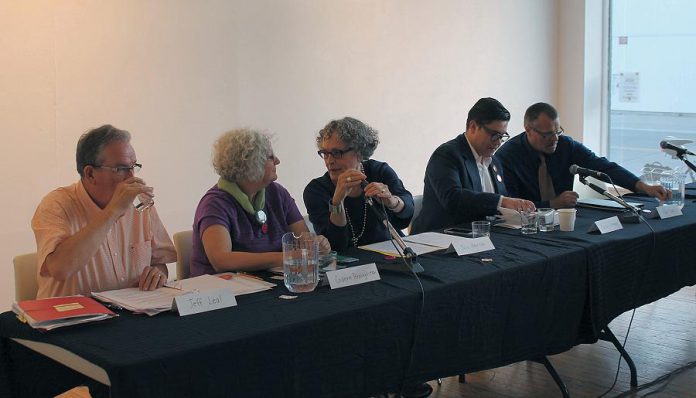 A main concern voiced by several candidates and the public in attendance was the precarious situation artists often find themselves in. In Peterborough and the Kawarthas, artists and cultural workers make up a large part of the community, but struggle to make a living.
"It's a shame," said NDP candidate Sean Conway. "A career in the arts shouldn't be a struggle to get by."
He acknowledged that an artist's work falls outside the traditional employer-employee relationship, which means artists do not have access to benefits such as dental care programs or childcare. Conway stated that these benefits should be accessible to artists.
A musician himself, Conway said he understands artists' struggles on a personal level.
"Artists shouldn't be treated differently than other workers. We need to protect artists like we do workers."
Liberal candidate Jeff Leal highlighted a number of initiatives by the Liberal government that will help artists and marginalized groups, which include the OHIP plus initiative, a benefit program that provides coverage for more than 4,400 medications for eligible citizens, free tuition for eligible students, and supplying broadband internet services to rural communities.
These services, Leal said, are an effort to create equality in the province and provide immediate benefit to those citizens in precarious employment, including artists.
According to Leal, an issue in politics is the inability to find common ground.
"We should value the arts simply because it's the right thing to do," he said, adding that governments need to prioritize investments in the arts sector and increase access to arts programs in rural communities.
All candidates agreed that the arts bring different perspectives to Peterborough and that schools are spaces where the arts can be cultivated in younger generations. Arts programs and spaces should be protected, rather than dismantled, they told the audience.
"We can't close any more schools," said Conway, noting that the closure of PCVS was a failure of the Liberal party.
A past student of Lakefield District Secondary School (also closed), Conway attended high school with students from Apsley and the surrounding rural communities. Students in these areas now have to travel to Peterborough for school. He said schools are a life force of communities and closing them decreases access to essential programs which encourage the arts.
Green Party candidate Gianne Broughton agreed that schools are a space where appreciation of the arts can begin. She would like to see funding concentrated on improving the classroom experience, rather than on administration.
When asked how they would address reconciliation, Leal stated that Canada has "a dark history and non-indigenous peoples need to accept this past." Conway was passionate in his assertion that "reconciliation demands action, not symbols and gestures."
The liveliest segment of the evening occurred during question period where members of the public revisited the concern of employment precarity.
One audience member explained that artists must put in several months of preparation and complete extensive application forms for only one year of funding, citing this process as a barrier to stable income.
Rob Roddick of the Trillium Party said he was not aware of this lengthy and tedious process, but said it is an important issue that needs to be addressed. Candidates were not able to offer a specific plan of how they would confront this barrier, but all agreed to look into the process.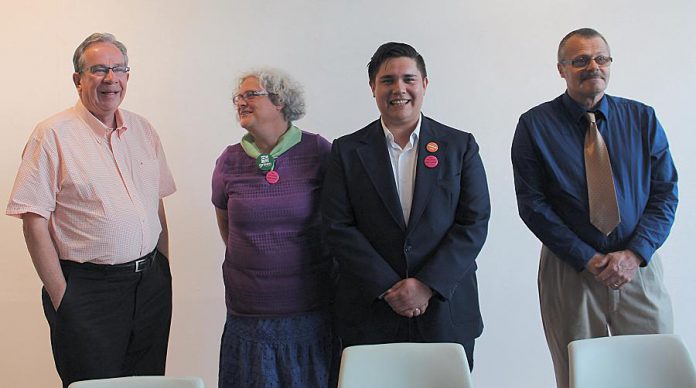 A local poet asked candidates what independent arts and culture establishments they financially support within the community, a question that gathered applause from the audience.
Only Leal and Conway were able to address the question, with Leal responding that he and his wife buy tickets to support the performances at Market Hall and the Peterborough Theatre Guild.
"Rest in peace The Pig's Ear Tavern. Rest in peace The Spill. Long live The Union Theatre!" said Conway, noting that he has played local venues as a musician and frequents many including The Black Horse Pub, Pappas Billiards, The Garnet, Market Hall, The Theatre on King, and The Historic Red Dog.
"There are countless wonderful places in Peterborough and I go to them all."
When asked what they would do to protect the rights of artists if challenged in the Legislature, Conway said he would oppose any motion that threatens the arts "tooth and nail".
Leal shared similar sentiments, stating that the arts, culture, and heritage sectors are worth fighting for.
The Green Party is all about protection, explained Broughton, and would apply that same perspective to the arts.
Dave Smith of the Conservative party, not present at the event due to a family emergency, sent his regards.
A written statement prepared by Smith noted that the arts are an important part of Peterborough and the Kawarthas and bring interesting perspective to our community. Historically, he said, when the arts are thriving, people are happy. Smith referred to an investment in the arts as an "investment in our well-being."
Jacob Currier of the Libertarian Party, also not in attendance, provided a short statement, which read "The government has no place in the arts."