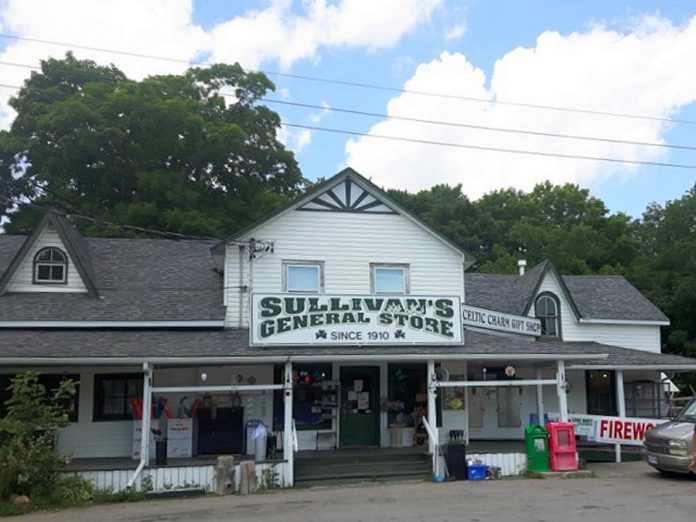 There aren't that many family-run businesses in small-town Ontario that are still thriving after more than a century, which means Sullivan's General Store in Ennismore must be doing something right after its incredible 110 years serving locals and visitors.
Owner Tim Sullivan says that some things have changed since he was a kid, growing-up in the iconic retail establishment, but not too much.
"From nuts and bolts to now, people always say, 'If Sullivan's doesn't have it, you don't need it,'" Tim laughs, over the sound of an old gas pump bell chiming from outside the shop.
The plexiglass barriers and masks remind us of the COVID crisis but, from behind the counter in this small-town Ontario general store, not even a global pandemic can dampen the mood as cottagers, campers, and locals make the trip in for everything they can dream of.
With his steady voice, Tim points out the practical items in the store, like groceries. Milk, eggs and butter are obvious staples for customers. But the store has pretty much anything you need, including — with Sullivan's becoming an authorized LCBO outlet last December — beer, wine, and spirits.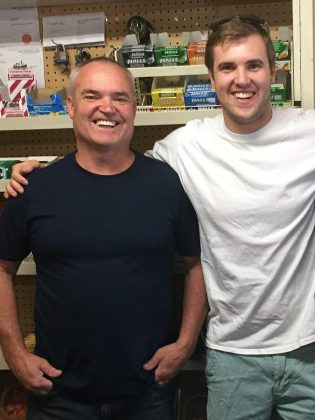 Tim was a mechanic for 30 years before he and his wife Karen and their son Frank bought the business from Tim's two older brothers. Tim says they wanted it to stay in the family when his brothers were retiring and so far, everyone is enjoying their new roles. Karen, for example, gets to decide what "knick knacks" (Tim's word) to bring in.
"She does all the gifts and the decorations," Tim says. "You should see it at Christmas. It's always a nice time of year."
While Karen still works at another fulltime job, Tim says he's happy to have all her help.
"You can't do this unless you have a good wife to stand beside you," he observes. "And there are some really good young folks who work here. They are outgoing, just really good staff."
The store does need a team to keep it operating, as it's open seven days a week — closing only for Christmas, Boxing Day, New Year's, and a couple of other days a year.
With always-changing giftware along with grocery staples, Sullivan's General Store perfectly captures the idyllic image of small town living and cottage life. There are fireworks, inflatable lake toys, fishing bait, lottery tickets, and tons of mugs with cute sayings to appeal to trailer folks, fishing enthusiasts, grandparents, and golfers.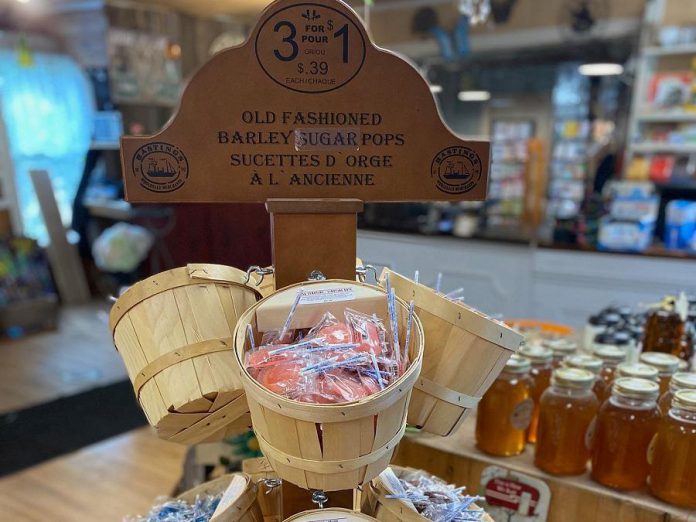 The selection of old-timey candy is especially impressive, and the store is the place both kids and parents dream of visiting for regular items, for special purchases, and for the pure joy of in-store browsing so often forgotten in this age of online shopping.
Tim and his wife have also carried on the tradition of stocking high-quality items from Ireland. From a delightful collection of Hanna hats, appealing to professionals and hipsters alike, to their collection of Irish wool sweaters, all patrons can be prepared for the dropping temperatures this fall and winter.
"The sweaters last a long time," Tim notes. "Some of the ladies come in saying that they have had theirs for 15 years or more."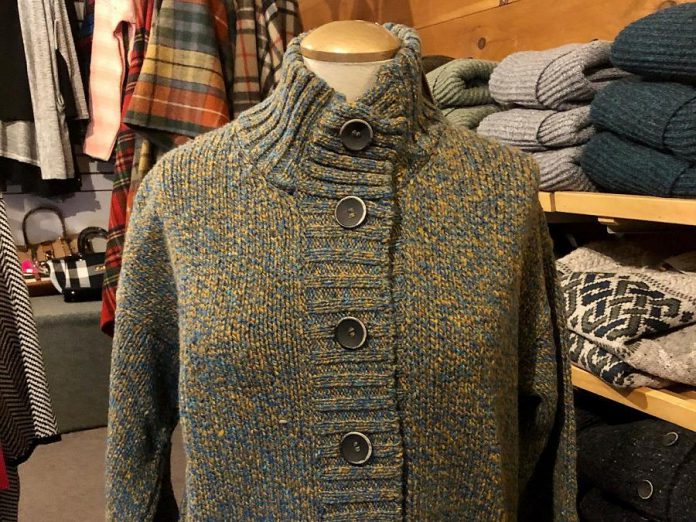 Agreeing that this does not make for a get-rich business model, Tim laughs.
"I just hope they want different colours," he says. "The sweaters do sure hold up."
Sweater sizes, however, might also need to change based on the selection of local baked goods, which Tim says are great sellers.
"We go between pies and tarts being the most popular," he says.
With the challenges faced by so many businesses over the past months due to COVID-19, Sullivan's seems to have a real recipe for retail success with their combination of essentials, specialty items to make you smile, mouth-watering treats, great service, alcohol, and lots of surprises to keep your mind off anything stressful or upsetting.
A trip to Sullivan's General Store provides a comfortable trip back in time to happier days that can be enjoyed by the whole family.
With the gas pump bell ringing once again, Tim wraps things up.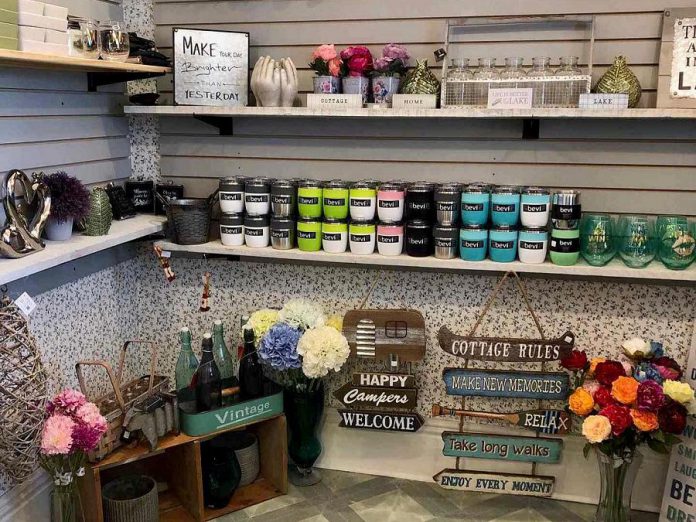 "Well, that's telling me to get moving," Tim says, before bustling on to help the next person have a great experience in this folksy general store that has endured the test of time.
Sullivan's General Store is located at 472 Ennis Road in Ennismore. For more information, call 705-292-8671, email sgsennismore@gmail.com, or visit sullivans-general-store.business.site. For the most recent updates, including new products and what's on sale, you can also follow Sullivan's on Facebook.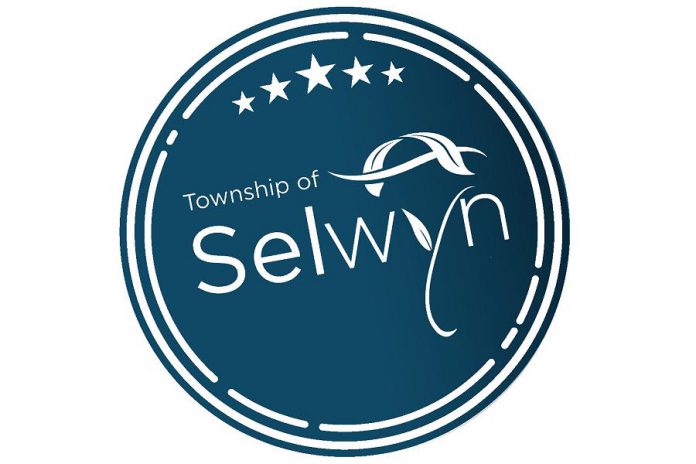 The Township of Selwyn has created a comprehensive strategy to help assist local businesses and community organizations recover from the economic impact of the COVID-19 pandemic.
The Selwyn COVID-19 Economic Recovery Strategy includes a five-month multimedia marketing campaign to promote Selwyn's businesses and community organizations, municipal grants for not-for-profit organizations, the Selwyn Business Re-Opening Program in partnership with Community Futures Peterborough that provides $250,000 to help Selwyn businesses with COVID-19 related adaptation expenses, and much more.
For more COVID-19 resources for Selwyn businesses, visit selwyntownship.ca.