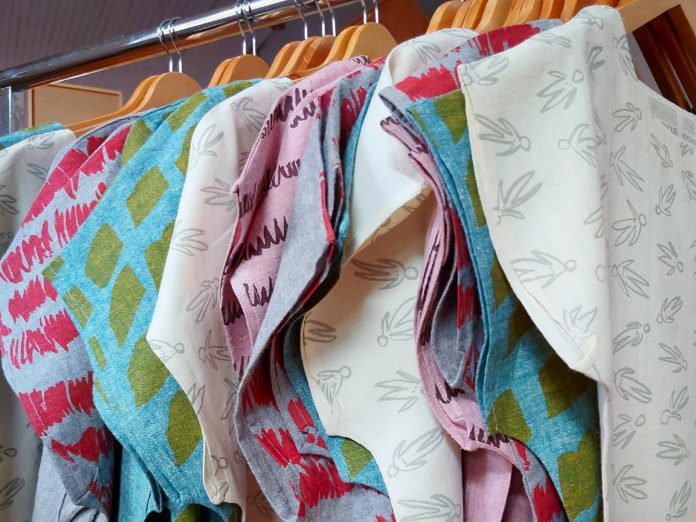 Sometimes a crisis provides the motivation you need to try something you've always wanted to do. Such is the case for Leslie Menagh, owner of Madderhouse Textile Studios in downtown Peterborough, who recently launched a retail line of clothing.
Before the pandemic, Madderhouse was primarily a workshop and professional development space, where Leslie and other artists would teach clients screen printing and other textile arts. Since the workshops are hands-on and require person-to-person contact, Madderhouse has not resumed this offering since the onset of the pandemic.
While Leslie hopes to resume the workshop portion of her business in the future, she has repurposed her studio for garment design and production.
Advertisement - story continues below
Located at 383 Water Street, Madderhouse is a 500-square-foot studio space that features professional equipment for the textile arts. The studio has equipment such as a 20-by-5-foot felt-padded work table, a digital scanner, a darkroom, a washout booth, an industrial sink, laundry facilities, and more.
Leslie grew the idea for Madderhouse from her desire to replicate a screen printing studio space she used while obtaining her Bachelor of Fine Arts degree at the Nova Scotia College of Art and Design.
"My favourite studio space was the screen printing studio," Leslie recalls. "It was a very comfortable place to be. I could mix colours and put patterns on cloth. My whole life, patterns on cloth have been something so compelling for me."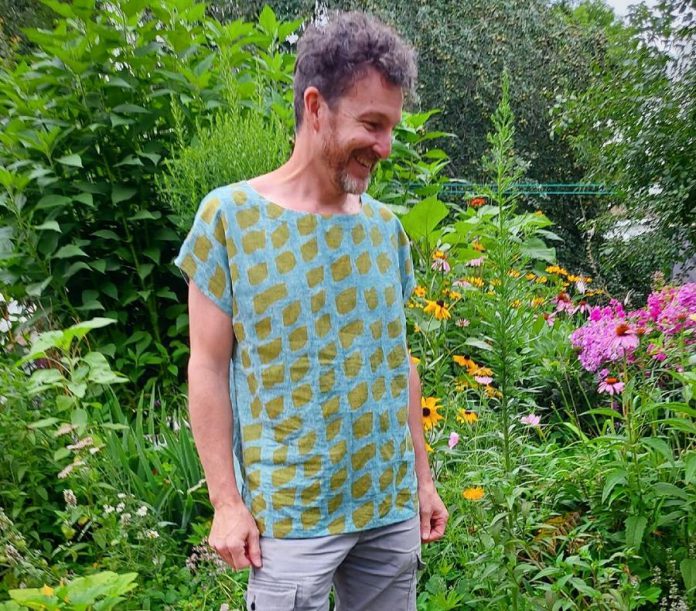 "I loved that space and, ever since graduating in 2008, have been looking for the opportunity to join someone's studio that was like that," she continues. "I finally got tired of waiting for it to appear and wanted to create it myself."
Leslie's passion for textile arts has been present ever since she was a child. She says she had always seen herself as a craftsperson and would make her outfits for school when she was in high school.
"I was always really interested in sewing and making in general," Leslie says. "Throughout my adult life, I travelled and did lots of different jobs, but I always had some craft I was working on."
Advertisement - story continues below
At 29, Leslie made her way to art school, where she began to view her passion and talent for art in more professional terms. She merged her love for art with her entrepreneurial spirit in 2018 when she founded Madderhouse Textile Studios.
At Madderhouse, Leslie and company have created other textile products in the past such as tea towels, dinner napkins, tote bags, and face masks, but their 'breezy garb' line is the first time they have branched into clothing. Releasing a Madderhouse clothing line is something Leslie has always wanted to do but never got around to, until the pandemic gave her an extra push.
"It's totally exciting," Leslie says. "I've always wanted to try to do this, so it's been perfect."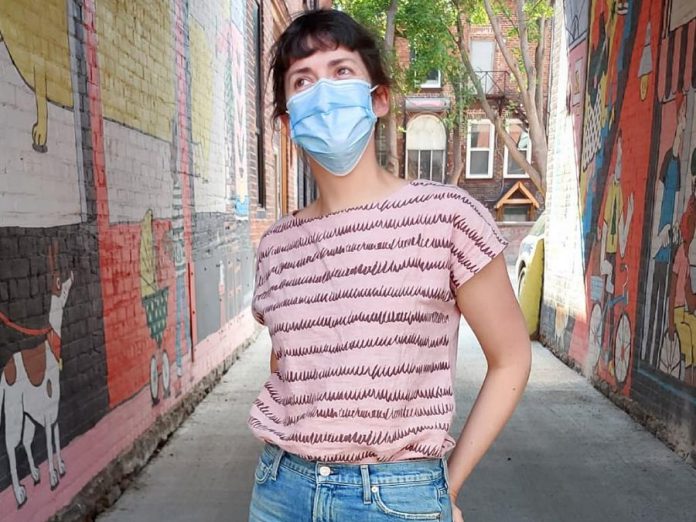 Madderhouse launched their 'breezy garb' line in August, starting with a breezy summer top in a variety of different colours and patterns. The tops are a light woven fabric made of 55 per cent hemp and 45 per cent cotton and feature a boat neck. The tops, which are intended to have appeal across genders, are available for purchase on the Madderhouse website at www.madderhouse.com/shop.
The Madderhouse 'breezy garb' tops are constructed with support from the Newcomer Sewing Crew, a social enterprise of female artists and sewists who are recent immigrants to Canada.
The Newcomer Sewing Crew was formed in February 2020 after the women involved completed a program for creative entrepreneurship for newcomer women. Leslie was hired to help deliver the program, so she got involved when a group of participants decided to keep working together.
Advertisement - story continues below
The crew's first project was a product launch of tea towels for Watson & Lou called "The Oatmeal Capitol of the World" — a reference to "our shared olfactory experience of living in a town with an oatmeal factory."
When the pandemic hit, the group continued to work together to make face masks for corporate clients such as Watson & Lou, Fleming College, Pepsi Co., Quaker Oats, Peterborough Regional Farmers Market, and several other community partners.
The crew has since launched other products such as a pair of pants and a harvesting apron. The crew is not a registered business, but a group of people available for hire. When hired for a job, they are paid fairly for their contributions, either hourly or per piece.
Leslie says the relationship she has with the Newcomer Sewing Crew is mutually beneficial.
"I'm acting like a mentor or support for them to be able to develop as a social enterprise," Leslie explains. "They are always the workforce I draw upon for my production projects."
She also notes that her connection with the women in the crew, especially throughout the last year of the pandemic, has been "fantastic".
"That's huge for me, to stay connected with them," she says. "It's really rewarding and a great source of social connection at a time where that is a challenge."
Advertisement - story continues below
With support from the Newcomer Sewing Crew, Leslie hopes to expand the Madderhouse clothing line with more items very soon.
Although the studio space is not currently used for workshops, open studio time is available for individual artists by reservation. Leslie has also been using the space to have people come in and shop the shirts.
"I'm hoping what happens over the long term is this takes off, I'm able to sell the things that the team and I make, and we're able to have a retail space," says Leslie.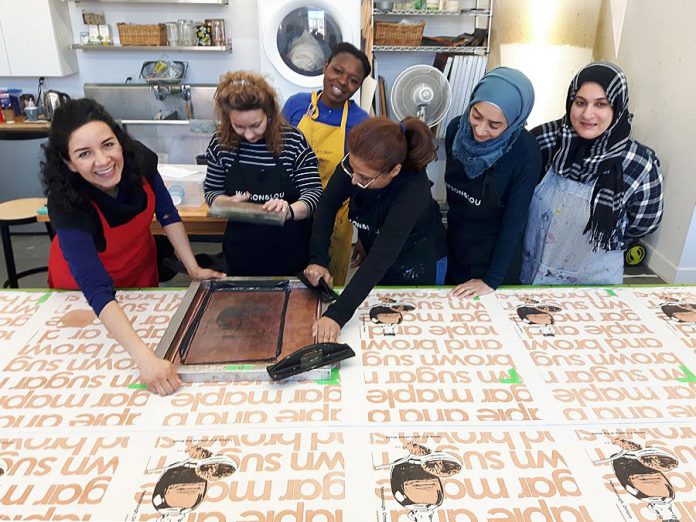 The Madderhouse studio space is owned by the creative hub Watson & Lou, who have been great supporters of the textile studio. For example, they recently invited Leslie to occupy a pop-up shop with them during the most recent First Friday Peterborough art crawl.
Leslie is grateful for all the community support she has received over the past year. She says organizing a volunteer campaign at the onset of the pandemic, and receiving a lot of positive support, was heartwarming. According to Leslie, that support has been a motivating force to keep going throughout what has been a challenging year.
"As soon as you do something and send it out in the world and you get a positive response, there's something wonderful about that," Leslie says.
To learn more about Madderhouse Textile Studio, and shop their 'breezy garb' clothing line, visit their website at www.madderhouse.com.
You can also support Madderhouse by following them on Facebook and Instagram. You can follow the Newcomer Sewing Crew on Facebook and Instagram.