In this four-part series, local musician and greasy spoon expert Washboard Hank guides his daughter, food writer Eva Fisher, through some of the best diners in Peterborough. This final installment features East City Coffee Shop.

Part 1 featured Monaghan Cafe, Part 2 Lock Street Diner, and Part 3 The Speak Easy Cafe,
---
Stop 4: East City Coffee Shop
It would be difficult to cover diner breakfasts in Peterborough without including the East City Coffee Shop. (55 Hunter St. E., Peterborough, 705-743-4518). It might be the most popular breakfast in town. Even on a Monday morning, the place was packed.
Eva: How's your breakfast?
Hank: The peameal is great. And of course the potatoes are absolutely delicious and salty as hell. They're absolutely overloaded with secret spice. But they're good! They taste good! And the eggs are great. And the artwork here is the nicest artwork.
And here it is, Monday, and it's full. We had to sit in the poor people's corner for the first little bit. The people here are just absolute pros at the restaurant business and they know it.
Eva: So how long have you been coming here?
Hank: Well, it used to be Owen's Snack Bar when I was a kid. I used to come in here and get milkshakes. I guess I've been coming here for a good 45 years now … 55 years, excuse me.
Eva: Was it when you started playing music that you really started going out for breakfast?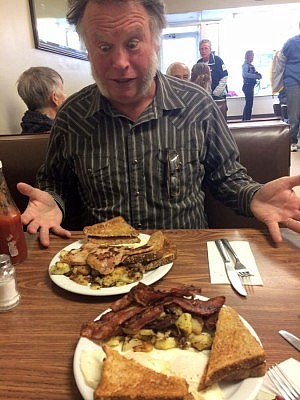 Hank: Yeah, really it was with music and with — when you're hungover, there's nothing like a good dose of grease to help you out.
Plus, look at all this food. I'm not going to have to eat until at least 7:00 tonight.
Back in the day, it used to be every gig was a 3-day gig and they'd put you up in a rotten hotel room, usually above the bar. Even the Red Dog. I used to be able to stay at the Red Dog.
Eva: That was in the Red Dog Ray days, right?
Hank: Mmhm. So you'd play the gig, get up the next morning around 11:00 and go looking for breakfast. Although I must admit I'd usually get up at 9:00 'cause I just like waking up early. But that would be a luxurious thing to do: wake up, go for a stroll, try to find a good breakfast.
Eva: So I'd imagine that a lot of musicians have the same experience.
Hank: Oh yeah. Where to eat breakfast?
Eva: Ask a musician.
Hank: Mmhm.
I don't know what they do to their potatoes at the East City Coffee Shop, but they're really really good. Suspiciously good. So good you want to make your breakfast plans around them. The portions are huge, the service is fast, and the owners are nice.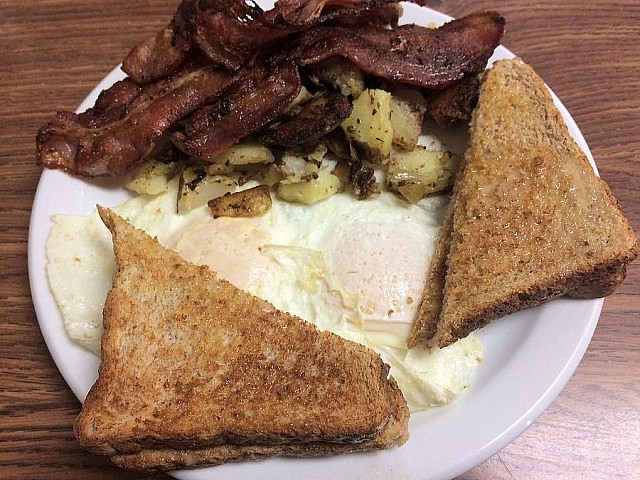 ---
Final thoughts
What do we want from a breakfast diner?
It's a place to tell stories, rehash the night before.
Where you can look at the menu to be formal, then order the same thing you always get.
I got my yellow eggs. I got my visible oregano. And my alarmingly small coffee cups were somehow always full.
So I would say all of these diners were really good.
Hank put it a little more plainly:
"You can eat at any one of these places and you won't die. Well, not right away."
Play 'em out, boys …