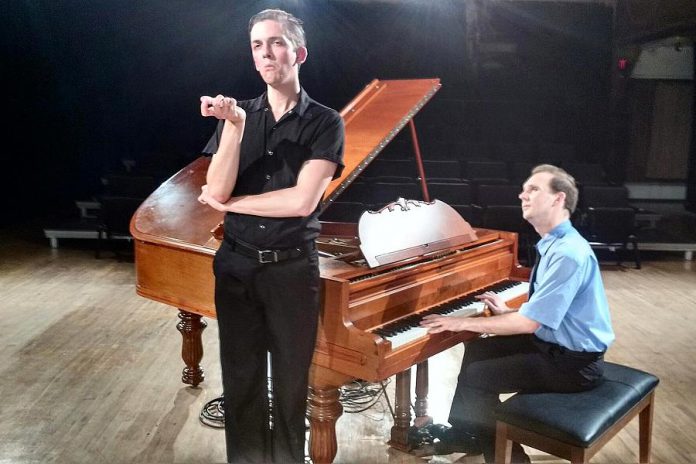 Globus Theatre at the Lakeview Arts Barn in Bobcaygeon presents a melody of murder and mayhem in Kellen Blair and Joe Kinosian's musical comedy Murder for Two, on now until August 18th.
Directed by James Barrett and featuring the talents of Matt Pilipiak and Victor Pokinko, Murder for Two is a delightful mixture of music and mystery. The play features one piano and a corpse, two cops, and a dozen suspects — and only two actors to play them all.
The result is a perfect night of summer theatre.
Making its debut at the Chicago Shakespeare Theater in May 2011, Murder for Two became an instant hit with audiences and critics alike and was extended four times, running for six months beyond its original run date. The show's co-writers Blair and Kinosian won the Joseph Jefferson Award for Best Musical. In July 2013, the show made its New York debut at the McGinn/Cazale Theater where, once again, it was extended due to its popular reception and continuous ticket sales.
Eventually moving to New World Stages in New York City, the show ran until June 2014 before going on a successful tour across North America. Since then, Murder for Two has been performed by various theatre companies throughout the United States and Canada, as well as by theatrical groups in China, Japan, Korea, and Argentina.
Murder for Two takes place at the surprise birthday party of mystery writer Arthur Whitney, where an uninvited guest turns out to be death. The lights go out, the guests scream, and a gun shot rings through the darkness. When the lights come back on, Whitney is found shot through the forehead.
Enter small-town cops Marcus Markowitz (Matt Pilipiak) and his partner Lou, who face a household of eccentric guests who all have a reason to kill Whitney.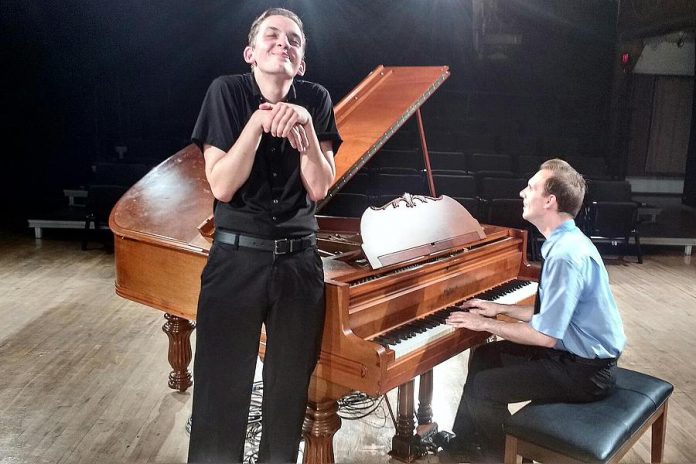 Could it have been Whitney's bitter wife Dahlia (Victor) who pulled the trigger? Did Whitney's niece Steph (also Victor) commit homicide for her grad paper? Did Whitney's psychiatrist Dr. Griff (Victor again) know more than he was putting on? Why would Whitney's neighbors Murry and Barb (both played by Victor) want Whitney dead? And what connection does prima ballerina Barrette Lewis (delicately played by Victor) have to the deceased author? And who are Timmy, Yonkers, and Skids (all played by Victor) and why are they even there?
With the real detective an hour away, Officer Marcus (Matt) takes it upon himself to solve the mystery so he can achieve his own ambitions for promotion. With time ticking away, he must interrogate the guests, put together the clues, and solve the mystery in a night featuring zany characters, clever performances, and show-stopping musical numbers.
As two of the founding members of Toronto's Bad Hats Theatre, Victor Pokinko and Matt Pilipiak have been working with each other for four years. This familiarity gives them the winning chemistry and makes a complex production like Murder for Two work so well. The two actors are completely in sync with each another throughout the entire 90-minute show.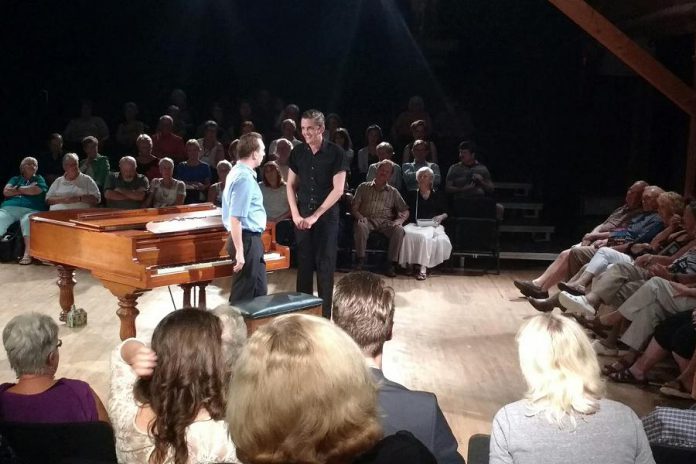 Matt takes the lead as Officer Marcus, an ambitious cop who wears his heart on his sleeve. With equal amounts ambition and heart, he has flawless character interaction with Vicitor, who plays all of the other characters in the show. Through his constant shifting of voices and body language, Victor manages to create a room full of distinctive and colourful characters for Matt to interact with.
At times, Victor plays as many as four characters while Matt manages to keep each one of them straight. The two actors are a charming and talented duo whose years of work together help create the perfect production.
Note this show is also a musical but, unlike other musicals, Matt and Victor accompany themselves by playing the piano, which sits as the lone set piece in the middle of the room. Sometimes the performers take turns accompanying one another on the piano; sometimes they brilliantly play the piano together and, in some numbers, Victor will actually sing duets with himself.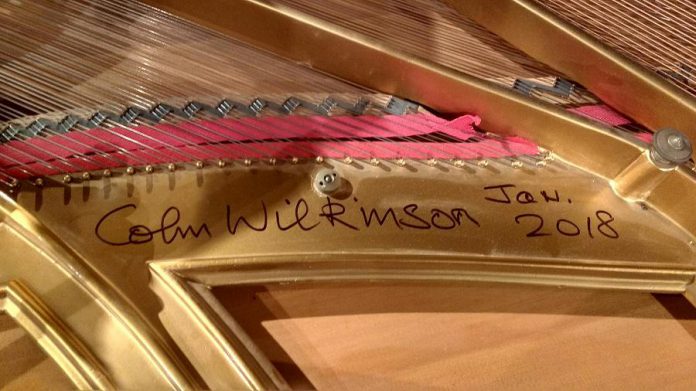 Although none of the songs in Murder for Two have yet entered the popular American songbook (although I think that they probably should), the music is extremely strong, with the stand-out numbers being Barb and Murray's "It Was Her", Officer Marcus and Stephanie's "He Needs a Partner", "Timmy, Yonkers, & Skids", "A Lot Woise", and Matt and Victors' closing piano duet, "Finale Ultimo (A Friend Like You)".
Murder for Two also features the debut of Globus Theatre's latest acquisition: a beautiful grand piano previously owned by theatrical legend Colm Wilksinon. Tuned to perfection, it's a beautiful instrument that becomes not only the only set piece to the show, but a character all of its own.
After the show, as I inspected the piano, Matt and Victor pointed out where Colm Wilkinson had signed the piano for Globus' James Barrett and Sarah Quick, as well as a distinct mark where he would rest his beverages. Murder for Two is the perfect show to celebrate the arrival of this impressive musical instrument at Globus Theatre. Before finding your seat, or before leaving the performance space at the end of the show, take a few minutes to take a look at this incredible piece of theatre history.
I have seen a lot of great shows in the Kawarthas so far this year but, in my opinion, Murder for Two could be the best. Perfectly performed by two fine actors, the show is highly original, laugh-out-loud funny, and truly inspiring to watch. Murder for Two is a theatrical triumph, and what summer theatre is truly all about. This is one show that you really do not want to miss.
Murder for Two runs until August 18th at Globus Theatre at the Lakeview Arts Barn in Bobcaygeon. Shows start at 8 p.m. with additional 2 p.m. matinees on August 11th and 16th. A three-course table d'hôte menu is available at 6 p.m. prior to every evening performance. Tickets are $34.50 for the show only, or $71 if you want the dinner and the show. For tickets, visit the box office at Lakeview Arts Barn or call 1-800-304-7897 or 705-738-2037.