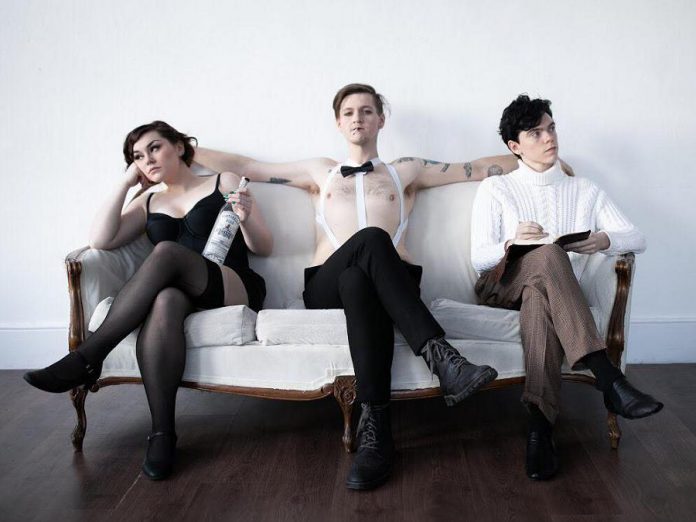 On Friday, March 15th, the Anne Shirley Theatre Company (ASTC) transforms Peterborough's Market Hall into 1931 Berlin with the classic Broadway musical favourite Cabaret.
Directed by Liam Parker and featuring a cast of Trent University students and ASTC alumni, Cabaret presents all the lavish sensuality of German nightlife with all of its charisma, sexuality, and romance, paired with the bleakness of the rise of the Nazi regime in all its horror.
A bold choice for ASTC, Cabaret proves to be a good one, and the student theatre company brings all they have to the stage, creating one of their best musicals in years.
One of the best-loved musicals in the history of theatre, Cabaret found its roots in a 1939 novel called Goodbye to Berlin by English author Christopher Ishwood, which was adapted into a stage show in 1951 titled I am a Camera by playwright John Van Druten.
Based on this unlikely source material for a Broadway musical, Cabaret was created by the team of Joe Maskeroff, Fred Ebb, and John Kander.
Opening at New York's Broadhurst Theater in November 1966, Cabaret pushed every social and ethical boundary to its limit, but become an instant hit with both audiences and critics, making a sweep that year at the Tony Awards winning a total of eight awards, including Best Musical. The original Broadway run would continue until September 1969 for more than 1,100 performances.
Cabaret would reach an even wider audience in 1972 when director Bob Fosse brought the show to the big screen (although in an altered state) starring Liza Minnelli. Like the stage show before it, Cabaret became the big winner that year at the Oscars, winning seven Academy Awards but losing Best Picture award to The Godfather (still today, Cabaret holds the record for having the most Oscars for a film that did not also win Best Picture).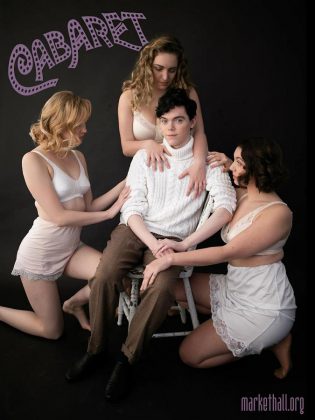 Although it is beloved by many of my friends and colleagues, I have never seen Cabaret and, until now, had no idea of the plot or premise of the show. I don't know how this show escaped my cultural radar, but sometimes we just see everything at our own pace.
Thus, as a total Cabaret virgin, I was able to watch the ASTC production with new eyes, and without comparing it to any other previous version. The result had me falling into the drama and tragedy of 1931 Berlin for the very first time, and falling in love with the mirth and music of this powerful stage show.
Cabaret welcomes the audience to the legendary Kit Kat Klub, where the German girls are sexy and the German boys are too hot to handle. You are greeted by charismatic Emcee (Connor Clarkin), who welcomes you to Berlin and acts as your guide through the sights, sounds, and sex the German nights have to offer.
At the centre of the drama is Cliff Bradshaw (Daze Francis), a failed American novelist who comes to Berlin on December 31st, 1930 to find inspiration in the crumbling city. Befriending personable Berliner Ernst Ludwig (Eddy Sweeney) on the train, Cliff rents a room from landlady Fraulein Schnieder (Caitlin Currie) and finds himself at the Kit Kat Klub on New Year's Eve, where he encounters spunky British performer Salli Bowles (Dani McDonald).
However, before he can sober up and unpack, Cliff's world turns upside down with Salli suddenly moves in with him and the pair begin an unlikely romance.
While the plot revolves around Cliff and Salli, a more powerful emotional story emerges in the subplot featuring Schnieder and her suitor Herr Schultz (Mark Hiscox). As the two fall into a sweet courtship, their romance is torn apart by the changing political landscape, where the emergence of the Nazis threatens to crush everything, from unlikely lovers to the gaiety of the Berlin cabaret.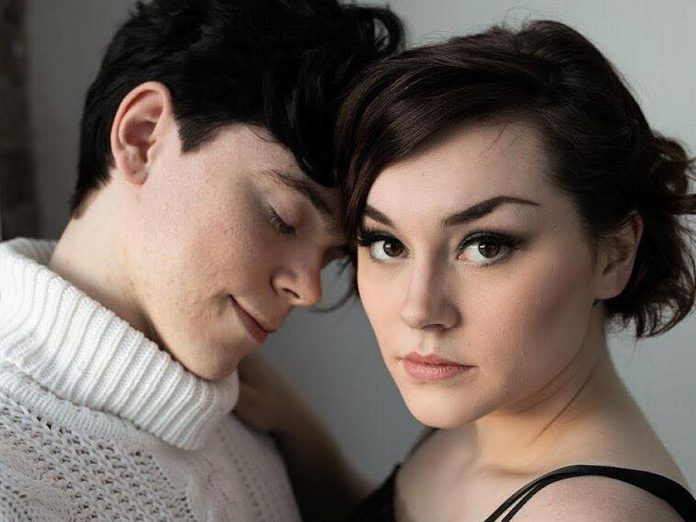 The ASTC production of Cabaret is well cast, with Daze bringing a meek sensitivity to Cliff and Dani giving a spritely performance as Salli. The pair gives strong performances, becoming the audience's anchor for the deeper political backdrop of the show.
But it is Caitlin and Mark who really pull the dramatic punches as middle-aged couple Schnieder and Schultz. Their romance begins so awkwardly beautiful with the gift of a pineapple, and Schneider's loneliness paired with Schultz's gentlemanly mannerisms bring a sweetness to the story. But it is a sweetness that is doomed, ushering in the bleak reality of 1930s Germany. Caitlin and Mark are such strong character actors, and they steal the show within every dramatic scene and musical number they perform.
As compelling as the story is, Cabaret is all about the Kit Kat Klub and the seedy romanticism of 1930s Berlin. ASTC's production team creates a provocative spectacle of appropriate sexual deviance and, no matter how far they push the envelope, they always seem to keep to the spirit of the show. The girls are beautiful, the boys are cool, and everything goes at the cabaret. The big chorus numbers such as "Wilkommen", "Don't Tell Mama", and "Money" are among the performance highlights.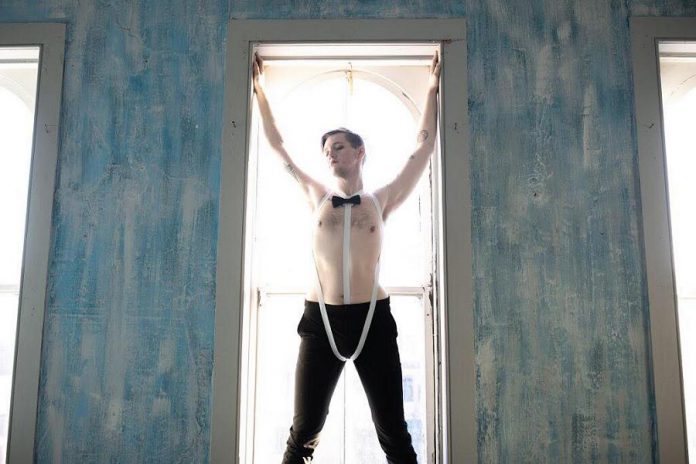 The true shining star of Cabaret is the Emcee performed by Connor Clarkin. Despite knowing nearly nothing about Cabaret going into the show, even I knew about the reputation and the importance of the Emcee and Connor pulls off this complicated role.
Played with a perfect androgynous flare, Connor is both charming and charismatic and delightful to watch. However, when the cabaret is over, he is also able to deliver deep and powerful emotional punches, and during his final moments of his performance I could feel a tear streaming down by face. I've seen Connor in a number of shows now, but his performance as the Emcee is the performance of a lifetime.
Further applause goes to Eddy Sweeney as Ernst Ludwig, as well as the beautiful Khora Tatyana as Cliff and Salli's neighbor Fraulein Kost. Both give charming and funny performances in the first act, which get more sinister as the show goes on.
I also want to give a big shout out to singer Mary Grace Murphy who gives the most outstanding musical performances of the night when she performs on stage with Justin Hiscox's great orchestra. A fantastic musical performer, Mary Grace adds another layer of musical excellence to this fantastic performance.
As a show that is so beloved by audiences, Cabaret was a daunting show for ATSC to take on, especially since it will be compared to every previous version. I can say, as someone who has never Cabaret before, that ASTC's production of Cabaret has sent me on my own journey to discover this haunting and beautiful musical in all its forms.
I was delighted by the Kit Kat performers, drawn in by the romance, challenged by the politics, and deeply moved by the ending. If nothing else, ASTC's production has made a Cabaret fan out of me. Cabaret is truly the best musical that ASTC has put on for a number of years. If you love musicals, enjoy local theatre, or just love Cabaret, please come out and support this show.
I want to congratulate the ASTC for having their best season in the time that I have been covering their shows for kawarthaNOW. I have truly enjoyed the ASTC season this year and look forward to seeing what you bring to the table in 2020. I want to see more shows that are as enjoyable and engaging as Cabaret and The Brothers Grimm Spectaculathon. Whatever they did this year, they really got it right.
Cabaret runs for six performances — March 15th and 16th and March 22nd and 23 at 8 p.m., with 2 p.m. matinees on March 15th and 23th — at Market Hall Performing Arts Centre in downtown Peterborough. Tickets are $25 for cabaret seating, $20 for adults, and $15 for students, seniors, arts workers, and the underwaged. Advance tickets also available at the ASTC office at Trent University.