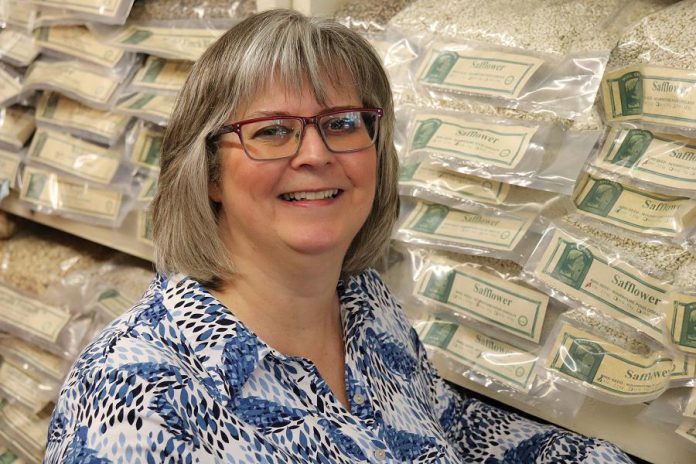 Everybody knows locally owned small businesses have taken a massive hit because of the pandemic. They've had to pivot to adjust to lockdowns and safety measures, while struggling to stay afloat with fewer walk-in customers and less revenue.
But some businesses have seen some unexpected benefits too, as people have adjusted their lifestyles during the pandemic to include more solitary pursuits that can be enjoyed from home.
In the case of The Avant-Garden Shop, located on Sherbrooke Street in downtown Peterborough, that includes an activity that has seen a huge surge of popularity during the pandemic — birdwatching.
Advertisement - content continues below
"COVID-19 is not something I ever would have thought to put in our business plan, but we've been pandemic-proof and recession-proof," says owner Brenda Ibey, who is celebrating 18 years in business this year. "It shows that people, when they have to hunker down, like to enjoy their gardens, slow down, and enjoy the birds and the flowers."
The Avant Garden Shop sells a variety of garden decor and gardening accessories, in addition to gift items such as greeting cards, fragrances, bath products, and jewellery. But the shop's biggest sellers during the pandemic have been backyard birding supplies, including birdseed.
When the pandemic initially hit, Ibey says she was grateful to already have an operable website for online purchasing.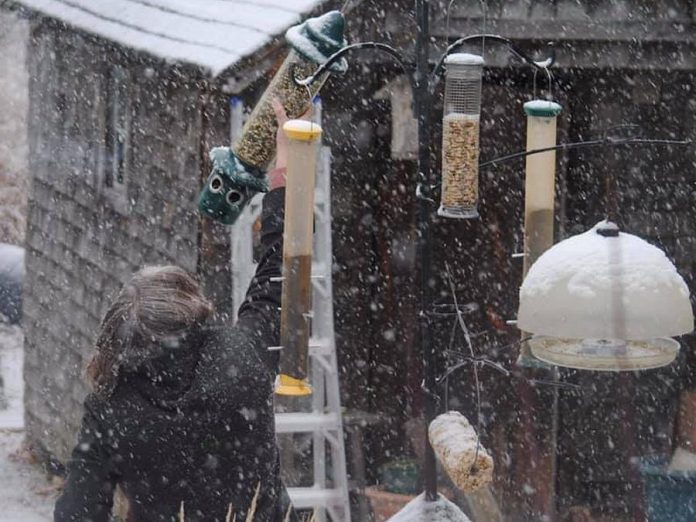 "We were able to quickly add the birdseed to it," Ibey recalls. "That's what we've been selling most. People couldn't get into their usual spots, and they started coming to us instead because we could get them what they needed within an hour."
According to Ibey, since the pandemic's onset, The Avant-Garden Shop has been incredibly busy working to fill the demand for birdseed and feeders. The shop was recently awarded the 2021 Wild Bird Store of the Year by Newmarket-based Wild Bird Trading, the leading supplier to the wild bird industry across Canada for the past 28 years.
"They deliver to me every week, and there were some points during the shutdown where I was selling so much they came with two trucks," Ibey says. "People are spending so much time watching the birds. It's good for their mental health to be able to see these beautiful creatures of nature and not have to look at the news all the time."
Advertisement - content continues below
Seeing how birdwatching can help lift spirits prompted Ibey's involvement in an initiative last fall to install bird feeders at Hospice Peterborough, an organization that supports individuals and families at the end of life, facing a life-threatening illness, or grieving.
Typically, The Avant Garden Shop gives back to the community each year by donating items like door prizes to dozens of charities. With the relative scarcity of charity events and fundraisers during the pandemic, Ibey was open to other opportunities to support her community.
According to Ibey, the Peterborough Field Naturalists contacted her to ask if she was interested in participating in the initiative.
"I thought it was a great idea," Ibey explains. "They paid part of it, and I paid part of it, and we went and set it up together."
"It's a hard thing to be in that situation, and if there's anything possible to make it more enjoyable for a person, or relive their stress, or distract them for a few minutes — that's what watching the birds may do. It's better than watching television all the time."
Puzzles are another popular pandemic pastime, and The Avant Garden Shop carries four different lines of high-quality puzzles. Ibey says their puzzles, like birdseed and feeders, have sold well throughout the lockdowns.
Advertisement - content continues below
Despite the popularity of birding and puzzles, Ibey has experienced other challenges during the pandemic — especially when the shop was limited to curbside pickup and delivery. Many of the other products in the shop sell when people are able to come into the store and browse.
"All of the products that we carry in the store are high quality," Ibey notes. "A lot of what we carry — wall art and gift items — is Canadian made. The problem is people couldn't come in to look at those things during a shutdown, and those are products people typically like to see."
Now that the shop has reopened for in-person shopping under the province's colour-coded framework, Ibey is hoping this may change.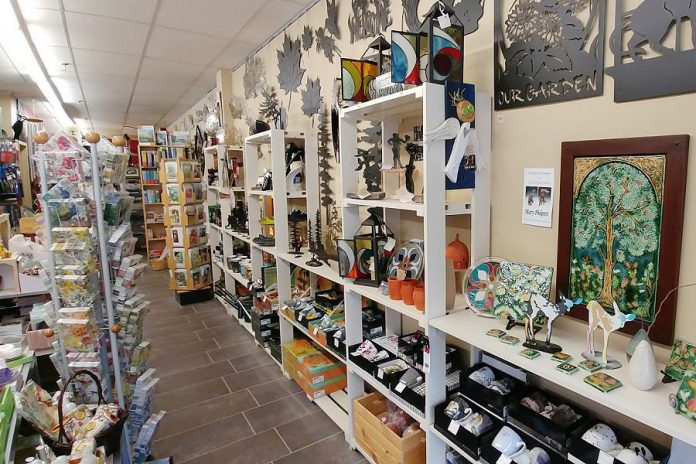 "We did have to rearrange things a bit," Ibey explains. "We've created one-way traffic with good signage directing customers to turn to the right and sanitize upon entry."
There is currently a limit of six customers permitted at a time in the Sherbrooke street shop. Brenda and her one employee are always masked, and there is a plexiglass shield at the checkout counter.
"People are also now more aware of what they need to be doing — that they need to try to follow one-way traffic and keep their distance," Ibey adds.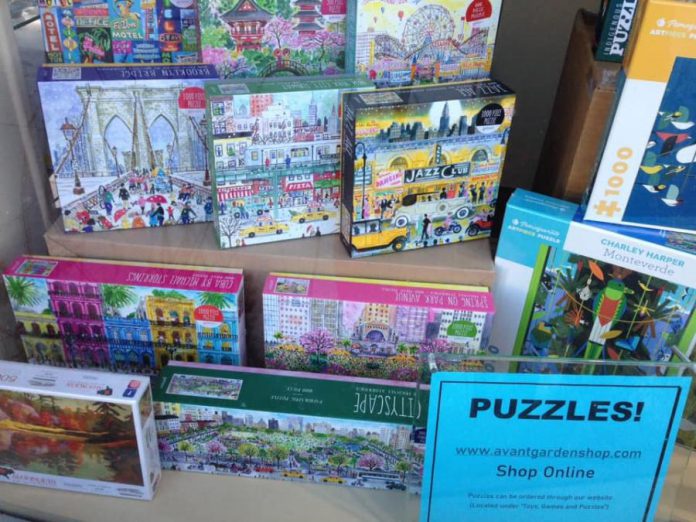 Throughout the lockdown, The Avant-Garden Shop remained open for curbside pickup and delivery. Even though the store has reopened for in-person shopping, these are both still options for customers.
You can order products online at www.avantgardenshop.com or by calling the store at 705-743-0068.
The store can deliver out-of-town orders using Canada Post. Brenda's husband Clayton delivers in-town orders himself, one day a week. To request a curbside pickup, you can call the store, and staff will bring your order out to your vehicle.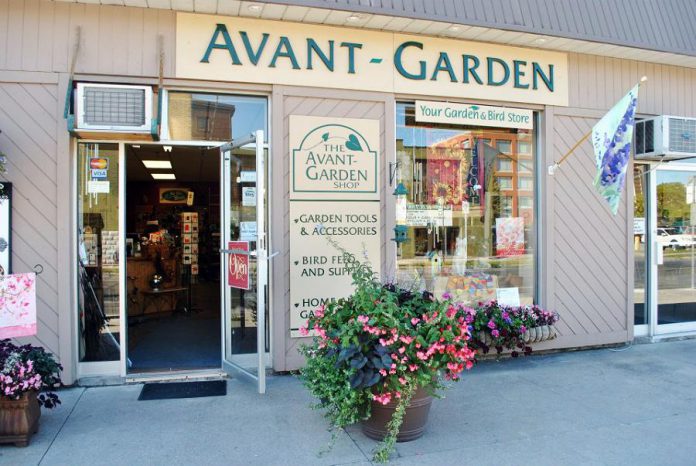 Ibey prefers if customers can pay using cash, e-transfer, or debit, since credit card fees add up.
"When people phone in and ask to put it on their credit card, I have to put their numbers into my machine manually, and that costs me more money than a card inserted into the machine," Ibey explains. "Debit cards are better. Cash or e-transfer is the best."
Ibey offers customers who pay with cash five per cent back in coupons she calls "bonus bucks". The coupons are redeemable credit for later use in the store.
"I would rather give you the bonus bucks than give it to the credit-card companies," Ibey points out.
As for why it is vital to support local businesses like The Avant Garden Shop, Ibey says keeping small businesses like hers afloat means they can continue to give back to the community.
"If we don't support each other, if we don't keep our money in the community, it's going away, and it's not going to come back. Our town would be so boring if there were no little stores to shop and look around in."
"My customers have been fantastic," she adds. "Please continue to come in, and also to support the other businesses and artists in our community. Continue to stay loyal so that we're all here when this is over."
The Avant-Garden Shop is located at 165 Sherbrooke Street in downtown Peterborough. They are currently open for in-store shopping Mondays to Fridays from 10 a.m. to 5 p.m., and Saturdays from 10 a.m. to 4 p.m. They are closed on Sundays.
You can visit www.avantgardenshop.com to shop online and place orders for pickup or delivery. You can also follow The Avant-Garden Shop on Facebook, Instagram, and Twitter.