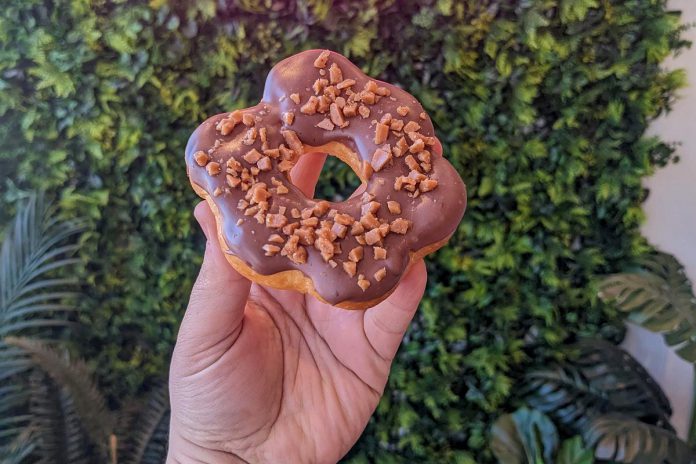 Danielle McIver's excitement is not unlike that of a kid in a candy store, as she reflects on the success of her Peterborough business and what's on the horizon.
To be clear, Danielle is no kid but she does indeed have a candy store — Flossophy — that, since opening at 75 Hunter Street East in June 2021, has fully satisfied the sweet tooth of both the young and the young at heart.
Initially specializing in multiple flavours of hand-spun cotton candy, Flossophy's product line has since expanded in a big way to include gourmet popcorn, homemade chocolate, candy apples, soft-serve ice cream, and a huge assortment of candy, allowing customers to 'build a bag' of their favourites.
Tweet this quote
Now, to complement her sugar-based confections, Danielle is adding delicious flour-based treats to the mix, launching the full line on Saturday, March 25th — one of her goals since first starting her business.
"This was a big part of our vision right from the beginning," says Danielle, the beginning marked in March 2020 when, working from home during the pandemic, she opened Flossophy as an online order business only.
"We have a donut on our business cards and on our store window. People come in and ask, 'Where are the donuts?' We got so busy with sugar confections when we first launched that flour confections got put on the back burner."
As Danielle points out, her vision to expand to include flour-based treats is reflected in the word that appears below her business name.
"Our banner says Flossophy Confectioneries, and we set it up that way for a reason," she says. "We wanted to make sure we left the door open so that, when we were ready, we could go into phase two and do flour confections as well."
Flossophy is teasing its expanded product launch with six flavours of cookie dough. Set to make their debut are brownies, squares, cookies, and cake truffles. Those products are in addition to mochi donuts, which Danielle describes as "a really cool Japanese dessert."
Mochi donuts are commonly shaped into small balls connected in a circular shape that's easy to pull apart.
"They have a chewy texture inside with a crispier outside," she explains, adding "You get this crispness on the outside because they're fried with a chewy inside."
Mochi donuts aren't something you'll normally find in local donut shops or bakeries.
"There are a couple of really great donut places in town, but we wanted to add another layer on to what Peterborough has for donuts," she says.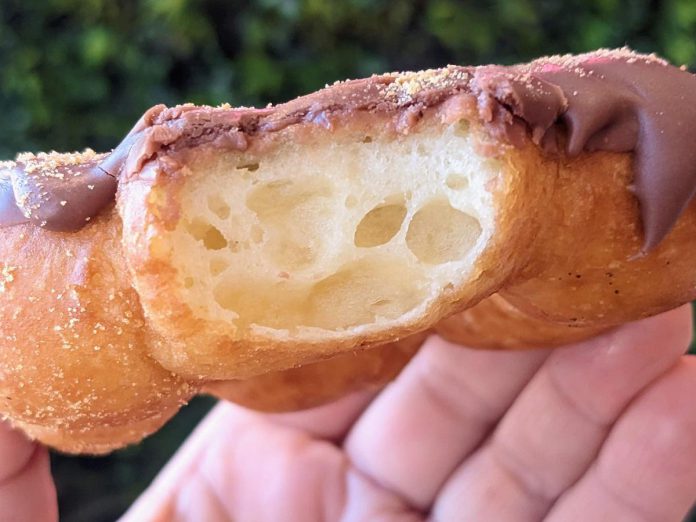 Tweet this quote
Flossophy's mochi donuts are handmade in-house, just like most of the other items you can find in the shop.
"We have a lot of handcrafted and shop-made products," Danielle says. "That's how we differentiate ourselves from other confectionery stores in town. Our goal is make as much as we can in the shop, using our signature flavours while putting our signature mark on it."
Noting someone once referred to her and small staff — which includes her sister Melissa — as 'flavour scientists', Danielle says that's a perfect descriptor.
"With our cotton candy, we've made more than 100 different combinations of flavours," she explains. "We'd like to bring those same flavours into all our confections. We'll change them up seasonally."
"And we do our own chocolate bars. We have these gorgeous caramel bars, using the same caramel we dip our apples in. The caramel is made from scratch — we don't melt down Kraft caramels. Melissa does a gorgeous buttery caramel. We were inspired by a little shop we went to as kids in St. Jacobs. Nostalgia hit us, and we knew we had to sell them. They're very popular."
The only products Flossophy doesn't make in-house, according to Danielle, are gummies and novelty candy.
"We have a build-a-bag candy section, and we make specific mixes with them. We also have some novelty candy. We want things at a price point for kids coming by who say 'I have five bucks. What can I get for that?'"
Like any flavour-based business, Danielle says there's a lot of trial and error involved when developing new products.
"We went through multiple trials with the mochi donuts," she says. "It's a long process and a little exhausting at times but, when you come out with a product that you can be proud of, it's totally worth it."
Tweet this quote
Flossophy's offerings tug at many customers' nostalgia-laced heartstrings. They are a nod to a simpler time when, as kids, a trip to the corner variety store to buy candy was a treasured outing.
"People have come in and felt a bit of a vibe from the 1950s and 1960s," Danielle says. "If people think we're a throwback to that time, I'm happy to claim it."
Danielle enhances that 'kid in a candy store' feeling by creating a fun customer experience, including a selfie photo wall near the entrance and new monthly product themes based on movies, TV shows, and events.
Still, like any small business, there are challenges to meet and overcome, especially when it comes to inflation.
"Food and candy costs have gone up, and that's little scary because it's something you're not in control of," says Danielle. "But I'm happy that people have latched onto what we're doing, and have seen what sets us apart and what we are trying to do with the brand."
A relatively small shop located in the heart of Peterborough's vibrant East City, Flossophy is a sweet and surprising discovery for new customers.
"We love the community of East City. It's been so supportive of us and we're thankful. When a new person walks in and says 'Wow, I've never seen you before!', part of me thinks 'Great, I'm so happy you found us' and the other part thinks 'I need to market more.'"
Ahead, Danielle isn't ruling out the possibility of opening other locations, saying "We're always open to that possibility."
"Right now, we're just super focused on making sure this launch goes well. But when it comes to sweet treats and flavours, I don't think there's an end to it. You can constantly be as creative as you want to be."
Tweet this quote
While Danielle is excited Flossophy is expanding to offer even more products, one thing that hasn't changed is what prompted the name of her business — her lifelong love of all things cotton candy.
"It's been my favourite thing forever," she says, noting her constant exposure to all the treats Flossophy produces and sells "makes you crave other things too."
"I'm very guilty of grabbing my favourite bars and saying 'Put this on my bill'," she laughs.
Located on the south side of Hunter Street East halfway between Burnham and Mark streets, Flossophy is open Tuesday through Sunday from 11 a.m. to 6 p.m. You can also visit www.flossophyptbo.com to browse products and place an order for pickup or delivery.
To keep up to date on Flossophy's latest news, follow them on Facebook and Instagram.
This branded editorials was created in partnership with Flossophy. If your business or organization is interested in a branded editorial, contact us.