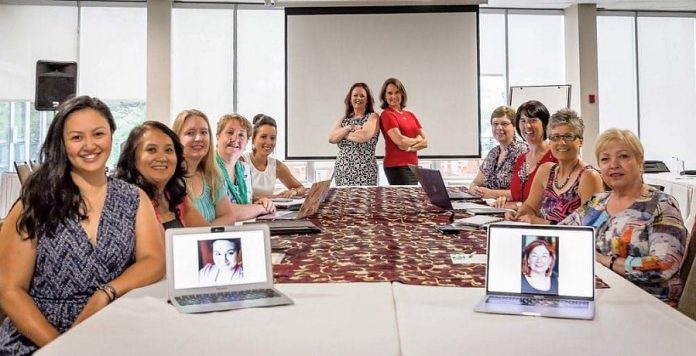 The Women's Business Network of Peterborough is run by a volunteer Board of Directors, elected by members at the Annual General Meeting in May.
This group of 13 women meets monthly to formulate the plans and deal with the business of the network, which currently has 160 members. They also attend at special board meetings throughout the year and membership meetings from September through June.
Here are profiles and photos of the 2018-19 Board of Directors:
---
President – Tracey Ormond
That's A Wrap Catering Company and Classic Home Cooking
Tracey Ormond is the owner of That's A Wrap Catering, a full-service catering company in Peterborough that specializes in corporate, private and social events. They provide and deliver fresh meals, snacks and sweets to your office or home, with special seasonal, healthy and vegetarian options to choose from.
Tracey is also co-owner of Classic Home Cooking, a fresh meal delivery service for seniors and busy families. They prepare fresh meals daily and currently offer service, Monday to Friday, with frozen meals available for delivery once a week.
Tracey is immensely involved in her community volunteering with several local food programs, donating food and service to many non-profits and fundraisers.
She is a proud member of the Rotary Club of Peterborough and Peterborough Chamber of Commerce. Tracey is also a very big supporter of the Peterborough Humane Society, along with her border collie Finnegan James and her cat Romeo.
Past President – Lorie Gill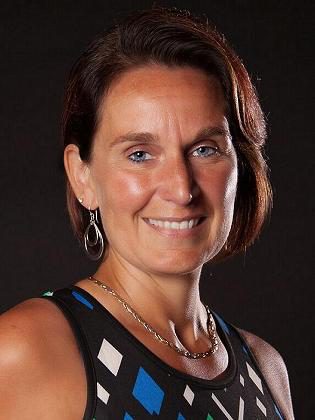 Lorie Gill is passionate about helping others achieve their goals. She has been with digital marketing agency GILL Solutions Management for over 15 years, possessing a strong background in brand awareness, client services, project management, and support. Lorie has co-hosted the Measurement Doctor Podcast discussing strategies on personal development, business management, and marketing. She is a passionate advocate for women in business.
She is family centered, grateful for life's challenges, and enjoys helping others succeed both personally and professionally. Lorie actively contributes in various ways within her community, serving on the WBN Board, the Peterborough Chamber Board, member of Naturally Speaking Toastmasters, and is an active supporter of the Habitat for Humanity Women Build projects.
Secretary – Grace Reynolds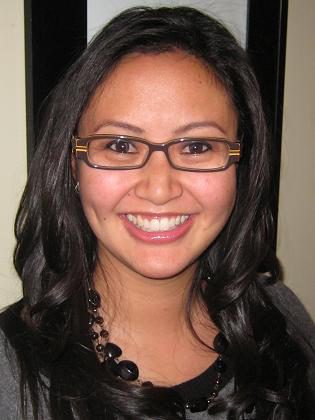 Grace Reynolds is a licensed Mortgage Agent based in Peterborough and services all of Ontario. She is nationally recognized by the mortgage industry for her achievements as the winner of the Canada Mortgage Awards of Excellence for Best Newcomer Agent and is one of the Canadian Mortgage Professionals Top 50 Young Guns.
With access to over 50 lenders and hundreds of products, she works on the behalf of her clients and not one specific bank or product. She provides advice and support for residential and commercial mortgage financing. She assists clients with purchasing a new home, to those looking to renew or refinance for debt consolidation, renovation projects or purchase an investment property, to assisting those in business for self and newcomers to Canada, and much more.
The mortgage industry is not as simple and straightforward as it once was. Having the advice and guidance of a mortgage broker at your side is vital. Whether you're a first time homebuyer, seasoned homebuyer or investor, she is here to help guide you through the process! With over 20 years of customer service experience, taking care of clients is what Grace does best.
Treasurer – Christine Teixeira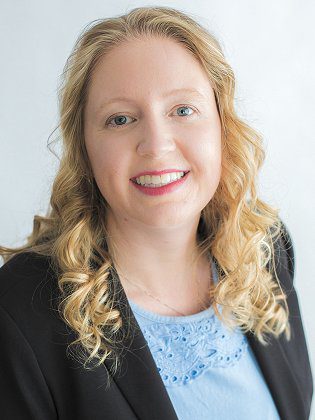 Christine Teixeira is the owner of Accountability Financial, where she provides bookkeeping and income tax preparation services for small businesses and individuals in Peterborough and the Kawartha region.
After a busy career as an environmental engineer, she made the decision to become an entrepreneur instead so she would have more control of her time and to be more available for her family. Always passionate about finance as a hobby, she completed the Small Business Accounting Certificate in 2014 and launched Accountability Financial in 2015.
Christine's background in the engineering industry gives her a unique perspective and proves she is meticulous, detail-oriented and skilled at problem solving, which are all attributes her clients highly value.
Christine is now expanding her business by hiring other associates, and her only regret is she didn't enter the world of being self-employed sooner!
Program Director – Lori McKee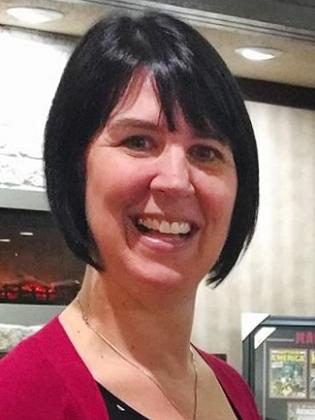 Lori McKee is a Program Manager at Christian Horizons with a career spanning 25 years. She empowers staff and advocates for people to reach their fullest potential within the communities in which they live and work.
Lori also teaches at Fleming College in the Developmental Services Worker Program where she gets to teach and mentor students before they go out into the field.
She is also a certified Fierce Conversations Facilitator where she coaches groups to improve their communication, delegation and conflict management skills.
Lori contributes within her community serving on the International Women's Day committee and is excited to participate in this years Women Build Project with Habitat for Humanity.
Program Director – Danielle McIver
Veterinary Purchasing and Gleam Event Management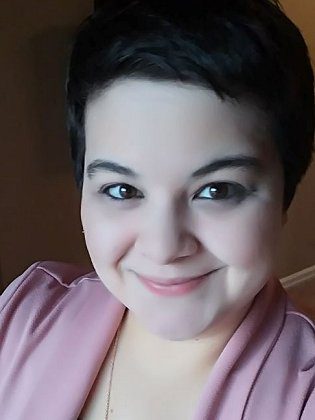 Danielle McIver joined the WBN in 2016 as a request from her employer, and was quickly personally inspired by the organization. The impact that her membership had on her was unexpected, as the "networking" experience quickly introduced her to new friendships, amazing speakers and a deep understanding of the community she is a part of.
Having moved to the area in 2011, Danielle is now in her 17th year in the industry of veterinary medicine, moving from technician to management, and now working as a consultant on the Executive Services team at a co-op operation called Veterinary Purchasing. In her role, she travels all across Ontario, assisting veterinary practices with growing their businesses, specializing mostly in the client experience, branding and marketing.
In 2017, she registered her own small business in event planning, called Gleam Event Management. In August, she organized a major event in Peterborough called The Peterborough PAWtacular, for dogs and the people alike, and will build on her event repertoire as she grows her business in the community.
She decided to join the WBN board as Program Director for the 2018-2019 season to give back to the organization that has given her much motivation and inspiration.
Membership Director – Arlene Blunck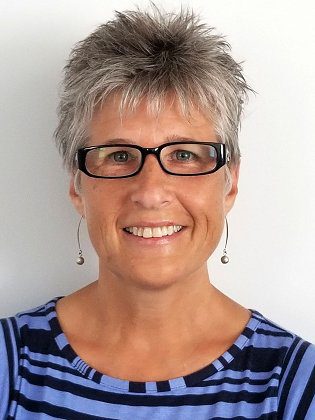 Arlene Blunck is excited to be celebrating her 34th year at All Office Machines servicing Peterborough, the City of Kawartha Lakes, and Northumberland County. She helps customers select the right office equipment, such as copiers/printers, for their wants and needs.
Arlene has been a Rotarian for over 16 years and is very involved in the Rotary's Family Fun Night and Fireworks Committee. She also helps out at the Breakfast Food Program every week.
Arlene's passions include running, geocaching, biking, hiking, kayaking, paddle boarding, and spending time with friends and family. She has been a member of the WBN for many years and is very excited to help make a difference over the next two years as Membership Director.
Technical Director – Karen Copson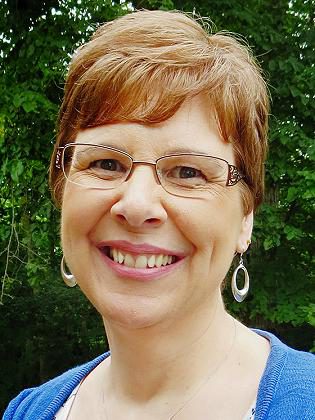 Karen Copson is an Administrative Coordinator for Camp Kawartha, a year-round outdoor and environmental education centre. An award-winning organization, Camp Kawartha offers curriculum-linked education programs for grades K-12, summer camp programs for ages 4-17, corporate team-building, and facility rentals for meetings, workshops and weekend retreats.
Karen has been with Camp Kawartha for over 16 years, combining her extensive administrative and information technology skills to help streamline and improve administrative processes for the organization.
Director at Large – Josée Kiss
Kiss Enterprises Ltd.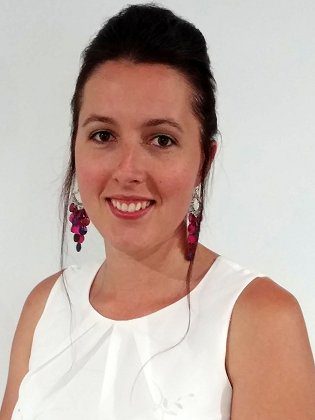 Josée Kiss is the co-owner of Kiss Enterprises Ltd., a company which comprises of a vacation rental property called Goose Haven Cottage, located on Chemong Lake.
Josée's passion is to help others and looking for new ways to improve their lives.
External Communications Director – Rencee Noonan
Rencee Noonan is a Memorial Counsellor at Peterborough Monument Works that specializes in memorialization and custom craftsmanship.
She has over 30 years in management and sales particularly in appliances, mattresses, and furniture.
Rencee has coached and managed many soccer and basketball teams over the years for Peterborough Power Basketball Association, Mapleleaf-Cavan FC Soccer Club and Peterborough City Soccer Association, and has been a member of the board.
When she's not working, you'll find her on the soccer pitch or basketball court and volunteering for many organizations.
She has organized spirit wear for various sports teams for many club and school activities, taken part in builds for Habitat for Humanity, assembled teams for Walk a Mile in her Shoes, Relay for Life, and Reilly on The Roof and Breakfast for Learning. Other charities she has participated in are Peterborough Humane Society, YWCA and Sick Kids and also have fundraised for Holy Cross Guatemala trip and the St. Patrick breakfast program. She resides in Peterborough with her husband and four children and has two handsome grandsons.
Social Director – Gail Moorhouse
Community Futures Peterborough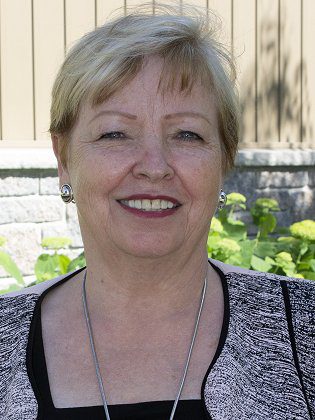 Gail Moorhouse was responsible for establishing and building the first peer-to-peer communities for the technology industry, combined VentureTech and Tech Select including the top 150 and highly recognized IT resellers in Canada. They are the go-to partners for vendors like HP, IBM, Cisco and Microsoft.
As a technology trainer for IT vendors, Gail moved into a corporate sales trainer role at Microsoft and Sales and Finance are her strengths.
Gail has served on the Community Futures Board of Directors for two years prior to accepting the role as the Executive Director. Gail describes the Executive Director role as the best job of her career as she works with a great team of staff and board to deliver highly needed financial solutions for local businesses. Gail is driven by results and watching the success of others in the community is very rewarding to her.
Strategic Planning Director – Colleen Carruthers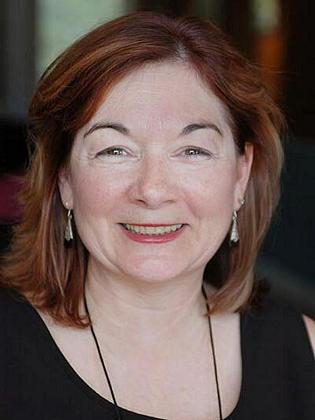 Colleen Carruthers is a workplace learning specialist, group facilitator, business coach and registered psychotherapist. For more than 20 years, she has worked with clients to improve the way they communicate, relate and perform. Colleen has been conducting strategic planning sessions for profit and not-for-profit clients for at least 15 years.
Previously, she held senior positions in the retail, high tech, and publishing industries. Colleen Carruthers is a partner in The T-R Group Inc. a Human Resources firm.
Colleen has also been teaching and coaching in the Peak Leadership Program at Fleming College for the past seven years.
Member Communications Director – Diane Wolf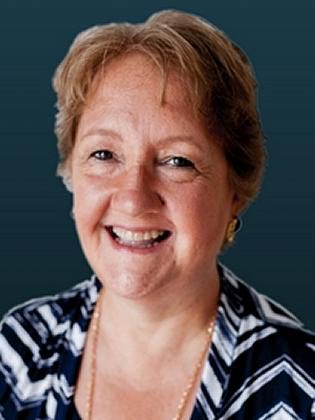 Diane Wolf has more than 30 years' experience in academia and the adult education/speaking industry. She has spoken throughout Canada, the US, and the UK on topics such as management, leadership, business communication, and entrepreneurship. Diane taught in the Business Administration Program at Trent University for 11 years.
Diane left Trent to found Diane Wolf Consulting, where she encourages, educates, and empowers entrepreneurs and executives using her background in teaching, psychology, and neuroscience. She will also be adding counselling to her business in early 2019, upon her registration as a psychotherapist with the College of Registered Psychotherapists of Ontario.
For more information about the Women's Business Network of Peterborough, visit www.womensbusinessnetwork.net.