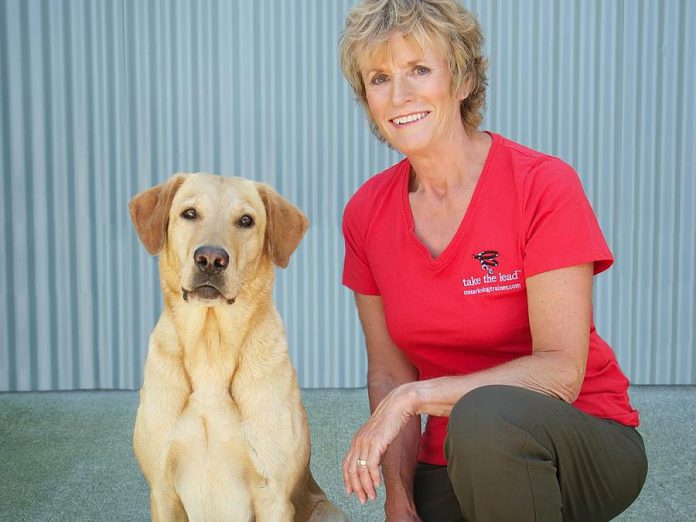 Karen Laws has never met a dog she couldn't help and, after 13 years of working as the Ontario Dog Trainer, she's made life better for a long list of dogs and their people packs by teaching owners how to be relevant to their dogs.
With a calm, steady and warm voice, Karen explains the difference with her training technique.
"I teach how to connect and communicate with the dog — on their level," she says.
And this is different than training that requires the dogs to connect at the human level; where the focus is on command and control. Karen turns all of this around with an approach that uses awareness of physical energy and an understanding of what the dog is trying to communicate.
"Dogs move each other by bumping, by moving through space with an awareness of other dogs," Karen explains. "We teach how to own the space in a benevolent, dog-like way and we teach what the dog needs to learn to remain in a harmonious relationship with its owners, and in its home."
All of this is great news for the long list of people who have reached out to Karen over the years, looking for help with what they consider to be "bad dogs." But, as Karen emphasizes, once you start to repair the broken relationship between people and their dogs, life changes for the entire pack.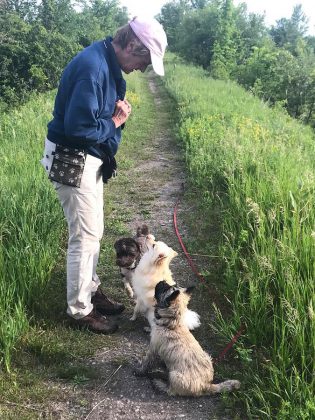 Boarding school is where the change happens for many of the dogs that Karen works with. And while she loves working with new puppies, dogs of all ages are welcome to start the program that serves as the foundation of a lifelong relationship with dogs and their owners.
Boarding school is a bootcamp environment where the learning is continuous and by the end of a dog's stay with Karen, they will be able to come when called, sit, stay, behave with strangers, with visitors and they will be a delight to walk.
Karen also offers specialized, longer-term boarding for dogs who have serious behavioral issues and, in every case, she's willing to customize the experience.
Once the dogs are ready to return home, the training continues with videos, guidebooks, and the ability to always re-connect with Karen for a refresher.
Karen worked in the pet industry and trained retrievers for field trial competition for many years before transitioning into companion dog training. Her commitment to continuous learning with dogs and from others helped her use skills to offer behavioral support.
Karen admits to being naturally better with dogs than with people and she knows the efforts she puts in are making a big difference in the lives of frustrated pet owners.
"All dogs are trainable," she says firmly. "I prepare you and your dogs for a lifestyle that will bring you together. I help to build a bond and then we simultaneously focus on providing consistent leadership while creating desired behaviour. Training time is all the time and you're either training your dog or your dog is training you."
Often, at the end of boarding, when the owners come to collect their dogs, there are tears. Especially from the owners who have told Karen she is their last hope.
"People just cry," she says softly. "They can't believe the change."
This change is only the beginning for dogs and their families.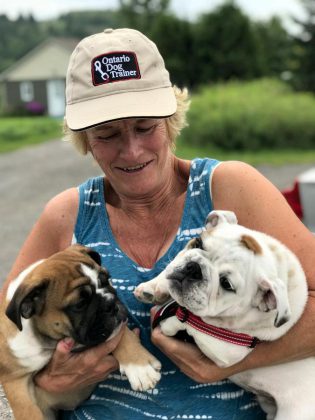 Karen's clients often board their dogs with her for a refresher and, because training time is all the time, she now offers a weekly drop-in program called "Dogs on Walkabout," where she leads people and their pets through different locations like parks and stores so that everyone learns how to be calm and work as a pack. These sessions show owners how to turn parks into training grounds where active play can help to re-pattern a dog's brain in a really positive way.
With thousands of hours of training experience, Karen says that owners should never expect a quick fix when dealing with difficult behaviours. It's a long-term investment in a relationship that will deliver beautiful results.
"You can get good results on your own," Karen says. "But you'll get great results with a skilled trainer."
The Ontario Dog Trainer is located at 814 Lifford Road in Bethany. For more information, call Karen Laws at 705-277-1503, email karen@ontariodogtrainer.com, or visit ontariodogtrainer.com. You can also find Ontario Dog Trainer on Facebook, Instagram, and Twitter.