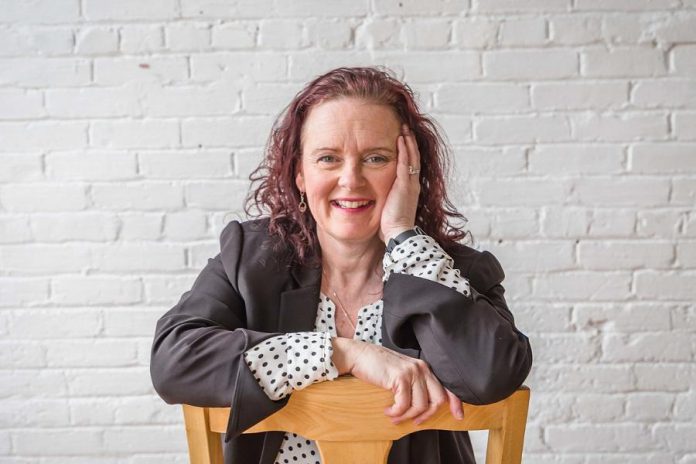 Tracey Ormond, the woman behind That's A Wrap Catering, has a huge heart for food — and for people.
She says she learned this from her family and whether it's catering a party, a funeral, or even volunteering with food security organizations, this energetic caterer is infusing her special flavour of love and caring into every bite she serves.
And now, she's got more opportunities to share her nature to nurture with her expansion into Classic Cooking, a local healthy meal delivery service.
From waitressing to working in institutional kitchens, Tracey has been cooking up compassion for as long as she can remember.
Even when she enjoyed life on the road, as a long-haul trucker, her mind stuck on the idea of making convenient, healthy wraps that are super-easy to eat with one hand.
When she was looking for commercial space to grow That's a Wrap, her catering company, she found out about the Ashburnham Funeral and Reception Centre and it was a perfect partnership. Tracey now provides comfort food for funerals and she even makes sure
that there are fresh cookies available when the funeral directors meet with grieving families.
That's a Wrap Catering is busy with private parties and functions but a few months ago Tracey partnered with Sally Harding of Nightingale Nursing to purchase Classic Cooking, a meal delivery service that delivers tasty, good-for-you home-cooked meals in the Peterborough area. Knife and fork meals, as Tracey calls them.
Tracey beams when she talks about her Classic Cooking clients. They're mostly seniors, most live alone and she absolutely loves the connection she has made with them.
"I was breaking down chickens for stock this morning," Tracey laughs. "It's not very sexy but I do it with love and I'm really putting love into the food."
And her clients appreciate it. Like the one senior who says he hasn't eaten so well in 30 years or another client who greatly appreciated that Tracey sourced special lactose-free cheese — just for her.
And that's the kind of person Tracey is. She understands that even the smallest gesture can make her community better and stronger, which is why she joined the Rotary Club.
"They're about service above self," she explains. "I don't have the big cheque book but I can donate my time and Rotary gives me that."
Through Rotary she helps with One Roof, a full-support community centre as well as a local breakfast club and Food Share.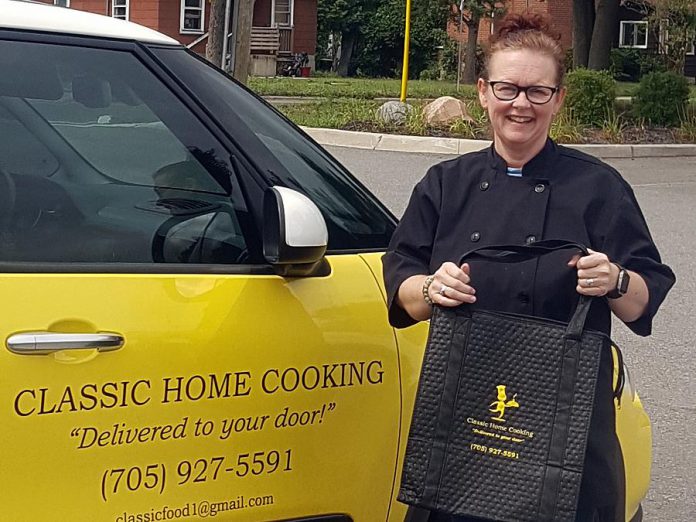 Her list of volunteer commitments is long, but Tracey doesn't seem to think it's a big deal. Like the great smells in her kitchen, it's just who she is and what she does.
"This is who I am," she says. "I'm not some business person in a suit. I love my community. This is just who I am."
Tracey gives credit for her love of food and people to her family.
This is who taught her how to cook good, simple foods but with special touches — like pan frying meatballs until they develop a real crust before letting them simmer in a sauce for hours. Although Tracey is quick to explain that her Irish Gramma's meatballs are a bit different than Italian ones. It sounds like there is a secret ingredient, but Tracey just laughs and says it's love.
This simple food with a special touch is the foundation for Classic Cooking. There are some recipes on the fridge in Tracey's kitchen and they have great names like "Fabulous Roast Ham," which Tracey admits is actually a fancy cottage roll. There are also recipes for "Meatloaf Madness" and "Chicky-Licky Casserole," that boasts ingredients like mushrooms, cream, and pimento. Tracey says with a firm nod that it is served with red pepper jelly.
And because all this work feeding clients is not taking up every single minute, the volunteer roles are still expanding.
She's the President of the Women's Business Network in Peterborough (WBN) for 2018-19 and her theme for this year is "better together," so when she heard a Canadian Blood Services call for help on the radio, she picked up the phone and got in touch. Now she and the other members of the WBN are sponsoring a blood donor clinic where they will promote the event and they will also be donating blood.
Tracey is also involved with a women's build through Habitat for Humanity.
"They're building at Curve Lake and I've got my hardhat and I can't wait to do this," she enthuses.
Giving new meaning to what it is to nurture and care for people, Tracey Ormond hopes that through all her partnerships, meals prepared, parties catered, and cookies served that she can help her home town be a little bit better, one bite at a time.
"I just love what I do," she says.
And it shows.
That's a Wrap Catering is located at 840 Armour Road in Peterborough in the Ashburnham Funeral and Reception Centre. For more information, call 705-768-7168, email info@thatsawrapcatering.ca, or visit www.thatsawrapcatering.ca. You can also follow That's a Wrap on Facebook and Twitter, and connect with Tracey on LinkedIn.