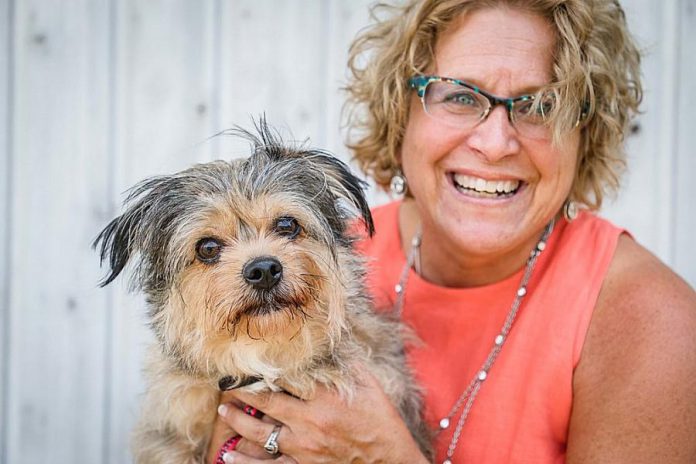 Susan Dunkley's office in the Peterborough Humane Society at 385 Lansdowne Street East is a perfect illustration of organized chaos. There are books, binders, pictures, a hockey helmet, and a sign on a shelf that reads, "I dreamed my whole desk was clean."
But despite the frenetic feel of the space, Susan helps to oversee a veritable army of people who care deeply about unwanted, sick, and injured animals from this cramped space on Lansdowne Street.
Susan is always in motion, jumping from task to task. While making time for an interview, she's cheering on a summer student who has been asked to roll out a social media campaign — all while keeping a rescued dog safely cuddled on her lap.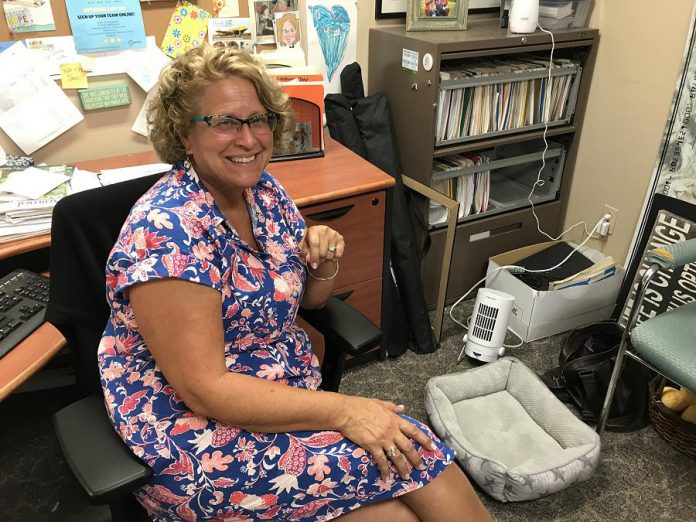 There's a staff celebration happening down the hall that Susan has to jump into, and there is also a steady stream of people in and out who have questions or need assistance from Susan — but through it all, she never misses a beat and never misses a chance to smile and say "thank you."
Susan is a natural organizer. She's run businesses and coordinated a ton of projects over the years but since landing at the Peterborough Humane Society, she feels more grounded, connected, and inspired by supportive work environment she and the PHS team have created together. She has praise for all of them, and salutes her E.D., Shawn Morey, for his vision and empowerment.
"Negativity can ruin my day," Susan says. "My energy is a big part of this team. It works well in this environment."
This energy has given the Peterborough Humane Society's social media a boost and it has also helped to increase the number of volunteers that support the organization from 30 people, from when Susan joined the team, to over 180 in a relatively short period of time.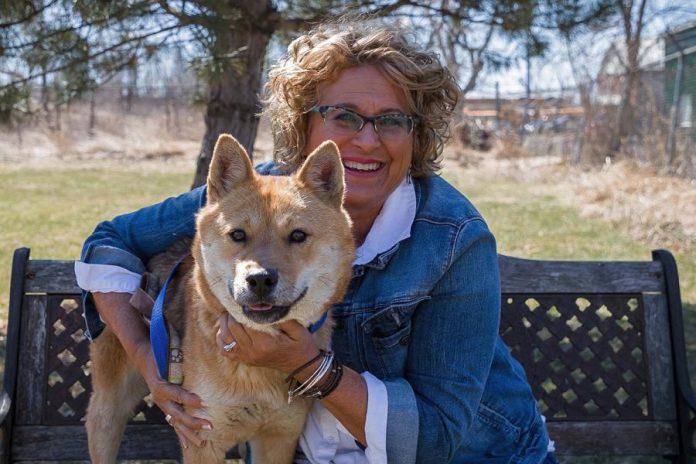 Susan wears many hats within the organization, and she wears them all with pride. She currently is responsible for all fundraising at the shelter, as well as overseeing the volunteer program, the licensing program, and all outreach for the shelter (including working with Curve Lake and Hiawatha Reserve).
"I can't micromanage," Susan admits. "I find out what people want to do, and what they can do. I'm particular about how work is done but I'm also enthusiastic."
Volunteers help with everything from walking dogs to pulling weeds at the site of the Society's future home, on Technology Drive — another project that Susan is helping with.
She's been tasked with helping to oversee the fundraising for the new build — a huge job but one that is necessary to move the Society out of the 70-year-old building that was constructed as a pound. Susan says the new space is going to make a huge difference for all the animals that end up in care as well as for the community as a whole.
The new space will allow for a rehab centre, a low cost spay/neuter clinic, and more comfortable shelter space. While the drive is on to get in to their new building, Susan thinks it will take two to three years to get the new space built and open "it will be worth the wait", she states emphatically.
"It's not the best space right now," Susan says, glancing at the tiny rescued poodle, resting on the lap of her summer student. "But no animal gets more love than they do from this team."
Susan cares deeply about the animals who end up in the care of the Peterborough Humane Society. She's working on a partnership with our local library to organize a volunteer reading program that will see kids reading to cats in their cages and she's investigating what it will take to get a sensory garden built for the dogs.
And none of these projects really phase Susan. She knows she's got the contacts, the friends and the colleagues in the community that she can call on to help. She is a connector of people and resources and her brain is always working on a plan.
This constant brain work and planning is likely why Susan loves walking. She and her dog Zoey try to get in a few kilometers every day, and all the dogs they meet know to sit when they see Susan.
"They all know I have treats in my right pocket," Susan laughs.
Music also helps Susan to manage stress and feel at peace under the constant weight of having to find money and people and time to support the sick, injured and unwanted pets in the region.
Singing in two choirs, Susan says music is her faith. Bach's Mass in B Minor is her favourite piece of music, hands down, but there is nothing quite as much fun for her as singing some great gospel music with her dear friend Barbara Monahan and the Peterborough Pop Ensemble.
VIDEO: Meet Susan Dunkley of the Peterborough Humane Society

This love of music is what landed Susan in the Anglican Church in Peterborough. Raised a Catholic, she watched her family go through a political battle with the Church that left her questioning her faith. So, when she ended up in Peterborough as an adult, she shopped around for a new church and says it was the music that won her over.
"The music is the best in the Anglican Church," Susan explains, with just a hint of marketing flair. "They use the old, traditional hymns, and in my opinion there is nothing better. They're complex to sing and they're so much fun."
Coming from a musical family, Susan can't imagine not having music in her life, or people, or animals and that's likely why her work with the Peterborough Humane Society is so rewarding. It really does provide an environment where she can draw on all of her skills and her passion to make a difference in her local community, which is something she really wants to keep doing.
"They call me the hurricane," Susan says of her team at the Society.
It seems like a perfect nickname for the woman who fills the cramped office with so much energy.
"I know I come on strong," Susan says, reflectively. "I don't think I always make a great first impression but if I get to a second impression — it's lasting and it's positive."
Positive is an understatement when it comes to the view that Susan takes of her work with the Society and in her community. There's a sign on her door, one of many, but this one stands out. It's held on with tape and it says "We say yes." A simple mantra, but one that Susan, and those she works with, are fully committed to.
And sneaking one last look at the tiny dog, falling asleep on the lap of her summer student, it's easy to understand why.
Susan Dunkley is Manager of Development and Outreach at the Peterborough Humane Society (385 Lansdowne St. E., Peterborough). You can call her at 705-745-4722 ext. 206 (office), 705-768-7894 (cell), or by email at s.dunkley@ptbohs.com. For more information on the Peterborough Humane Society, visit peterboroughhumanesociety.ca or follow the Society on Facebook, Twitter, and Instagram.