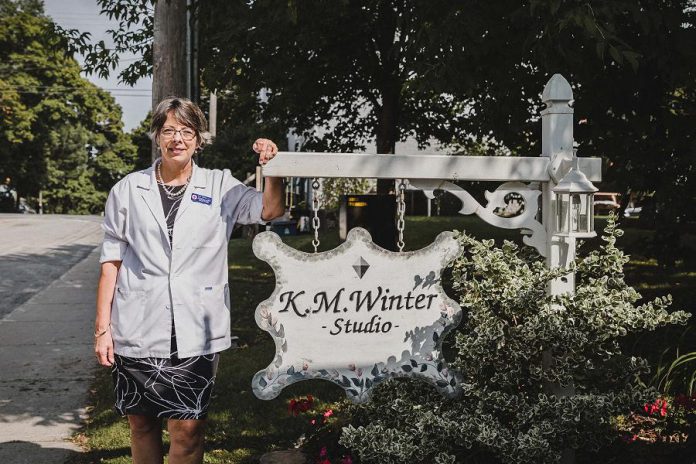 For Kim Winter, each piece of jewellery tells a story.
The K.M. Winter Jewellery Studio opened in Peterborough 25 years ago. Since then, Kim has been creating custom jewellery for clients in the local community and across the country.
From engagement rings, customized pendants, family crests and wedding bands, to logos for local businesses, each item Kim has crafted in her studio is unique and holds sentimental value for the wearer.
"Whatever we can dream up, we can make," says Kim of the designs she's completed over the years.
Clients bring ideas for entirely new pieces or they may request that existing jewellery be modified or adapted to a new style. Other times, clients bring stones from "Aunt Betty's" ring that they want to make into a new piece of jewellery.
"One client came to me with her husband's wedding ring," says Kim, recalling the piece. "She wanted to create a memorial piece with it. Collaboratively, the design came together. The wedding ring served as the round frame, her diamonds became the stars in the sky, and a vibrant opal became the earth. It is a visually wonderful and heartfelt pendant."
Kim cherishes the role she plays in immortalizing memories and important milestones for her clients.
"We get to be part of people's celebrations. We also help people get through difficult times."
At 18, Kim started working as an apprentice for an Italian master goldsmith in Windsor, Ontario. Over the years, she's also worked in a jewellery factory on the production line, as the goldsmith at an upscale custom jewellery store, and briefly opened a little repair shop in Quebec when she and her husband lived there.
In addition to the practical and valuable industry experience Kim has gained through the many positions she held prior to coming to Peterborough, she also furthered her knowledge and skills by completing her gemology accreditation at George Brown College in Toronto.
The education never ends because the industry, technology, and client needs are continually evolving.
"My job is to leave my ego aside and give my clients exactly what they are looking for," says Kim. "It's not about what I like. Different people have different styles, and my goal is to work with their vision to develop a perfect piece of jewellery."
With her designs, Kim takes into account the purpose of the jewellery, the colour of the stone, the details of the diamond, the size, durability, and many other factors to create a client-specific piece — something that only custom work can achieve.
As Kim explains, "While it may be easier for a person to go down to the mall and pick out ring, here we can create one-of-a-kind pieces that match the personality of each wearer."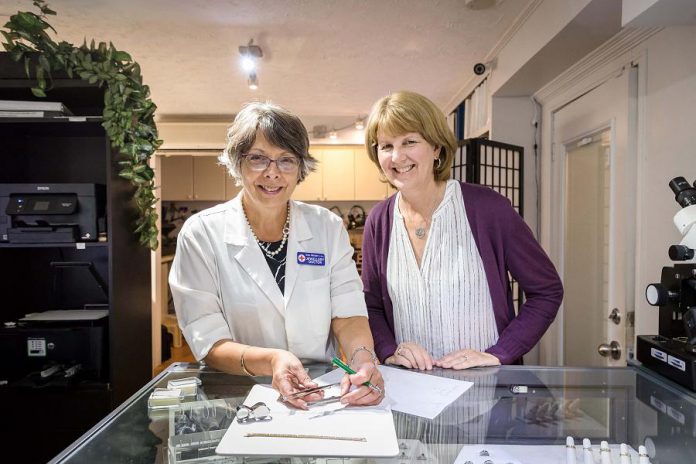 When she first came to Peterborough, Kim was nervous about starting her own business, but she found the local community to be welcoming. She notes that Peterborough had a very progressive attitude towards working from a home-based studio.
Kim is thankful for her very capable studio manager Erin. Her husband Jim, now in his retirement, has learned how to work on the CAD designs, helps with photography, IT, and many other jobs.
The success of K. M. Winter studio can be attributed to the care and attention the team gives to all their clients.
"We do everything we can," she says. "We are client-first, as cliché as that may sound. We have clients all across the country. To me, that speaks to our happy clients and their referrals."
Kim prioritizes her clients and doesn't find much time to make jewellery for herself. But, her favourite stone?
"I'd have to say opal, and oh yes, blue star sapphire!" she says.
And her favourite story?
"We are starting to make pieces for the grown children of some of our early clients. Seeing these families grow and jewellery continuing to be important in their lives is incredibly rewarding."
K.M. Winter Jewellery Studio, Inc. is located at 165 Edinburgh Street in Peterborough. For more information, call 705-741-1480, email info@kimwinterjewellery.ca, or visit www.kimwinterjewellery.ca.