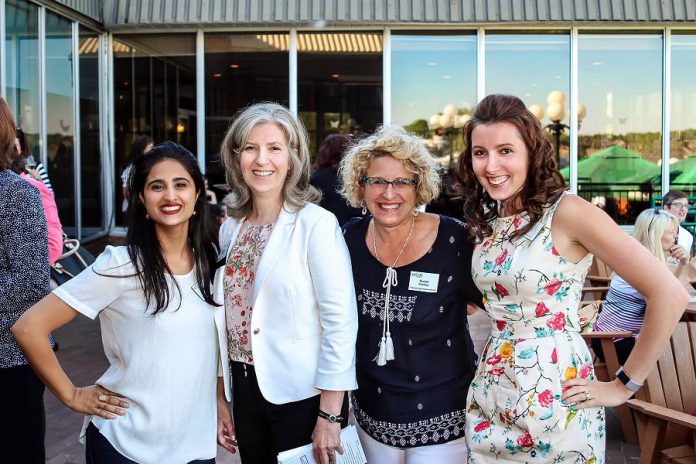 The Women's Business Network of Peterborough (WBN) is a resource for women to make valuable contacts, promote their business, and develop lasting relationships with other local women in business.
There are many ways to get involved. As with any networking group, the more you use the opportunities, the more you gain in exposure and connections. Here are some of the opportunities WBN offers its members throughout the entire year:
---
Promote your business
Host a Business Spotlight event
Hosted at members' places of business, the Spotlight event introduces fellow members to businesses in the Kawarthas, to raise awareness and gain new customers.
Upcoming Business Spotlight events in the fall of 2017 include: Thirteen Moons Wellness on Wednesday, September 20th; Isagenix and Active Chiropractic and Wellness Centre on Wednesday, October 18th; Showplace Performance Centre on Wednesday, November 15th; and Avant-Garden Shop on Wednesday, December 13th.
For more details on these events and for more information on the WBN Business Spotlight, visit www.womensbusinessnetwork.net/spotlight.
Rent an exhibitor table at member meetings
Members can showcase their products and services with an exhibitor table at meetings for $20. Tables are booked on a first-come, first-served basis for members only.
Advertise in WBN's monthly newsletter
WBN's monthly newsletter offers an inexpensive and effective way to promote your business.
A variety of advertising opportunities are available in the WBN e-newsletter and e-blasts sent to hundreds of businesses in our community.
You can view an archive of past WBN newsletters at www.womensbusinessnetwork.net/press-room/public-news/.
Promote your business activities in free WBN newsletter announcements
Keep the membership informed about your business in the Member News and Community Events sections of the WBN newsletter.
The types of information you can share include notices, changes, additions, updates, new products and services, special events, fundraisers, member to member discounts, and celebrations.
"Twoonie Testimonials" at member meetings
"Twoonie Testimonials" gives WBN members one minute to endorse another member's business during member meetings.
At a cost of two dollars, members' business cards will be randomly drawn from the ballot box and they will be called to the podium to speak for one minute about their experience supporting another member's business.
5 Business Tips for 5 Minutes for $15
This is an opportunity at each member meeting to promote your business from the podium, while also promoting the meeting theme of the evening.
The concept: a member can share five business tips that are important to her and her business and that relate to the evening's theme, in five minutes, for $15!
Write a feature article for the WBN website blog and newsletter
By writing a feature article for the WBN website blog and newsletter, you can educate and inform the membership about your expertise in your industry.
To see an archive of past blog posts by members, visit www.womensbusinessnetwork.net/blog/.
---
Make connections
Attend the WBN monthly meeting with social hour and dinner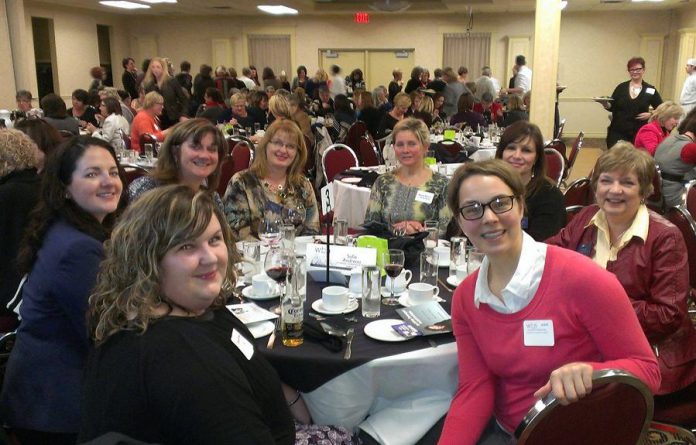 Every month from September to June, WBN hosts a member meeting on a Wednesday night, usually at the Holiday Inn Waterfront in downtown Peterborough.
The evening begins with a networking hour at 5:30 p.m., followed by dinner at 6:30 p.m. and a engaging and inspiring guest speaker at 7:30 p.m.
If you're not a WBN member and want to experience a member meeting, you can attend as a guest.
Access to WBN's full membership directory
As a WBN member, you have access to the complete membership list, including member contact information and headshots.
It's a great way to become familiar with other members and to develop new networking and business opportunities.
Community involvement through charitable activities and donations
The WBN is a proud supporter of YWCA Peterborough Haliburton's Crossroads Shelter, a temporary home where women and children can escape domestic violence and rebuild their lives. WBN has been supporting the Crossroads Shelter since 1983 and, every December, holds a fundraising Holiday Gala and Auction.
As well as WBN's support of the Crossroads Shelter, many WBN members are involved in individual community and fundraising activities throughout the year.
---
Grow professionally
See top keynote speakers each month at member meetings
WBN hosts engaging, inspiring and educational keynote speakers at its member meetings every month from September to June.
Last year's speakers included Barb Stegemann, Ann Douglas, Linda Kash, three local politicans (MP Maryam Monsef, Mayor Mary Smith, and Councillor Diane Therrien), Michele Bailey, Karen Schulman Dupuis, and three young entrepreneurs (Sana Virji, Brooke Hammer, and Jane Zima).
Guest speakers for 2017-18 include Denise Donlon (September 6th), Leslie Bradford-Scott (October 4th), Laila Ghattas (November 1st), Victoria Lennox (February 7th), and Tessa Smith and Faith Dickinson (April 4th), with more speakers to be announced soon.
For all the details and updates for the 2017-18 program, visit www.womensbusinessnetwork.net/program/.
Attend Lunch Box Learning workshops at the Chamber of Commerce
The Greater Peterborough Chamber of Commerce hosts monthly Lunch Box Learning seminars in the Chamber's boardroom. This noon-hour series is free for Chamber members and WBN members interested in professional development and connecting with fellow members.
You are invited to bring your lunch along with you, and have the opportunity to listen to a short presentation, followed by a Q&A session.
---
For more information about WBN member benefits and how to join WBN, visit www.womensbusinessnetwork.net/membership/.