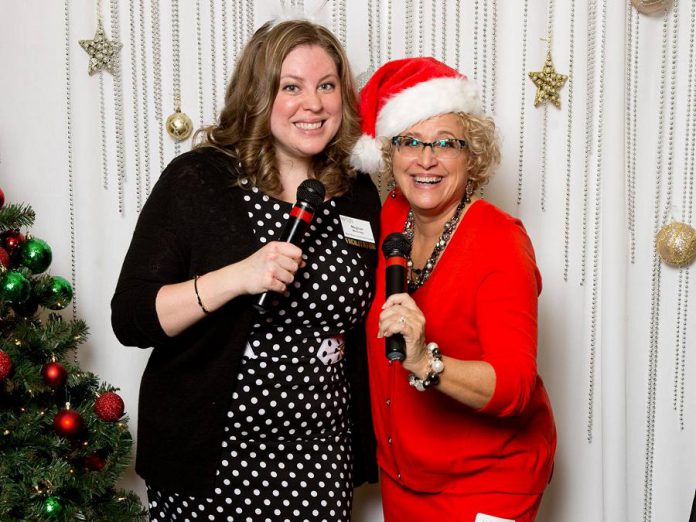 Susan Dunkley thinks back fondly to the first fundraiser she helped organize for the Women's Business Network of Peterborough (WBN): a charity fashion show at the Holiday Inn to benefit YWCA Crossroads Shelter.
The main motivation behind the charity event was to raise awareness and to support local women and children affected by domestic violence. It was also the start of a lengthy partnership between the two community-based, non-profit service organizations.
"At that time, we weren't giving money to the YWCA directly," Susan recalls. "We were raising funds for children's playground equipment — sandboxes and slides — for two emergency houses the YWCA was running back then."
Susan, who is no stranger to hard work, donned many hats that evening to fill multiple volunteer roles — she was master of ceremonies and modelled 1990s-inspired apparel in the fashion show. She also rolled up her sleeves in the hotel kitchen working as the chief cook and eventually ended the night washing bottles.
"I did it all," she laughs.
That was 25 years ago.
Fast forward to the present, it's no exaggeration to say that Susan, who is also Manager of Development and Outreach at the Peterborough Humane Society, is one of WBN's most enthusiastic volunteers. Most of her career has been spent facilitating volunteer projects in various capacities and seeking out volunteer opportunities that are team based. In 2015, she was the recipient of the civic award for Cultural Betterment in Peterborough.
Having been with WBN for 30 years, you can be sure to spot her at the group's monthly member meetings, using her philanthropic passion and enthusiasm to solicit donations and recruit fellow members to join her fundraising efforts.
The teams she has organized over the decades in the name of some greater good are extensive and nothing short of impressive, including entering a team for the Pulling for Dementia Fire Truck Pull in aid of the Alzheimer's Society, the Under the Lock sledge hockey tournament to support the Kawartha Blazers, and Habitat for Humanity's Women Build which sheds light on the nation's affordable housing crisis.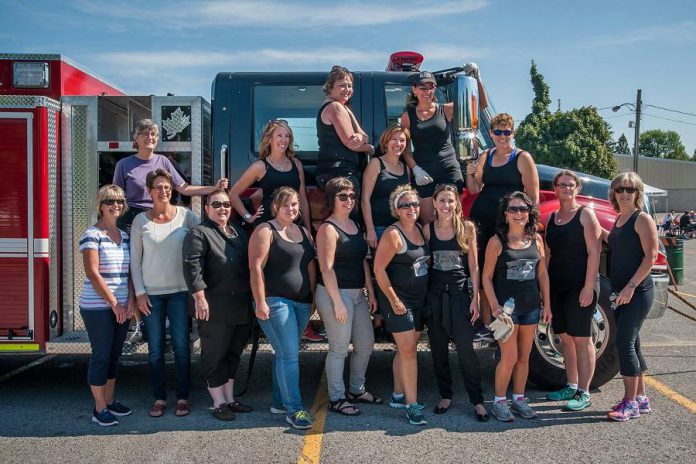 The list goes on and on.
The last few years, she's also made a name for herself as the straight-shooting auctioneer at WBN's Holiday Gala Live and Silent Auction — certainly not the hundred-miles-a-minute version that presides over a cattle pen, but quick enough to find the heavy hitters for donations.
Susan is an extraordinary role model for volunteerism, and she's in very good company with other WBN businesswomen who offer their generous spirit and willingness to lend their time and resources to the individual community and fundraising activities.
WBN president Lorie Gill, who is also heavily involved in charity fundraising, says local outreach has been an essential element of WBN's culture throughout its history and members "strive to make a positive and lasting difference in our community."
Susan agrees.
"I find that when we're all focused on the same goal, we're a pretty amazing group of women who are unbeatable and can accomplish miracles together.
"There's power in us joining together, whether it's four of us building a house for Habitat for Humanity or 20 of us paddling a boat at the Dragon Boat races. I think it's important as an organization to encourage the fact that we all support charities and are not exclusive."
Revel in camaraderie
Susan says volunteering on a WBN team gives the women a chance to get to know other members they may not routinely interact with.
And as an added bonus, when members can engage with each other more informally — which is often the case with group volunteer events — they are more likely to develop a stronger camaraderie that can translate into a stronger relationship, both personally and professionally.
"What a wonderful opportunity to laugh with your teammates, learn about one another and your families, and why you're doing this together. You really connect on a deeper level."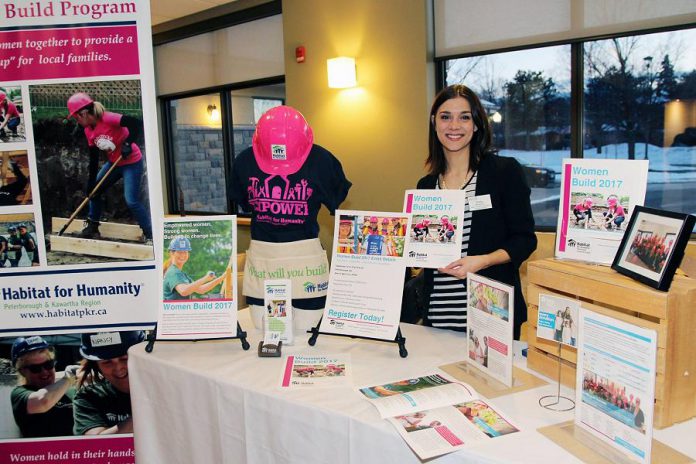 Supporting local women
Throughout the year, the WBN is a proud supporter of Trent Business Students' Association, offering 10 meeting passes a year for female students to attend and experience the organization.
The group also donates a free membership to a woman entrepreneur taking part in the annual Bear's Lair competition. This year, it was Kelli Coon of Ship Shape Service.
In February, they awarded Tina Bromley, owner of Tiny Greens and winner of the Peterborough Downtown Business Improvement Area's inaugural "Win This Space" competition, a free membership in WBN.
YWCA Crossroads Shelter partnership
Since 2005, WBN has raised a total of $275,953 for YWCA Crossroads Shelter through their annual fundraising gala and 50/50 draws.
YWCA programs are dramatically underfunded and fundraising only accounts for 28 per cent of its business, explains Jen Cureton, Director of Philanthropy and Communications at YWCA Peterborough Haliburton.
She says it's unthinkable what services the organization would have to cut for women and children if they didn't have the community support to back them.
"WBN's support is integral to do our work," Jen affirms.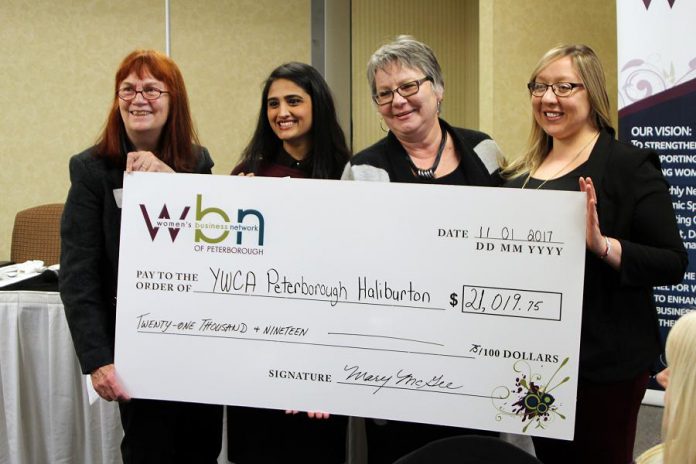 In recent years, the membership has placed personal emphasis on supporting YWCA's Nutritional Well-Being program which provides healthy food, supplements, and vitamins to women and their children 365 days a year. The program also helps families learn about meal planning, food preparation, and principles of nutrition.
Thanks to WBN support, last year YWCA prepared and served 26,331 meals for women and children living at Crossroads Shelter.
"Women helping make a difference for other women fits with the WBN's mandate," Jen says. "It also fits with the idea that the kind of violence we help women and children with doesn't really happen to the kind of women you stereotypically think — young women or women who got mixed up with the wrong people; it's also professional women.
"As a group of professional women, the WBN can help break down that stigma a little."
For more information about WBN and how to become a member, visit www.womensbusinessnetwork.net.