The Women's Business Network of Peterborough is comprised of women who are entrepreneurs, professionals, managers, and non-profit executive directors. It should come as no surprise to find out that many members have been recognized as business achievers and community leaders.
To celebrate the achievements of WBN members and their contribution to our communities, we've compiled this list of some of the many WBN members who've received awards and recognition for the contributions to the community:
---
Business Woman of the Year Award Winners
2016 – Gwyneth James – Cody & James Chartered Professional Accountants
2015 – Amy Simpson – MicroAge
2014 – Kerri Davies – Canadian Mental Health Association HKPR
2013 – Kyla Gutsche – Cosmetic Transformations
2012 – Sally Harding – Nightingale Nursing
2011 – Sheridan Graham – The County of Peterborough
2010 – Jean Grant – The Toy Shop
2009 – Kathy Windrem – BDO Canada
2008 – Mary LaRocque – Marlin Travel
2007 – Tina Johnston – Fandango Spa
2006 – Kim Paget – Paget Dental
2005 – Jeannine Taylor – kawarthaNOW
2004 – Helen Hamilton – Costume King
2003 – Gail Courneyea – Angels of Flight
Judy Heffernan Memorial Award Winners
2016 – Louise Racine – Thirteen Moons Wellness
2015 – Sofie Andreou – Sofie Andreou & Associates
Civic Awards – City of Peterborough
2015 – Susan Dunkley Porter – Cultural Betterment
2001 – Kerri Davies – Cultural Betterment
2000 – Jeannine Taylor – Community Betterment
Premier's Award Nominees – Nominations by Fleming College
2012 – Kim Appleton
2009 – Kerri Davies, Fleming College Alumnus of Distinction
2003 – Jeannine Taylor
Community Recognition
2017 – Anne Arnold – Canadian Blood Services Recognition (75 blood donations)
WBN Member of the Year Award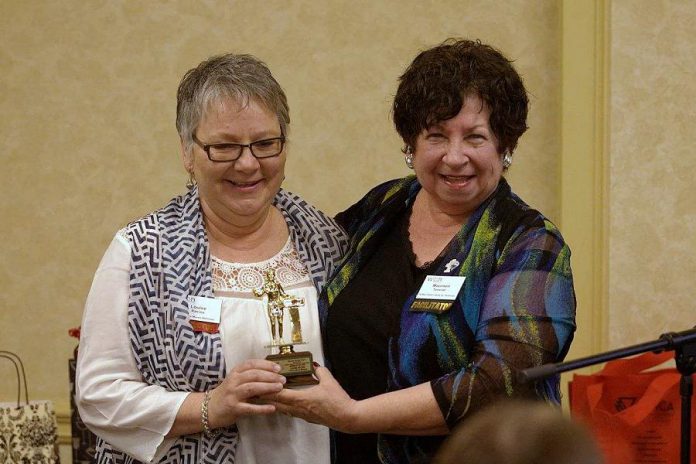 May 2017 marked the 35th anniversary of the WBN Member of the Year Award, created by long-time WBN member and Past President Maureen Tavener to honour an outstanding member every year.
All WBN members have an opportunity to vote for any other member, with the exception of the current President, by secret ballot. Maureen Tavener then presents the award to the very deserving recipient at the May general meeting.
Louise Racine of Thirteen Moons Wellness was the recipient of the award in both 2016-2017 and 2015-2016. In 2017, she led the creation of the first-ever International Women's Day Conference in Peterborough, using funds she received as the winner of the Judy Heffernan Memorial Award in 2016.
For the full list of the other 33 past recipients of the WBN Member of the Year Award, visit www.womensbusinessnetwork.net.